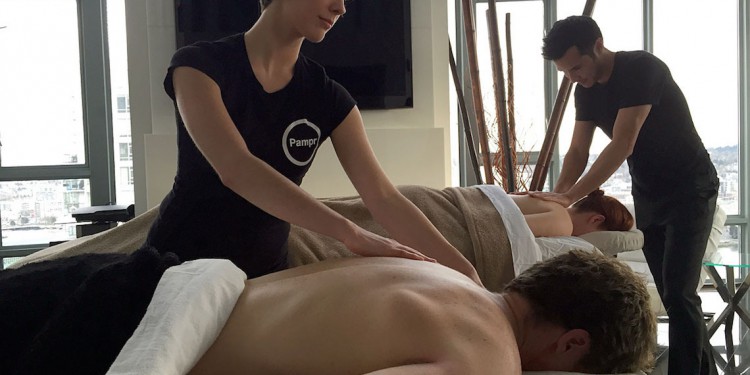 The new Vancouver start-up company Pampr offers mobile massages on demand, with same-day, in-home massages from licensed therapists.
The word "Sabai" means relaxation and comfort in the Thai language.
Founded in 2002, Vida Spa offers uniquely luxurious, personalized and healing spa experiences including an expansive menu of treatments based on the ancient Indian science of Ayurveda, all designed to enhance wellness, engage the senses, and nurture body and mind. Because every individual has unique needs, Vida Spa tailors their full range of traditional body therapies, wraps, exfoliations and facial treatments to each client, providing a customized way to restore energy and promote well-being.
.
Last week, I was invited to their Sheraton Wall Centre location for the festive treatment of Vida's "Pine and Juniper Berry Massage". The waiting area (see above picture) was extremely tranquil. Big comfortable chairs, couches, and other cushion-y things to sit on were arranged inside the waiting area. The lights were dim, and a small waterfall/fountain was at one end of the room. I was offered tea and water (with lemon or cucumber) as I filled out the health form while I waited for my masseur to lead me to the other room.