Ganache Pâtisserie (1262 Homer Street) just announced its newest creations for its summer 2009 menu. Sitting on an almond biscotti base, Bleuet Amande is a smooth and creamy Amaretto cheesecake simply finished with a B.C. blueberry compote and housemade amaretti cookies. A natural combination, Chocolat Malté layers rich dark chocolate malted mousse and chocolate malted ganache on a dense and chewy white chocolate blondie foundation. Coco et Figue is a coconut sensation of light coconut rum parfait between layers of coconut dacquoise and buttery olive oil cake spread with a vanilla fig compote.
.
At the reasonable price of $5.75 per cake, dessert at Ganache is great for sharing between two people when you just want a little taste to satisfy a sweet craving.
.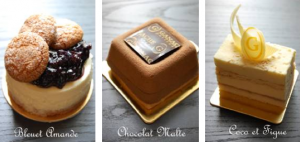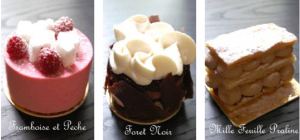 For those of you who were at Modern Mix Vancouver's One-Year Anniversary & Reader Appreciation Party, you probably had a taste of delicious chocolates and pâtisseries which were generously sponsored by Ganache Pâtisserie (1262 Homer Street) in Yaletown. Prices are about $5 to $6 per serving, but are rich enough to share between two people and there are a limited number of seats at Ganche for you to eat your dessert there! If you are craving some sweet desserts, now would be a good time to drop by Ganache as they just recently announced their newest creations for their spring 2009 menu:
.
Fresh and light, Framboise et Pêche ($5.75) encases a creamy peach crème brûlée and fresh raspberries with an airy raspberry parfait mousse and wild flower honey graham cracker base.
With inspiration from a past favorite, Rose et Pamplemousse, arises Yuzu Pistache ($5.75) which layers a nutty pistachio dacquoise and pistachio sponge with a light vanilla yuzu parfait and middle layers of aloe-kiwi gelée and rose water panna cotta.
With a decorative almond biscuit on top, Abricot et Earl Grey ($5.75) spreads a fragrant Earl Grey mousseline studded with brandy soaked apricots over a salted caramel ganache and almond dacquoise base.
For hazelnut lovers, Mille Feuille Praliné ($5.50) takes the classic dessert with its flaky puff pastry layers and inserts a rich coffee praliné mousseline folded with crunchy hazelnut nougatine, and a layer of praline crunch.
A modern view of a classic gâteau, Forêt Noir ($5.50) combines Kirsch syrup soaked moist chocolate cake and griottine cherries with alternate layers of vanilla and chocolate chantilly cream.
Also, on Saturday May 23rd, 2009, everyone is invited to Ganche in Yaletown location for their official launch of the Spring 2009 menu. Throughout the day, there will be samples of their new spring desserts, draws for doorprizes and more.