Passing on the alcohol this holiday season? Starting 'Dry January' early? Based on all the trendy non-alcoholic drink brands (canned alcoholic drinks, canned mocktails, alt-spirits, non-alcoholic beer) that have been popping up on my radar, my prediction is that social norms are moving towards it being perfectly socially acceptable to pass on the booze. If you're going for alcohol-free drinks, be it for health reasons, intolerance, pregnancy, moderation, or just to switch things up for a while, here are 10 non-alcoholic beers, wine, spirits, or mocktail brands to check out and the stories behind them.
Canadian craft beer fans are likely to have heard of Red Racer beer, brewed by the award-winning BC-based Central City Brewing.  Now, there's a dealcoholized version of Red Racer called Street Legal. In their process of creating the Red Racer Street Legal beer, they traditionally brew the beer before removing the alcohol in their state-of-art-cross-flow filtration system. In our household, Red Racer Street Legal is our go-to dealcoholized beer because they are easily accessible at BC Liquor Stores throughout Vancouver.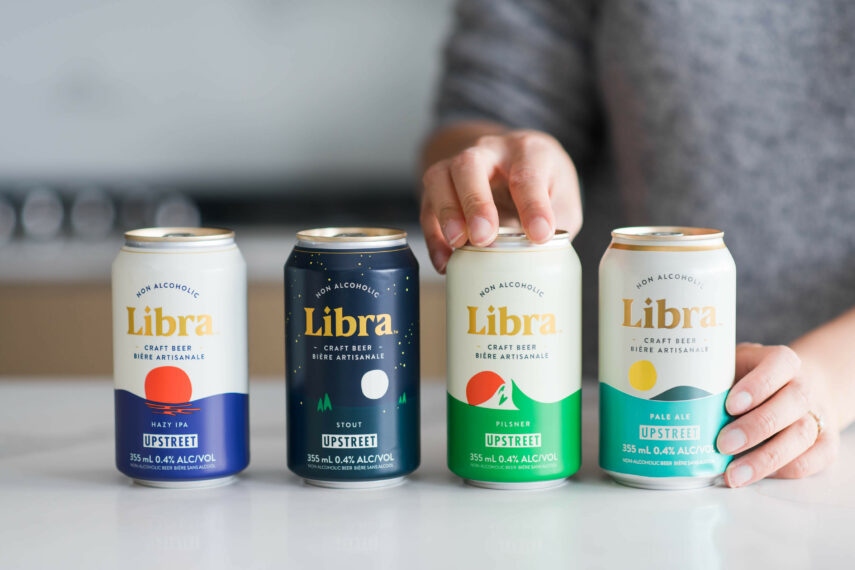 Led by the idea to create a beer that would appear to be "the solution for socializing without sacrifice", after 2 years of extensive research and development, Libra Non-Alcoholic Craft Beer was born from the brewers at Upstreet Craft Brewing. Libra now comes in 4 flavors: Hazy Ipa, Stout, Pale Ale, and Pilsner.
Serena Ryder is the "balance ambassador" for Libra; 1% of the profits of Libra purchases will go toward ArtHaus's mission to create a landscape where artists of all fields can come together to support one another.
Athletic Brewing Co is a brewing company devoted to producing vegan-friendly, non-alcoholic (less than 0.5% ABV), and great-tasting beer that will satisfy your beer cravings while allowing you to be healthy, creative, and active. Their devotion to the craft is widely recognized as they are an award-winning brewing company with multiple medals wins under their belt, including golds in World Beer Awards, European Beer Challenge, U.S Open Beer Championship, Silver in London Beer Competition, and Bronze in L.A. Spirits Awards just for their Run Wild flavor.
Lumette collection was specifically born to satisfy all the cocktail lovers who look forward to spicing up their experiences without alcohol. Their non-alcoholic options provide you with the versatility of aromatic spirit, coming from a variety of natural ingredients such as grapefruit, orange, mint, rose, juniper, lemon, star anise, cinnamon, nutmeg, allspice, and many more, all perfectly combined and neatly distilled in 3 unique combinations. Classy bottles, creative design, and superb taste – the Lumette Alt Spirits come in 3 tastes: London Dry, Bright Light, and Lumrum.
What do you do when you find yourself working in some of the world's best bars, and see the need for a premium alcohol-free beverage that is not drowning in sugar and artificial taste? You go out and create that much-needed drink! This was the story of Christos Kalaitzis, the OPUS founder.
OPUS focuses on creating the best handcrafted, premium cocktail experience for their customers, which includes both alcoholic and non-alcoholic drinks. Handcrafted in Canada, their products are low in calories, zero-sugar, gluten-free, vegan, and have all-natural ingredients. For non-alcoholic tastes, they offer Peach Bellini, Gin and Tonic, and Aperitivo Spritz.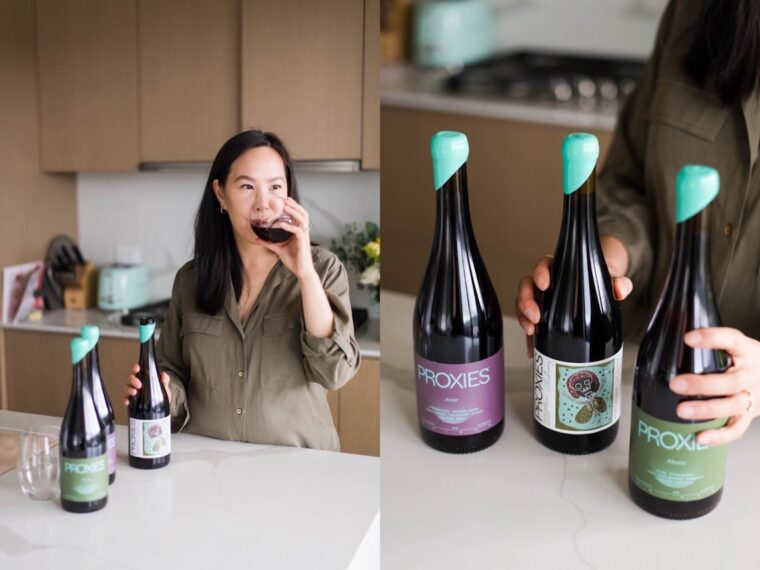 Launched in 2021, Proxies took the Acid League inspiration to a whole new level. Originally, Acid League was inspired by the ancient Italian Posca-which was made with vinegar, herbs, and honey; exploring the idea further, the creators of Proxies embraced the idea of an explosion of tastes and layering blends of juices, herbs, spices, and teas all neatly in a bottle, with intention of creating the perfect taste that will pair nicely with different types of food. This is how the Proxies non-alcoholic wine line was designed.
Gruvi is set on trailblazing a new approach towards social interactions, making them more inclusive and healthy, through adding a variety of non-alcoholic drinks, specifically wines, and beers. Under the motto "alcohol-free craft beer and wine today, for a hangover-free tomorrow" they are offering a variety of beers, like Golden, Juicy Ipa, Weekday Wit, Mocha Nitro Stout, Stout, Ipa, and wines like Dry Secco, Bubbly Rose, Dry-Red Blend, and others.
It's also worth mentioning that they have won several national and international awards, including the Gold Medal for Best Non-Alcoholic Beer in the World at the World Beer Cup.
Living up to their name, clever Mocktails are offering your favorite cocktails in a new, alcohol-free version!
Crafted in Canada in a unique production process that includes artisanal infusion and distillation of botanical extracts such as fruits, herbs, and spices, in an authentic copper to capture and enrich the bright and vibrant flavors, the clever mocktails are refreshing, refined, and rich-in-taste alcohol-free cocktails that you will fall in love with!
From Gin and Tonic to Sangria, Gin, Moscow Mule, Mojito, Gin, and Tonic Rose, you name it, they have it! All you need to do is pick a flavor and enjoy your night, alcohol-free.
There is a special type of warmth and beauty in small crafty beer businesses that devote their heart and soul to creating refined beer with superb taste!
Village Brewery has outdone itself with CRFT – its non-alcoholic beer collection. Their motto: "It takes a village to raise a beer and a beer to raise a village" is as accurate and catchy as their delicious beers!
Village Brewery is building on its history with the CRFT's award-winning beers with low alcohol, low carbs, and low calories. The company only brews a small batch of recipes and offers 3 varieties: Crispy Blonde Ale, Easy-going Pale Ale, and Velvety Stout, but all of them are uniquely flavored and have impeccable taste!
"Making being responsible refreshingly satisfying" is a goal that Partake lives up to! The authentically brewed beer has not only won several awards but is made of all-natural ingredients, is vegan-friendly, and has <o.5% alcohol, but is also extremely low on calories, containing as low as 10 calories, 2g sugar, and 0 carbs!
Partake are offering a variety of beers, such as Ipa, Pale, Peach Goose, Red, Blonde, and Stout, as well as some new limited tastes like Cherry Gose, Mango Goose, and Lime; moreover, they are offering fun packages for different occasions, like Congratulations, Happy Birthday, Cheers to You, A Gift for You, etc., which make them ideal for the upcoming gift-season!
While non-alcoholic beers can be ideal for almost every occasion, special celebrations that start with popping up a nice bottle of champagne can look strange and a bit cheap with beer even if the beer is of utmost quality and on the expensive side! This is where TÖST Non-Alcoholic Sparkling White Tea, Cranberry & Ginger Wine comes to shine!
The elegant bottle, catchy and fancy name, out-of-this-world, impeccable taste – this is the beverage you were looking for for your special occasions!
This non-alcoholic wine is made with all-natural ingredients, has a nice but not overly sweet taste, and delivers a crisp and dry citrus finish – ideal for elevating the palette of any dish or appetizer.
Canada's pride – offering some of Canada's Finest Distilled Non-Alcoholic Spirits, Sobrii is a brand you must know; if you are a lover of non-alcoholic drinks, you must meet their Spirits.
Ideal for making non-alcoholic cocktails, the Sobrii offers solid, non-alcoholic substitutes for your favorite drinks!
Made from all-natural botanicals and extracts, the Sobrii 0-Spirits have 0 Calories, 0 sugar, and subsequently 0 % chance of hangover! Their newest additions include the 0-Tequila bottle, the Fever-Tree Pink Grapefruit, and Fever Tree Lime and Yuzu – perfect for making cocktails in a heartbeat.