Founded by the brewers behind Upstreet Craft Brewing (from Charlottetown, PEI), Libra Non Alcoholic Craft Beer was inspired by the need to find balance. Being in the beverage industry requires constant sampling, drinking, and socializing, with craft brews and alcohol being at the center of it all.  A non-alcoholic beer seemed like the solution for socializing without sacrifice, and that's where the idea for Libra Non Alcoholic Craft Beer came from.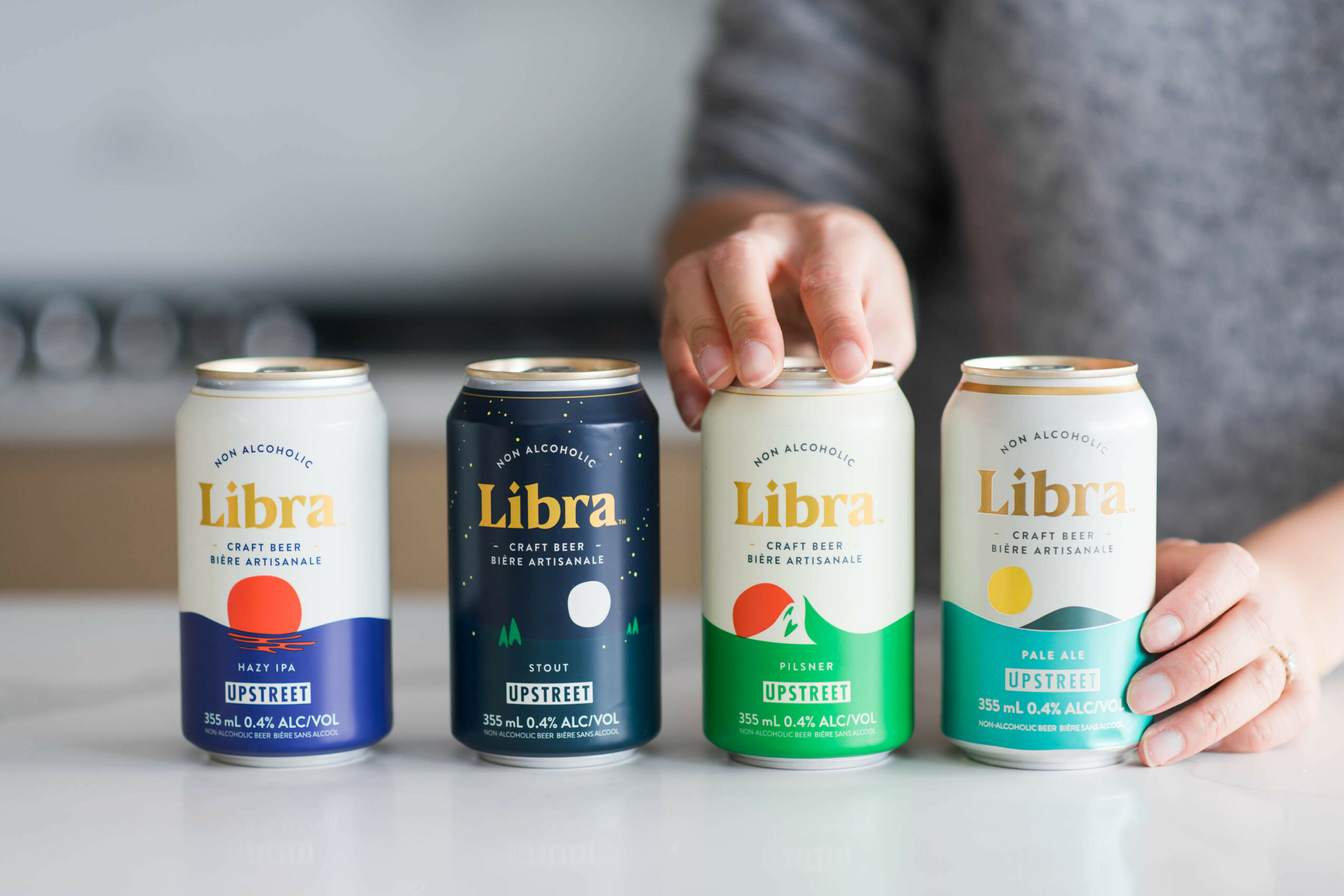 Libra Non Alcoholic Beer
After 2 years of research and development into making an alcohol-free beer, Libra Non Alcoholic Craft Beer was born. It looks and tastes like a craft beer because Libra is made alongside their regular beers…with small tweaks along the way to make it alcohol-free (0.4% alc/vol) and only 30 calories per can. Libra was crafted to give consumers the feeling of drinking a craft beer with none of the alcohol, so they can socialize without sacrifice.
One of Libra's best known advocates is the Canadian musician and "balance ambassador" Serena Ryder. Driven by a shared mission to normalize socializing without alcohol, the team behind Libra has worked with Serena to encourage Canadians to re-imagine what being social means to them and to help them find a balance that works with their health and lifestyle goals.
1% of profits of Libra purchases go toward ArtHaus, Serena's music incubator which is on a mission to create a landscape where artists, musicians, creators, music industry leaders and wellness experts can come together to support one another.
Libra Non Alcoholic Beer Review
My husband and I have had a lot of fun trying out alcohol-free drink options over the past few months. Being from the other side of Canada from us, we actually hadn't heard of Upstreet Craft Brewing before, so we had the double excitement of discovering a new-to-us Canadian craft brewery and its non-alcoholic options.
Since Libra non-alcoholic beer launched in October 2020, they've released a Pale Ale, Hazy IPA, Pilsner and Stout. They also had a limited edition Pumpkin Spice Ale, which sold out within days! I love the modern designs of the can (the logo lettering is gold!) — like you're sipping or pouring from a stylish piece of art. Of the four brews we tried, we liked the Hazy IPA the best, which had a light, re-freshing and almost tropical vibe to it.
For further validation that they are on the right track with their booze-free beers, Libra's Pale Ale won two bronze World Beer Awards in its first year, in the non-alcoholic beer and can design categories.

Where to Buy Libra Non Alcoholic Beer
Libra is now available Canada-wide through online retailers including: well.ca,  soberdry.com, afbev.ca, and notwasted.ca.