Thanks to Mazda Canada, we took an extended test drive of the Mazda CX-5 and went on a family roadtrip from Vancouver to Tofino. Keep reading to see our suggestions of what to do in Tofino and Ucluelet with a baby under one.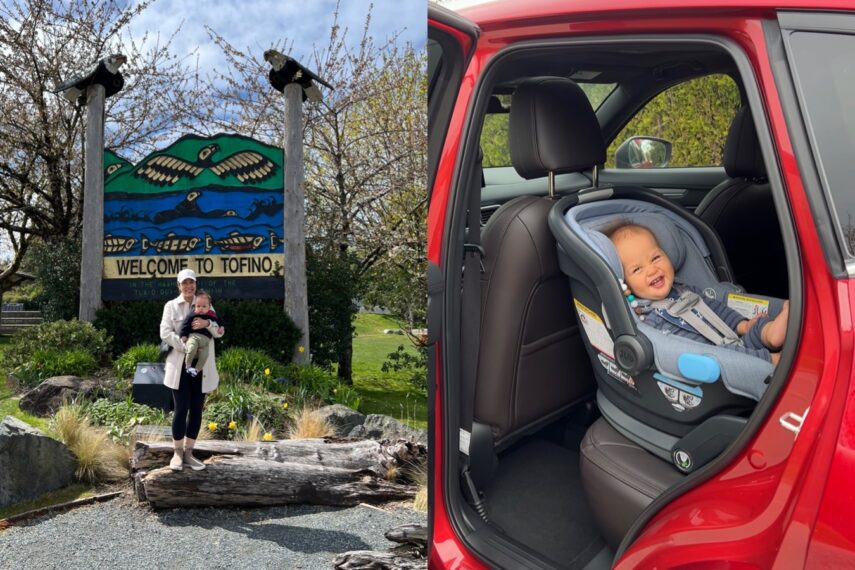 Getting to Tofino from Vancouver (in our Mazda CX-5)
The total commute time between Vancouver to Tofino is around 6 hours, which includes a ferry ride. From Vancouver, we drove to Horseshoe Bay Ferry Terminal and took a 1.5 hour BC Ferries ride to Departure Bay in Nanaimo. After getting off the ferry, it's nearly a three hour drive to Tofino. On the way there and back, we made rest stops in Coombs (best known for their 'Goats on the Roof') and Port Alberni.
Our baby has always been great in the car on our BC roadtrips (like the time we went to Salt Spring Island and to Whistler) so we weren't at all daunted by the all-day commute from Vancouver to Ucluelet and Tofino. The long drive gave us ample opportunity to test drive the Mazda CX-5, a perfect compact SUV for family travel with a baby and a dog.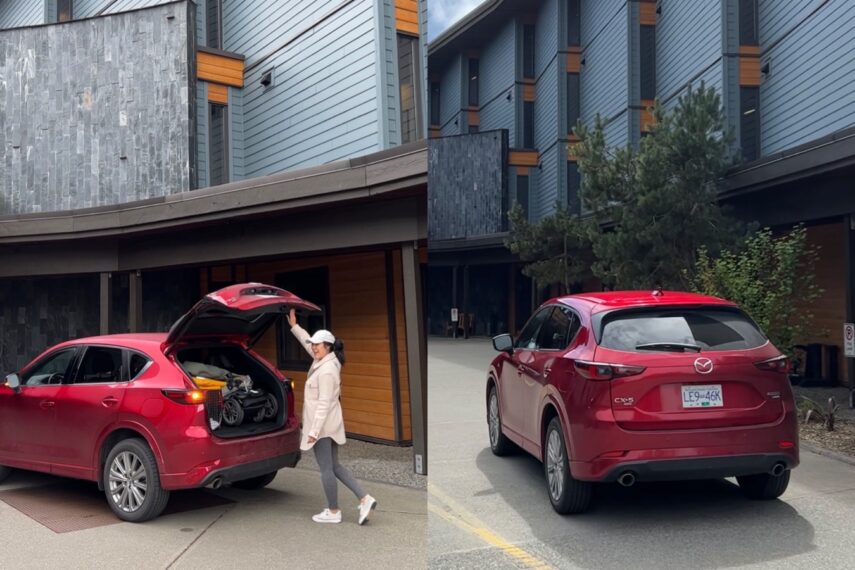 Here's three things we loved about the Mazda CX-5 and why the vehicle was perfect for a small family like ours on a road trip from Vancouver to Ucluelet and Tofino:
Vehicle Size + Trunk Space – In the Mazda CX-5, there was enough trunk space to fit both our dog crate (without having to disaseemble it) and stroller; they each took up half the trunk, and we piled our weekend duffles on top. Speaking of the trunk, another handy feature is the trunk's "power lift gate"— when you press the handle or button on the inside of the trunk, it slowly opens and closes the trunk, leaving our hands free for the baby, dog, or luggage.
Safety – The CX-5 is the only small SUV to receive a GOOD rating in the Insurance Institude for Highway Safety (IIHS)'s new side impact test (GOOD is the highest mark). It also has a Top Safety Pick+ rating from IIHS, which is the highest level you can receive. This is a car that's made to be safe option for families.
Bose Sound System – Music is an important part of any long car ride. The Mazda CX-5 has a premium audio system engineered in collaboration with BOSE, which made our roadtrip playlist that much more enjoyable to listen to.
Where to Stay: Tofino vs Ucluelet
When planning for a trip with a baby to Tofino, most people decide on accomodations between Ucluelet or Tofino. Both are towns located along the same coast, about a half hour drive apart. However, the benefit of staying in Ucluelet is that it's more affordable, less hectic, but still has great views, a selection of trails, and a few shops, restaurants, cafes, to check out. Also, even though Tofino is associated with its beaches, most of the beaches are located between the two towns.
We stayed at the Black Rock Oceanfront Resort in Ucluelet. Because our baby is great in the car, and our drive with the CX-5 was very comfortable, we didn't mind the drive back and forth between the two towns. Plus, if we timed it right, our baby would be rocked right to sleep on the drive between the two towns.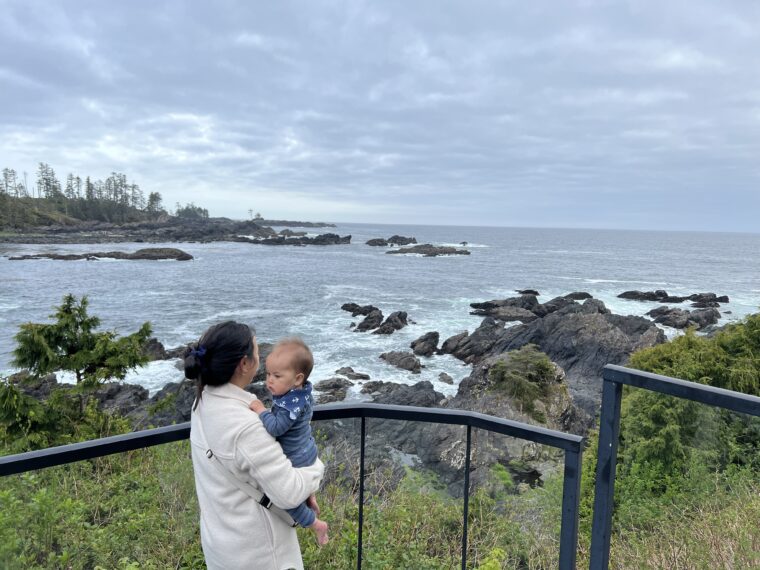 Let's just say if you're staying in Tofino, you may not go out of your way to visit Ucluelet. But if you're staying in Ucluelet, you'll probably want to explore both towns. As such, our recommendations for what to do with a baby applies to both Ucluelet and Tofino, as we explored both areas on our weekend getaway.
View this post on Instagram
What to do in Tofino and Ucluelet with a Baby
Whale Watching Tour
While I was looking for baby friendly activities in Tofino, I was surprised to come across Whale Watching! It didn't occur to me that you could bring a baby on a boat. With Tofino Whale Centre, they allow for one infant per departure on their covered cabin cruise, where we brought Theodore with us in a carrier. The tour was 2.5 hours long. Unfortunately, we didn't see any whales on our tour up we did see otters and sea lions but the Whale Center offers a credit for a free tour the next time you are in Tofino.
Shopping in Downtown Tofino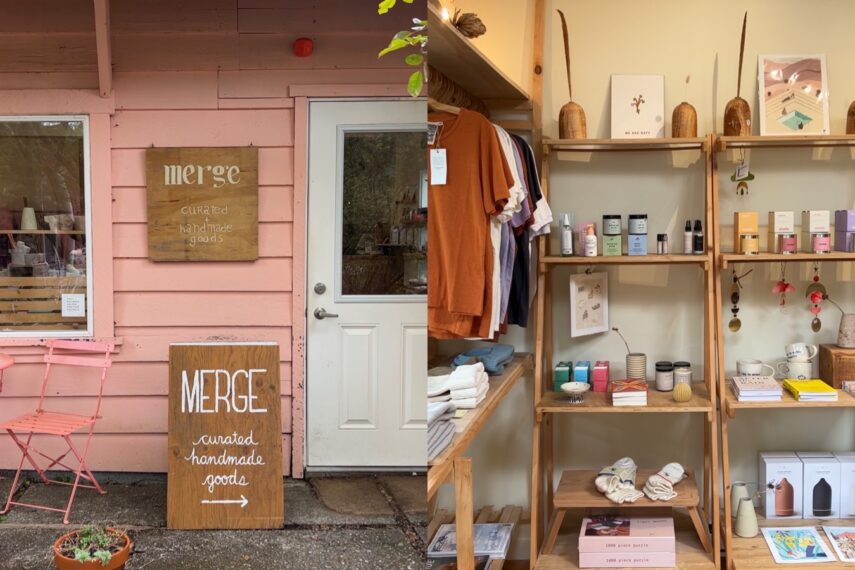 There are so many locally minded boutiques in Tofino, we enjoyed strolling around with our baby checking out all the cute little shops. Some of our favourites we visited were The Factory (which also houses two local artists: a photo gallery with work by Kyler Vos and a jewellery studio owned by Lisa Fletcher), Merge Curated Goods which is in a cute little pink house. We also checked out Kid & Kook which is a modern baby/kids boutique selling 'conscious goods for coastal kids'.
Baby Friendly Food Truck Dining and Coffee to Go
In general, with a baby, I feel like eating outdoors at a food cart is often a safe choice because you don't have to commit to staying for a longer meal like you might at a sit-down restaurant. The outdoor environment is always casual, you can park your stroller right up to picnic bench seating, and if the baby starts to fuss, you can get your meals to go and go for a stroll.
At the end of Campbell Street in Tofino, there's a small cluster of retrofitted shipping containers with a few casual food offerings of pastries (Ouest), ice cream (Tofino Licks), smoothies (Tuff City Squeeze) and Montreal-inspired fried chicken and waffles (Chirpz Eatery). At Pacific Sands Resort's Surfside Grill (you don't have to be a guest to eat there), you can get fish and chips from a takeout counter and eat around a fire pit. There's also, of course, the original Tacofino (beware of long waits) that everyone seems to want to check out. In Ucluelet, we ate at the West Coast Salty Buns food truck.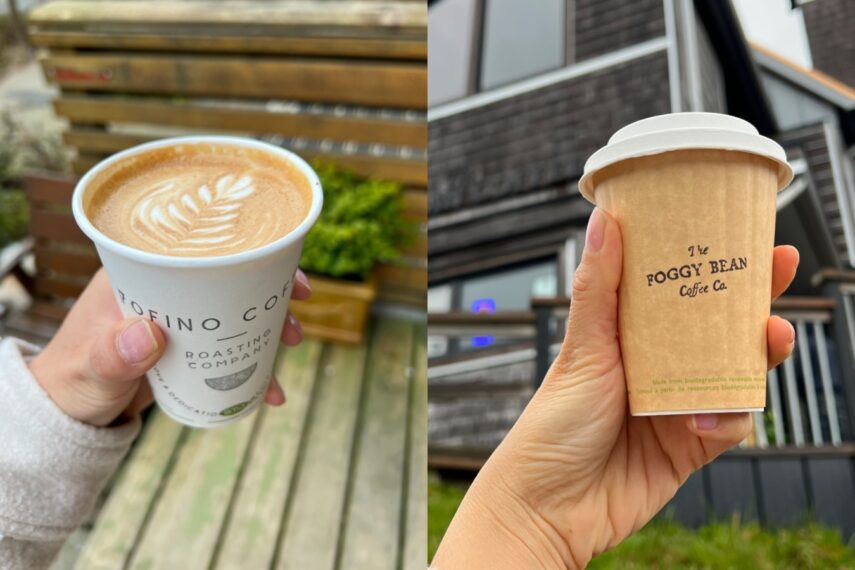 For coffee, we enjoyed Tofino Coffee Roasting Co (Tofino) and The Foggy Bean (Ucluelet). Make sure you have a coffee holder attachment on your stroller so you can take your drink to go!
Overall, Tofino is super casual for dining options and most of the restaurants we visited were bustling with enough background noise that you wouldn't feel intimidated to bring a baby.
Baby Friendly Hikes and Beaches
Family-favourite beaches in Tofino include Chesterman, Mackenzie and Cox Bay, all of which are dog friendly too! We also went on part of the Wild Pacific Trail, which was really easy to access from our resort in Ucluelet. Some are stroller friendly but wearing a baby carrier will give you the most flexibility.
Ucluelet Aquarium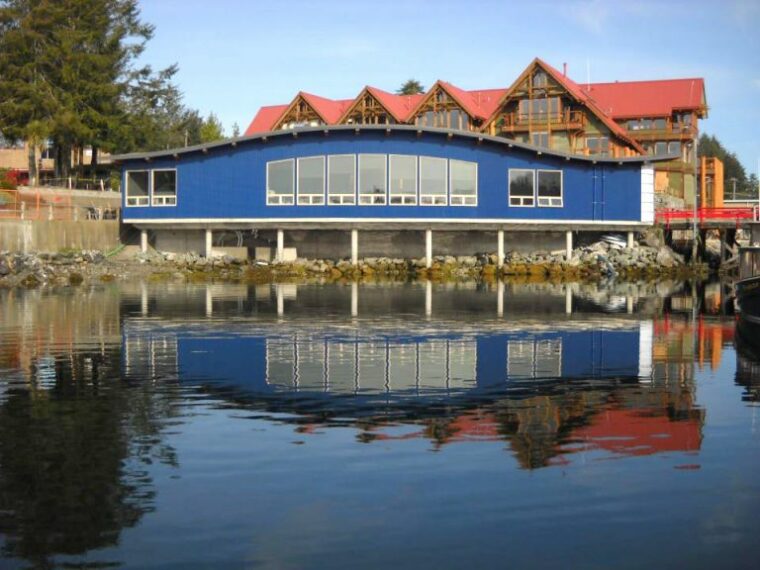 The Ucluelet Aquarium is Canada's first collect-and-release aquarium. Their exhibits are recreations of habitats from Barkley and Clayoquot Sounds. The GPS location of anything collected for the aquarium is recorded so that animals are returned to the right place when it's time to release.
—-
Tofino may be known as a surf destination, but there are plenty of things to do for a family with little ones. Its chill and laid back vibes makes it non-intimidating for families with babies and dogs, and the iconic westcoast views are beautiful for locals and tourists alike. Enjoy your trip…here's a reel we made of ours.
View this post on Instagram