When asked what we did on Salt Spring Island, the answer is: everything!  Salt Spring Island is a vacation spot that's perfect for a weekend getaway roadtrip from Vancouver. The entire island has a laid back "support local" farm to table mentality with tons of small businesses selling high quality craft artisan products. There's an easy-to-navigate North and South loop of the island, filled with viewpoints, family-owned farms and shops, cafes and eateries, and other attractions to check out along the way.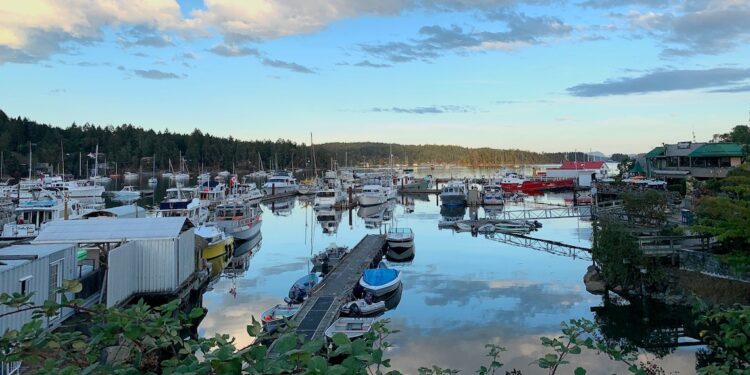 How many days do you need in Salt Spring Island? We spent three days on the island and stayed in Ganges, the main town of Salt Spring Island. We spent one day driving the Southern loop of the island, another day the North, and the third day, visiting any spots we missed.
Looking for a Salt Spring Island Map? We used a copy of the Salt Spring Island Adventure Map to help us navigate our trip and decide which hotspots to visit. The map is illustrated in a fun and colourful way, and I highly recommend getting a free copy online at: saltspringadventuremap.com.
What to do in Salt Spring Island?
Inspired by our visit to Salt Spring Island, here are 10 things to do in Salt Spring Island:
Drink Apple Cider on Salt Spring Island
Did you know? Salt Spring Island was once the largest producer of apples in British Columbia, and the island is still covered in apple trees that are over 100 years old.  It's no surprise that there are multiple cideries on the island – including Salt Spring Wild Cider and Cider Works– where you can stop by for a tasting and stay for a bite to eat.
Have Lunch at Salt Spring Island Cheese Farm
You've probably come across Salt Spring Island Goat Cheese at your local grocery store. Well, on Salt Spring Island, you can visit the farm where the goats live and the cheese is produced. In addition to buying cheese and other charcuterie-inspired products at Salt Spring Island Cheese, they also have a pizza takeout counter, which was one of the best meals we had on the island.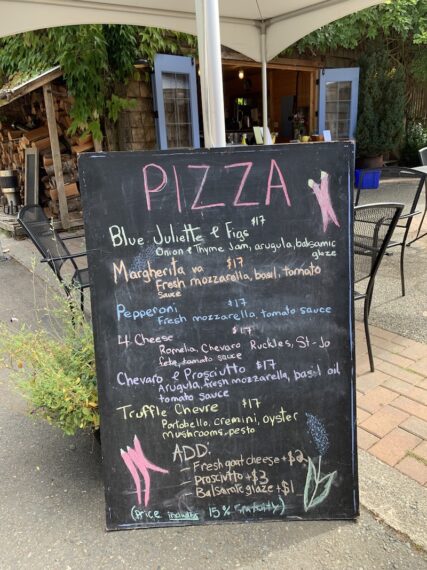 Walk Through Salt Spring Island Farmer's Market
For the ultimate support local experience, visit the Salt Spring Island Market where the items sold at the market must be made, baked, or grown by the vendors themselves. At the main Saturday and smaller Tuesday markets, you'll find everything from fresh produce and flowers, to art and jewelry, to body care products, and food products.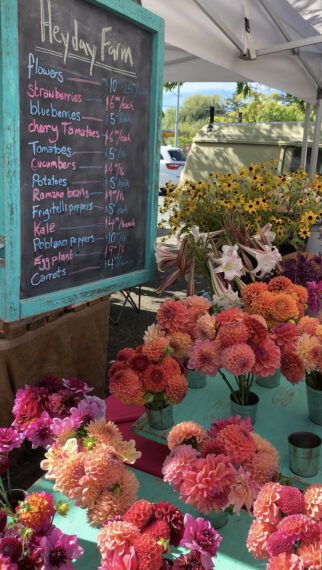 Eat at Salt Spring Island Restaurants in Ganges Village

There are so many places to eat in Ganges. Here are three spots we tried out:
Tree House Café – this lively little open air, cottage-style eatery is built around a tree and regularly hosts live "music under the stars" performances.
Auntie Pestos – a homey little restaurant for big portions of delicious pasta with a waterfront view from their patio.
Salt Spring Soft Serve – oatmilk and coconut based vegan ice cream and parfaits served out of a cute little silver foodcart.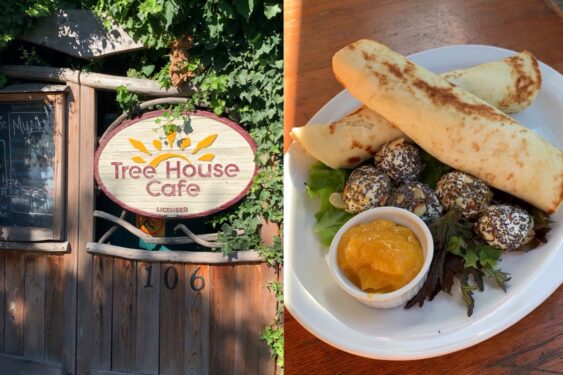 Experience Coffee on Salt Spring Island

Chill out with coffee and a view. Here's fours ways to experience the coffee and cafe culture on Salt Spring Island:
Salt Spring Coffee – Celebrating 25 years of organic, fair-trade coffee, Salt Spring Coffee sells its roasted beans in stores across Canada yet continues to operate its Cafe & Kitchen on Salt Spring Island.
Switchboard Café – Located in a heritage building that housed a telephone switchboard 80+ years ago, Switchboard Cafe (formerly known as Cafe Talia) now connects people over coffee.
Fernwood Road Café – Although there's seating on the lawn outside the cafe, I recommend getting your drink to-go and walking along the Fernwood pier for a beautiful and peaceful view of the water.
Mt Maxwell Coffee Roasters – We came here expecting a café, but turns out it was an unmanned farmstand, where you can buy fresh-roasted coffee based on the honor system, leaving money in a box or e-transferring your payment.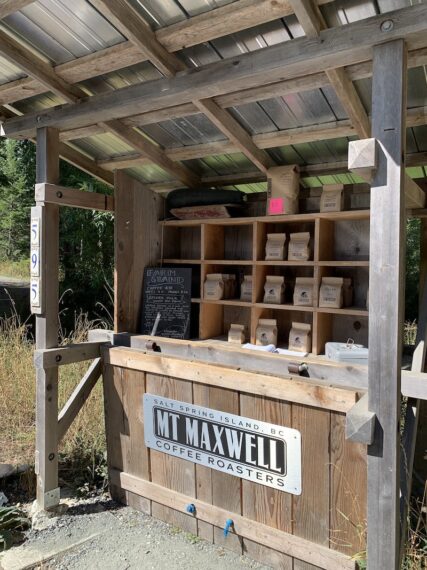 Visit a Lavender Farm  
Sacred Mountain Lavender and Lavender and Black are both lavender farms on Salt Spring Island. In addition to visiting their lavender fields on a self-guided tour, you can also buy locally made products made with lavender from skincare products to tea. If you want to see the fields in full purple bloom, it's best to visit in June, July or August.
Taste Wine at a Winery 
We went to three wineries on Salt Spring Island: Salt Spring Vineyards, Garry Oaks Estate Winery, and Kutatás Wines. Most have a tasting fee that you get back if you purchase a bottle of wine. At Salt Spring Vineyards, you can buy charcuterie items from their tasting room and enjoy in their outdoor picnic areas.
Try a Flight at Salt Spring Island Brewery
Craft beer lovers should check out Salt Spring Brewing Co.for small batch handcrafted brews and "drink beer with nature". The brewery uses mountain spring water that's piped directly into the brew house, along with island-grown hops, honey, and heather for their beer.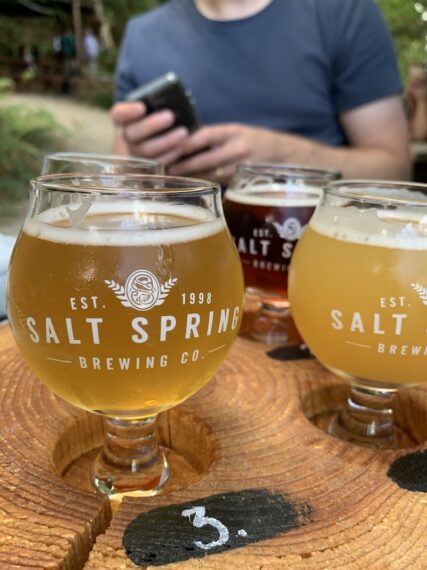 Sample Award Winning Spirits at Salt Spring Shine Craft Distillery 
Beautifully packaged small batch spirits made by fermenting BC honey, crafted and bottled by hand on Salt Spring Island. They have a Sting Gin (which we purchased a bottle of), a Hive Vodka, and a Honeycomb Moonshine – notice the bee-theme?
Shop Local on Salt Spring Island
There are so many well-known gourmet and artisan products which originated from Salt Spring Island. It was exciting for me to shop straight from the source. Salt Spring Island Soapworks (for bodycare items), Salt Spring Kitchen Co. (for sweet and savoury spreads), and Moonshine Mama's (for turmeric-based health elixirs) all have their own retail storefronts on Salt Spring Island.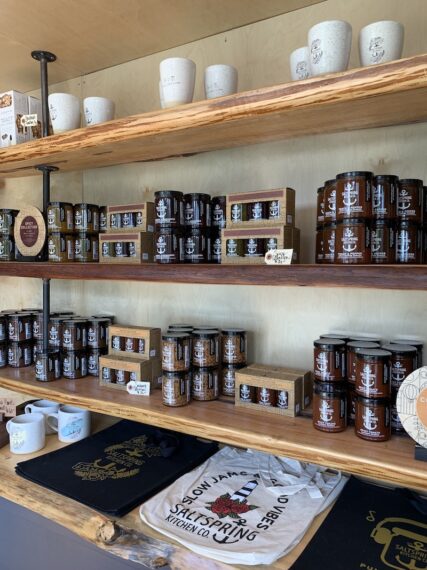 —
Enjoyed reading about what we did on Salt Spring Island? Read our other posts on BC roadtrip ideas.