Our stay at the Adara Hotel in Whistler, BC marked a few firsts for our little family: our first vacation of 2021, our first hotel stay since the beginning of the pandemic, and our first time travelling with our baby, who was 3 months old at the time.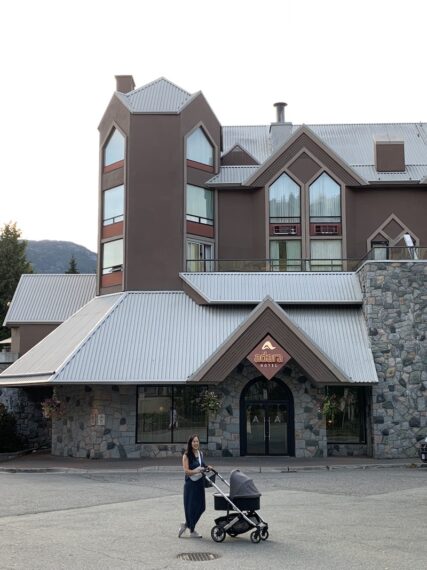 Adara Hotel Whistler Review
The location of The Adara Hotel can't be beat: it's at one end of Whistler Village, on the side near Old Spaghetti Factory and Bearfoot Bistro. With a newborn (and a dog!) in tow, we know that getting a stroller in and out of our car can be a pain, so staying somewhere that's pet-friendly in a central location was a must for our weekend getaway to Whistler.
With a 24/7 concierge, check-in was easy and efficient. The lobby of The Adara Hotel was recently refurbished and has the vibe of a cozy cabin lodge with high ceilings, stone walls, and a fireplace. We stayed in Room 208, which is a one bedroom suite with a king-sized bed, plenty of natural light, and a balcony with mountain views.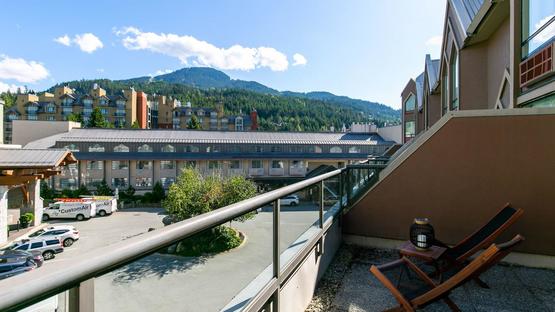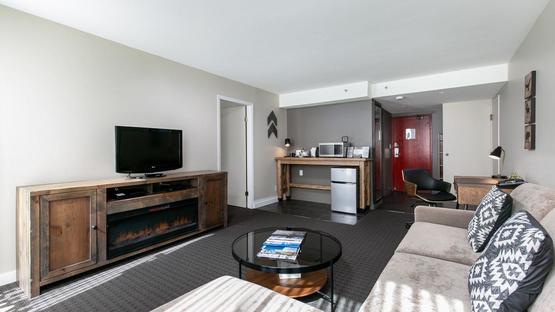 At The Adara Hotel, there's no breakfast included, but there are so many options for dining in Whistler Village, I would have preferred to eat breakfast out of the hotel anyway. However, I appreciated the tea and coffee selection in the room: locally roasted beans from Hammer Coffee and sachets of tea from Vancouver tea company Tea Leaves.
Some of the places we ate at during our visit to Whistler included: Ecologyst (for coffee), Bearfoot Bistro, and Peaked Pies — all within walking distance of The Adara Hotel in Whistler Village. Hotel guests at The Adara can also get 10% off food purchased with a drink.
During our visit, we hardly encountered any other guests in the entire boutique hotel (which could be a factor of visiting Whistler at the end of summer) and didn't have any challenges with noise. However, Buffalo Bills is in close proximity to The Adara Hotel, and I noticed that there were disposable ear plugs on the bedside tables as a precaution for noisy nights.
On the roof of The Adara Hotel is a pool and hot tub and firepit. The pool is small, it's not a pool you'd swim laps in, but a wonderful size for relaxing in year-round, especially because the pool is heated.
View this post on Instagram
In Whistler, you have the entire spectrum of accommodations to choose from: from budget hostels, to luxury chain hotels, to cabin/apartment rentals. To me, The Adara Hotel was a happy medium: modern boutique accommodations without a luxury pricetag, clean, pleasant, homey, comfortable, good value, and above all, an excellent location in Whistler Village.
For more information about The Adara Hotel or to book online, visit: adarahotel.com.