Our grey, white, and natural wood nursery was decorated with a baby boy in mind, but I tried to keep it soft with light wood, and pops of gender-neutral pastels.  Some of the elements that lean more towards traditional 'boy' would be our choice of grey accents and a cream and navy blue rug.
In decorating our nursery, I was excited for the opportunity to collaborate with and feature a few Canadian companies (like Obasan and Urban Walls) and incorporate their pieces into my design vision (click here to see my nursery inspiration Pinterest board).
In this nursery reveal blog post, not only do I share photos of our nursery, but also the decision making process behind the pieces we picked, links to the items in our nursery, prices, and alternative options we had considered. Because we had so much time to prepare, we never felt rushed and could take our time in shopping around and choosing pieces. I had a lot of fun decorating our nursery and picking pieces — I hope this provides you with some inspiration for your nursery too!
Storkcraft Beckett 3-in-1 Convertible Crib in Natural 
We were specifically looking at 'convertible' cribs, which means the sides can be taken down and transitioned into a toddler bed in the future. We like how basic the Storkcraft Beckett Crib is, and thought $300 was a good mid-range price for something we'd be able to use for a couple of years. Note that you have to buy additional parts for the conversion to a toddler bed. // $300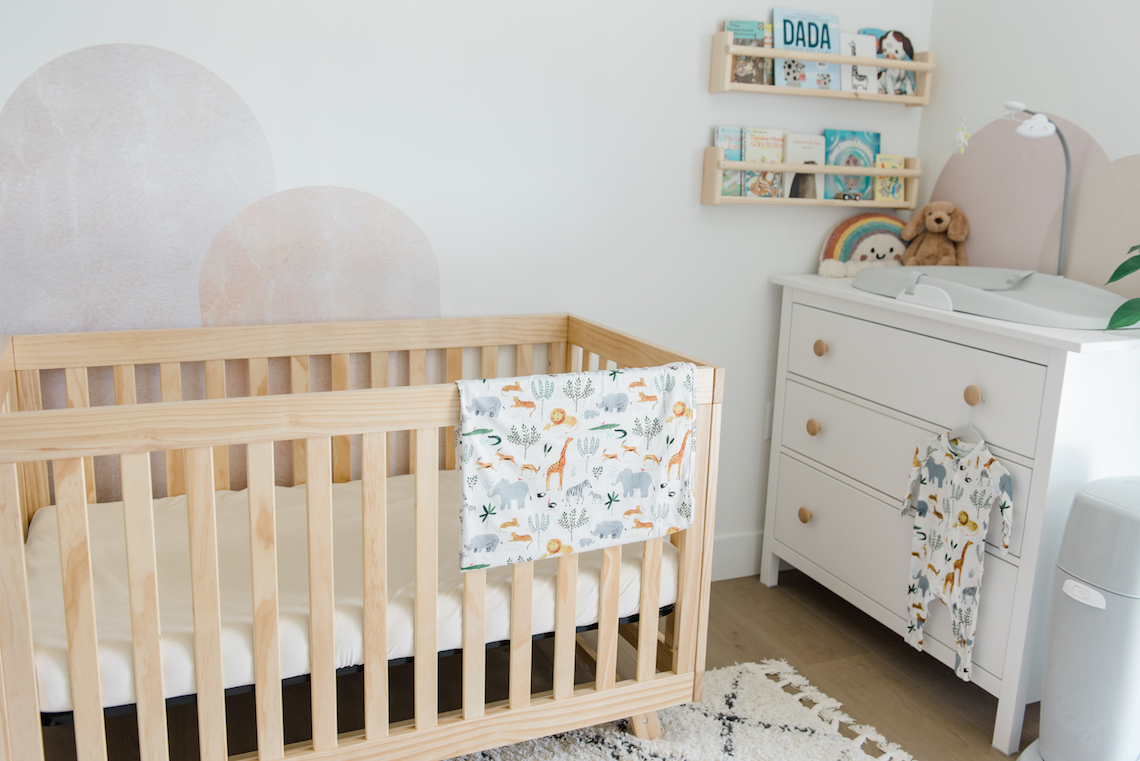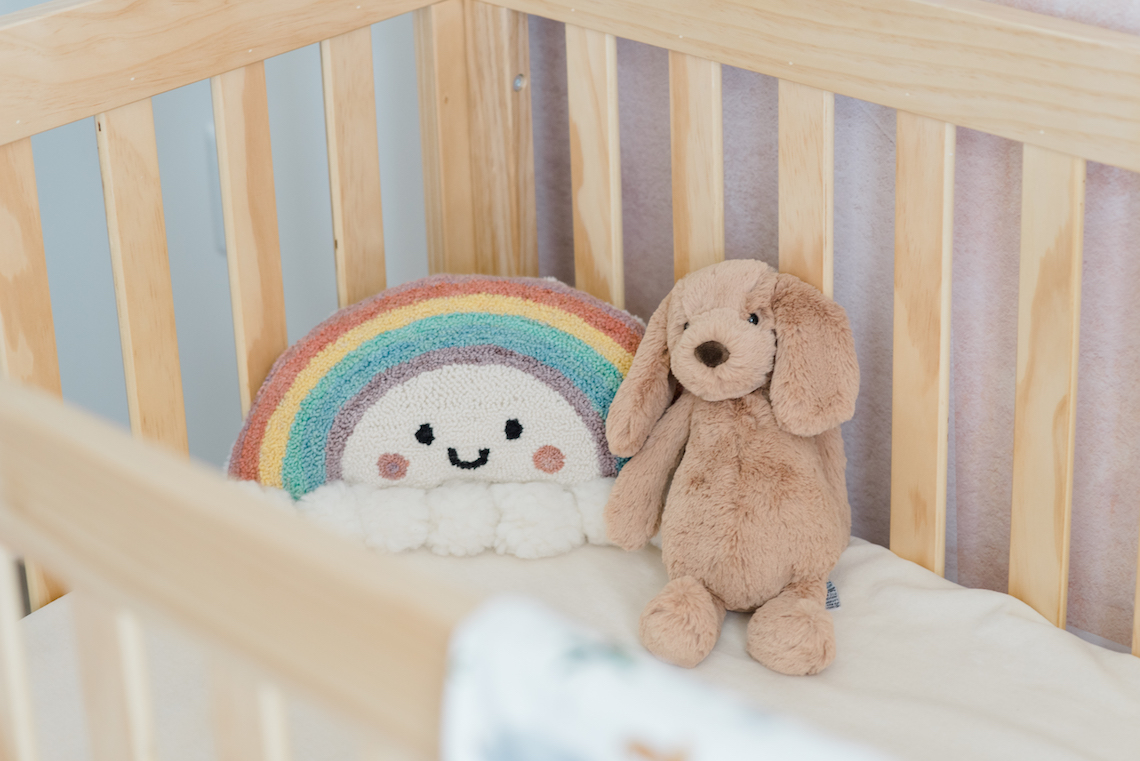 Obasan Organic Crib Mattress  
Obasan is an Ottawa-based, organic mattress company. Their crib mattress for babies, like the rest of their offerings, are comfortable, organic, and, most importantly, free of harsh chemicals. It's crafted with a 100% certified organic cotton cover, wrapped over a pressure-relieving layer of certified organic rubber, supported by a firm layer of post-consumer shredded coconut husk. Obasan's natural mattresses are breathable and moisture-wicking, which help to regulate babies' temperature levels throughout the night. // $329 (gifted)
Rugs USA Moroccan Lattice Tassel Rug  
The Temara Moroccan Lattice Tassel Area Rug from Rugs USA  has that 'synthetic' feel but serves the purpose of adding warmth, texture, and style to the room. The other option we considered was the Handwoven Natural Rug from Crate and Barrel Kids, but after reading reviews, it appears to shed a lot. Plus, it was 4x the price.  We also looked at Homesense, Westcoast Kids, Buy Buy Baby, and Ikea for rug options, but we found that the best value for style and selection is Rugs USA. // $100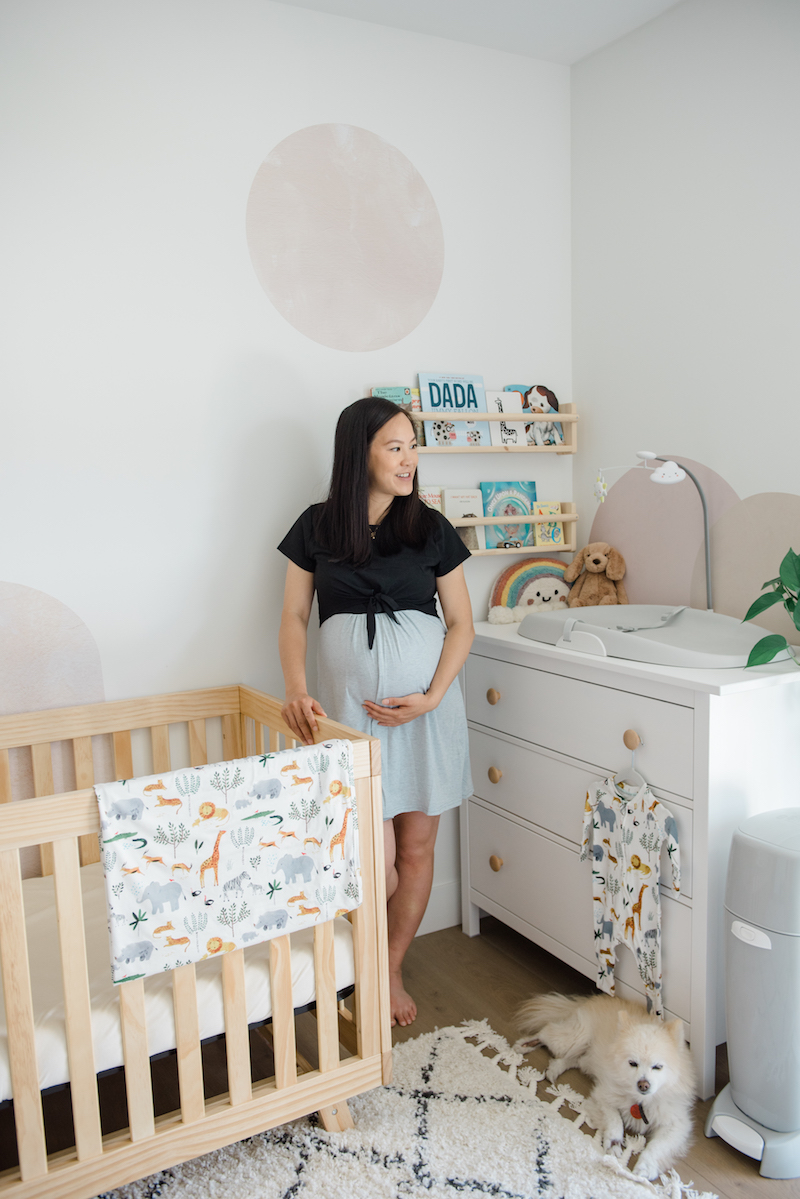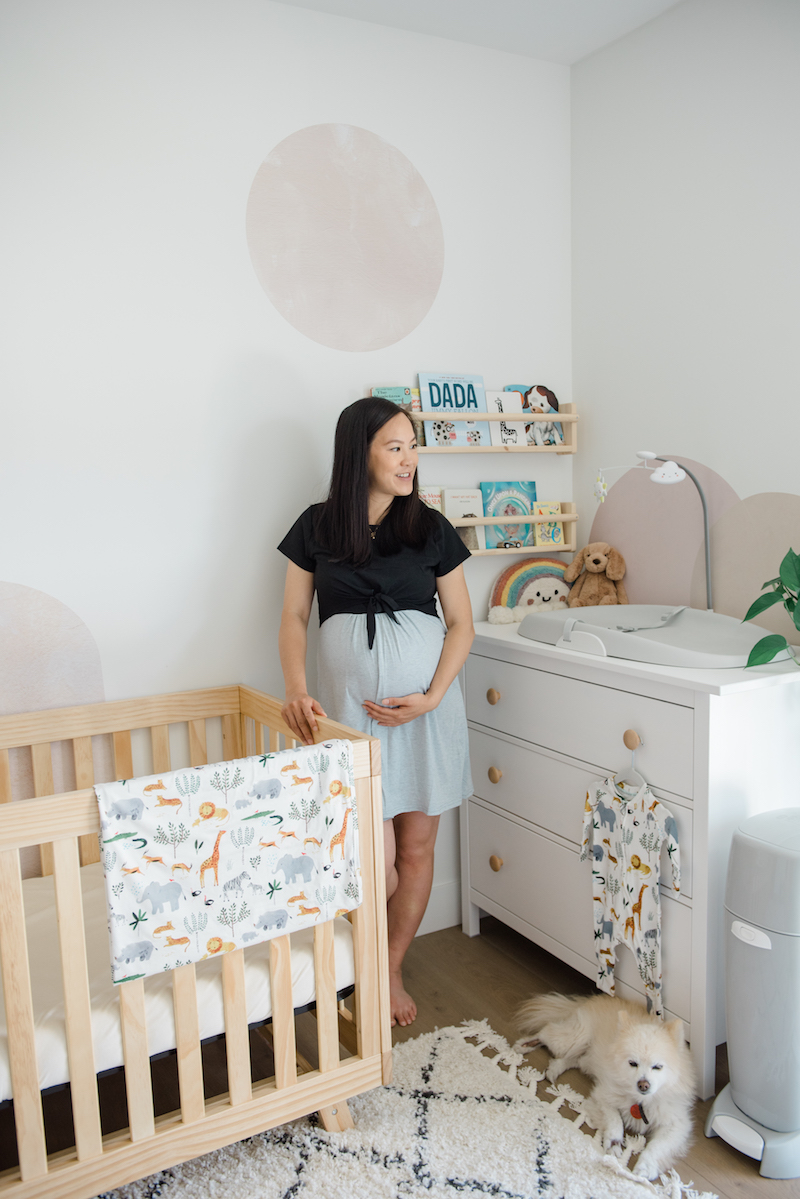 Diaper Genie 
Yes, we are counting the Diaper Genie as a decor item! This is the go-to standard for diaper disposal, it has a trap door, so odours don't escape. The grey colour matches with our nursery floor lamp and changing table. The other option we considered was the Ubbi, which is a stainless steel diaper pail. We read this review on the Ubbi vs. Diaper Genie but the main drawback for us was the Ubbi didn't have a foot pedal for opening the lid. // $45
Urban Walls "Shapes & Sizes Decals"  
We were hesitant to put framed artwork directly above the crib (what if it falls?) which is why the peel-and-stick wall decals from the BC-based Urban Walls appealed to us. They have hundreds of design options, but Shapes & Sizes is from their newest Saguaro-inspired dessert collection. Even though we only ended up using five of the largest decals (there were at least 20+ in the full order), I really liked how we layered these on the wall. We were loosely envisioning rolling hills or mountains, with the big circular decal as the sun. // $349 (gifted)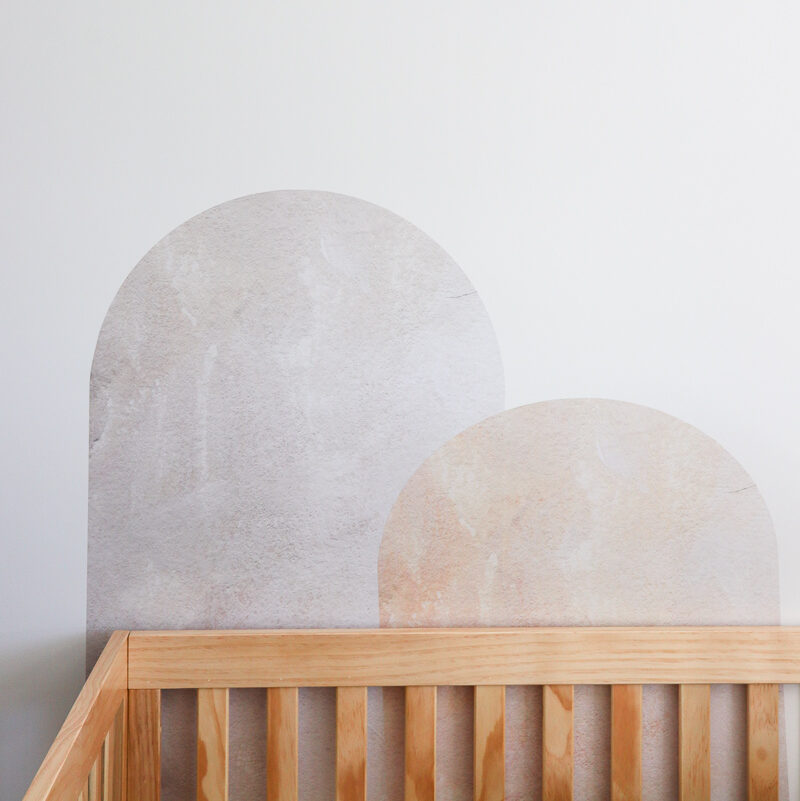 IKEA Flisat Bookshelves  
These floating, wall-mounted Flisat bookshelves from IKEA were actually the first items we purchased for our nursery! Instead of displaying the spine of the books, you can see the full cover, which adds colour and personality to the nursery. Half the books on the shelves right now are books from my own childhood collection. // $20 each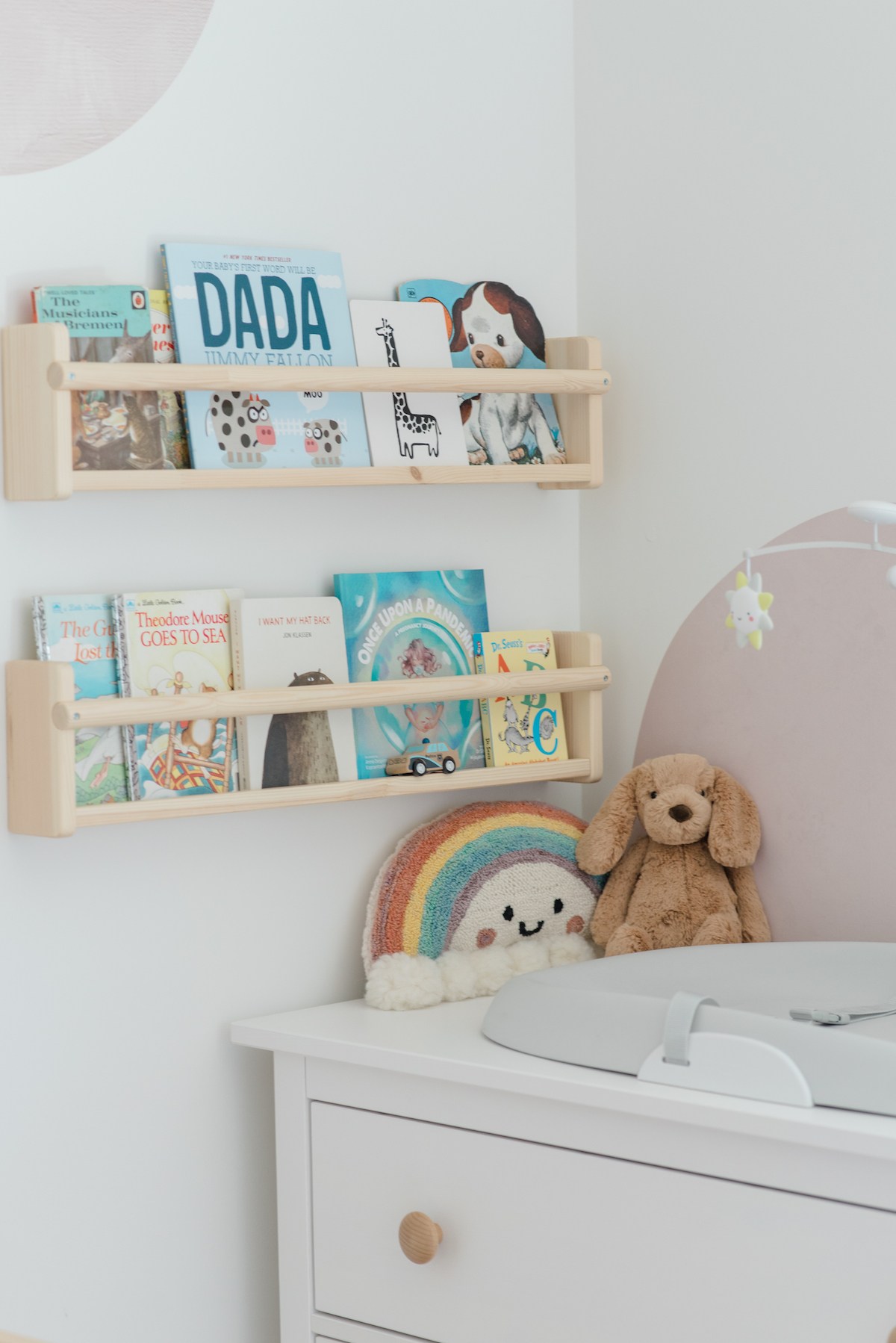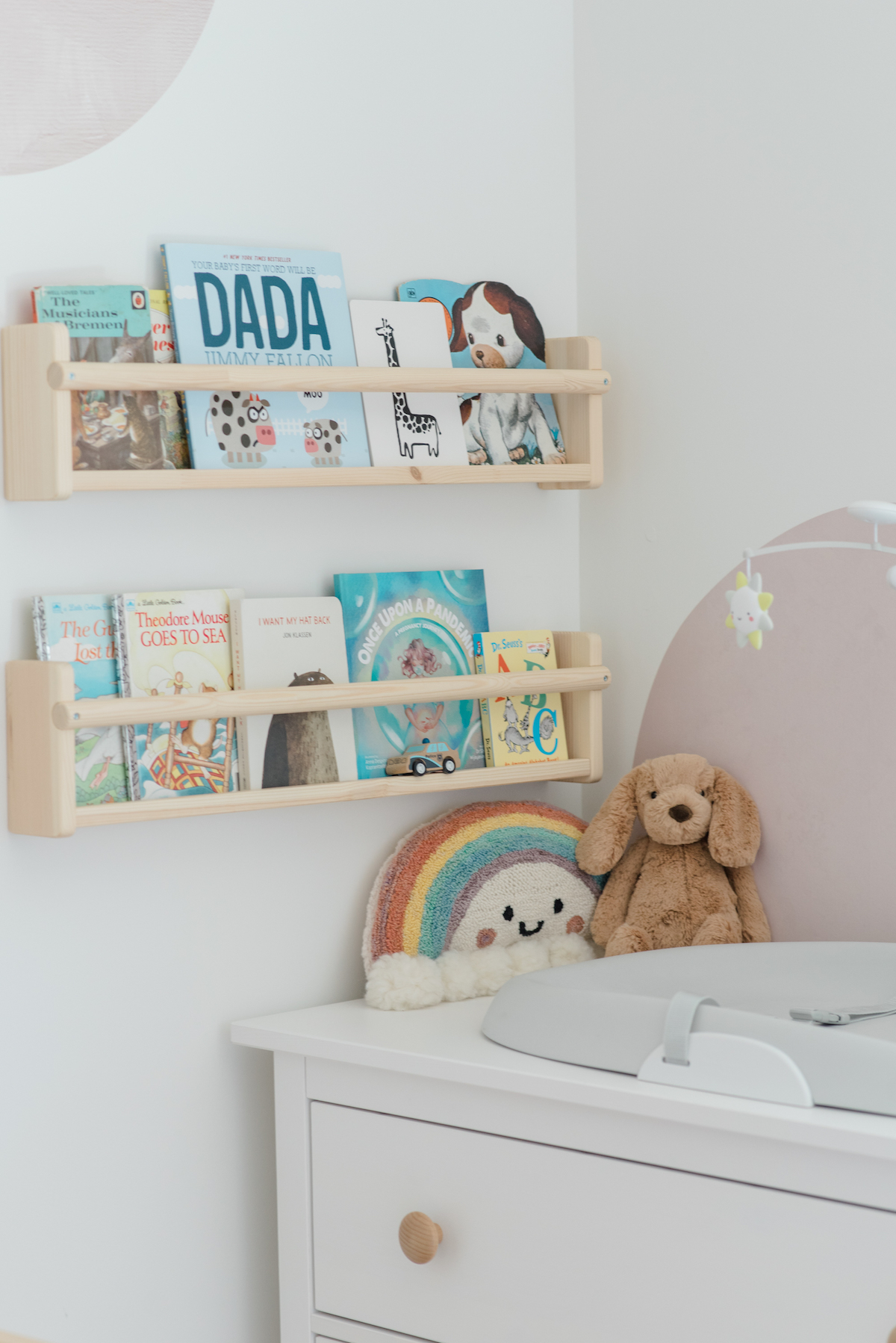 IKEA Hemnes 3-Drawer Dresser with Plockar Knobs and Skip Hop Changing Pad
The Hemnes dresser (both the 3- and 8- drawer versions) seems to be a favourite among new moms, I've seen it featured in so many nursery reveals! It appealed to us because the price point is super reasonable and the size and height ideal for a changing pad. // $219
Ours is the Skiphop Changing Pad (which was on our baby gift registry); it wipes clean and doesn't require a cover. // $100
The one thing I didn't like about the Hemnes series, however, were the original knobs. Thankfully, we didn't have to look very far for a replacement, the Plockar Knobs at Ikea were exactly what we were looking for; the round wooden knobs match perfectly with the wood of our crib and bookshelves, and the $2/knob price couldn't have been better.
For more ornate options, you could also consider Anthropologie or Etsy.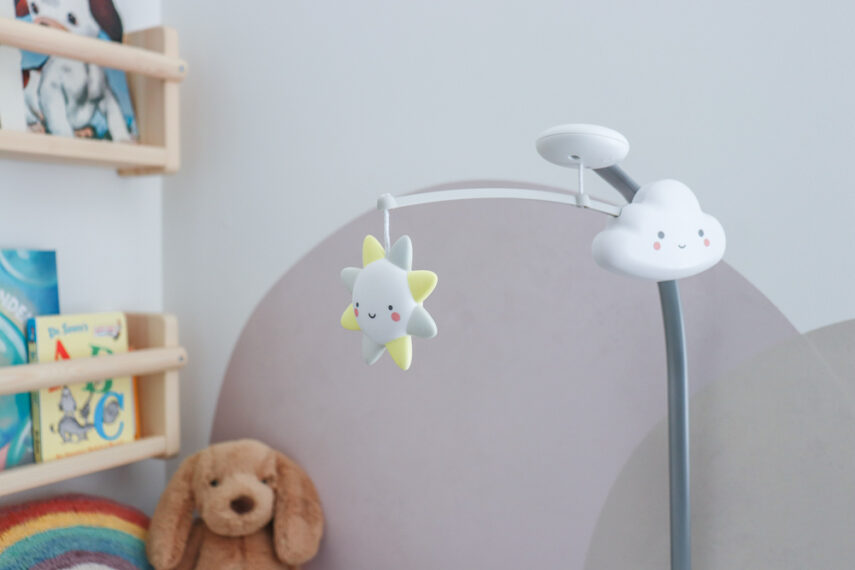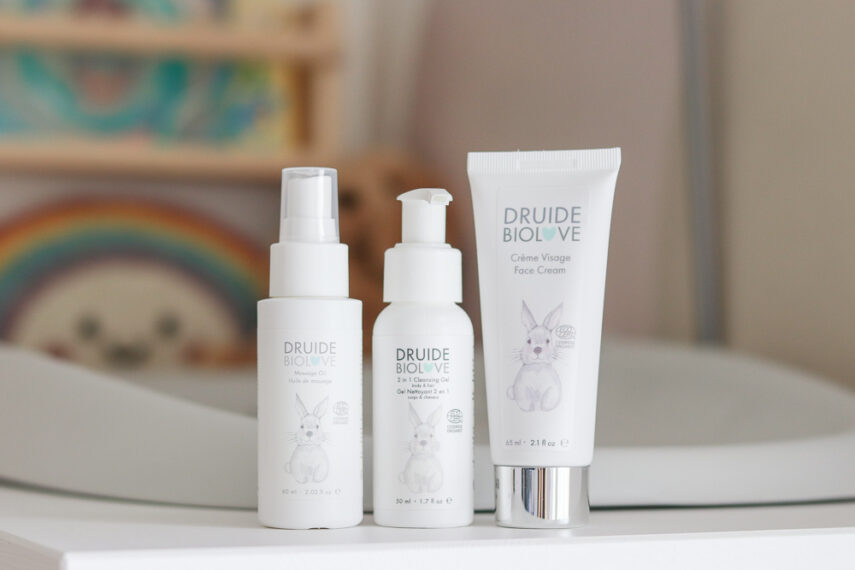 Crate & Barrel Kids Animal Alphabet Banner 
Similar to my reasoning behind investing in wall decals instead of framed wall art, I love the idea of hanging up lightweight tapestries rather than framed wall-art. This Animal Alphabet Wall Hanging is by Wee Gallery, sold through Crate and Barrel Kids. // $89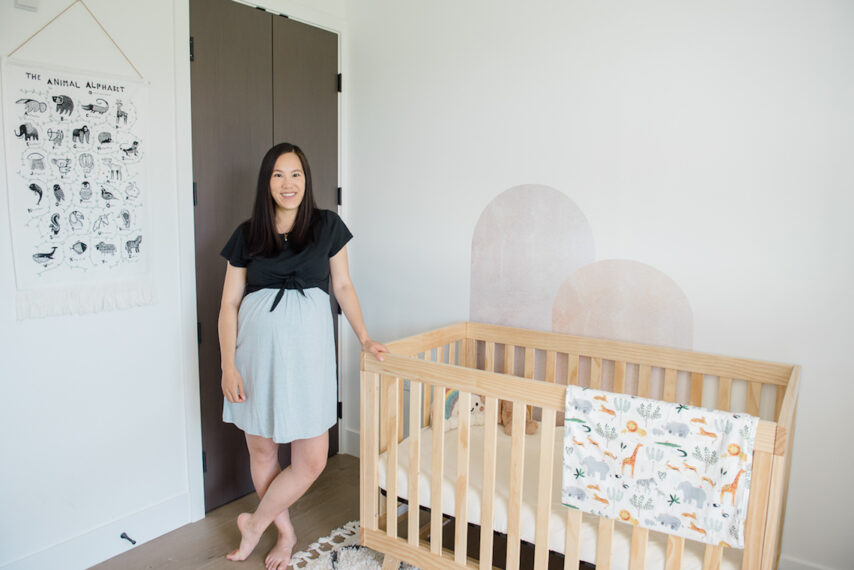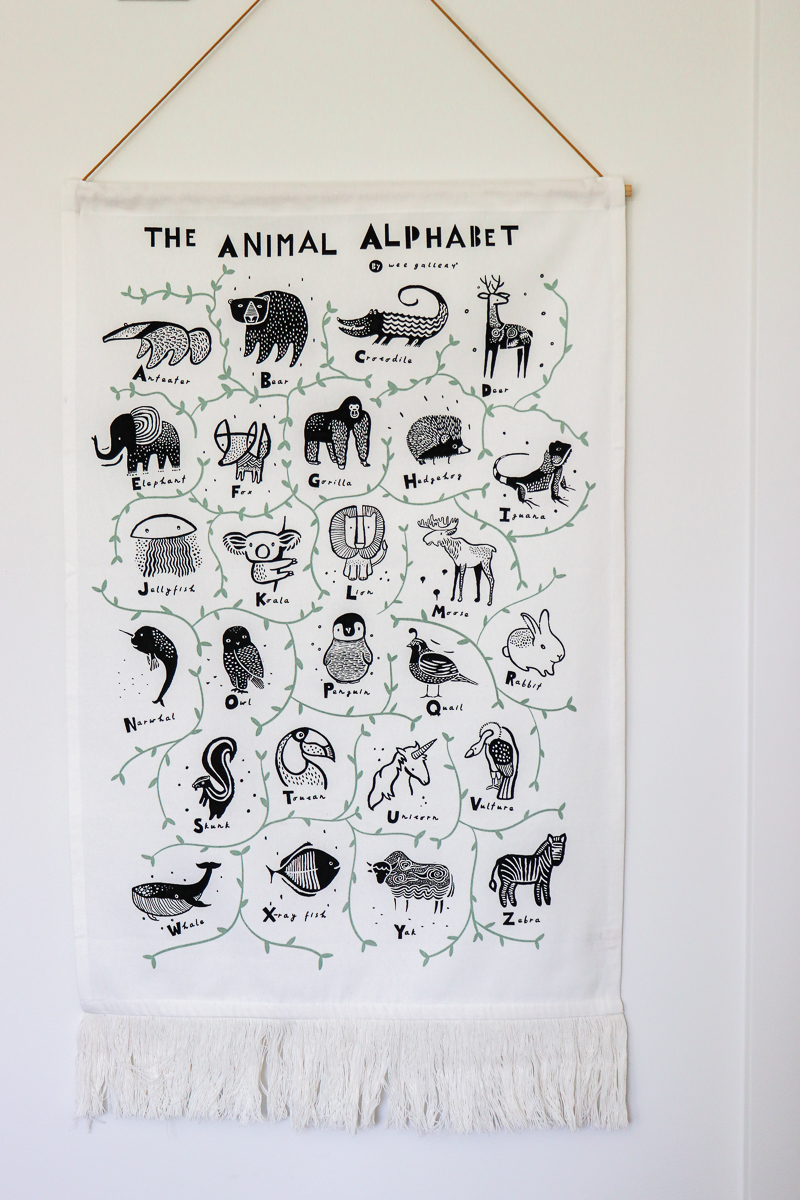 Crate & Barrel Kids Grey Touch Floor Lamp 
The Grey Touch Floor Lamp from Crate & Barrel Kids is around 5ft high, and can be turned on by touching any part of the lamp. It currently also comes in other colours including sage green and gold. // $249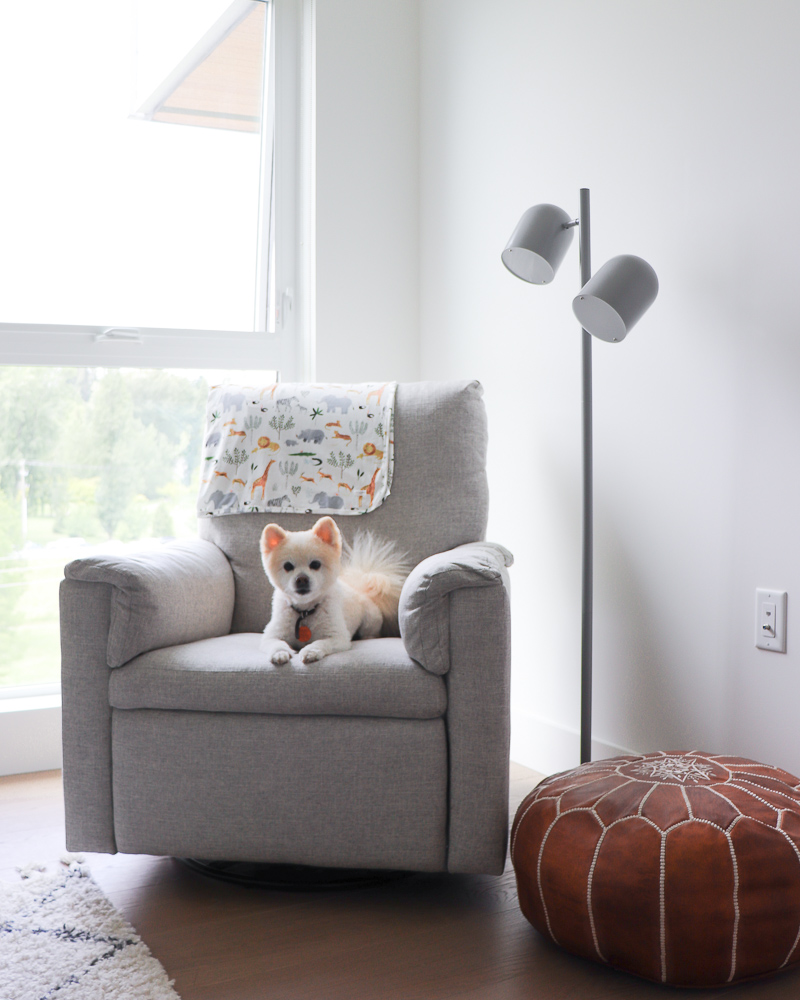 Pottery Barn Kids Dream Swivel Glider & Recliner 
Rather than shopping online, we really wanted to sit in and try nursery gliders before making a purchase. Especially because of the pandemic, there were very few stores where we could actually go in and try out the chairs.  On a whim, we were walking along South Granville and popped into Pottery Barn Kids. This was our splurge purchase and the final piece in our nursery — their Dream Swivel Glider and Recliner was being discontinued and on sale for 20% off. // $1,400