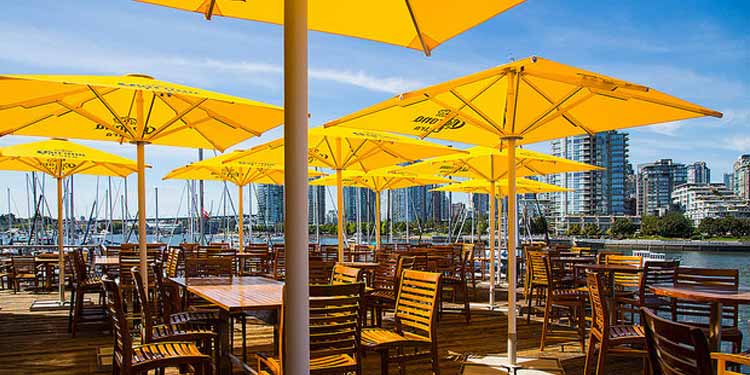 Taking over the former Monk McQueens site, Vancouver diners can now enjoy the False Creek waterfront view again with the opening of a third location of Mahony & Sons.
I went to the Olympic Irish House (620 Nelson Street) preview last night, a 9,000 square-foot pavilion house which is open to the public between February 8th to 28th. Located in a makeshift tent beside Doolins Irish Pub, this country pavillion reminds me of a typical beer garden crossed with a sports bar – complete with TV projections, a Nintendo Wii Station and a live band. Drink tickets can be bought for $8 to $9 – a preview of Olympics prices for the next month. There are two separate balconies accessible by stairs, and a sales booth by the entrance selling Celtic patterned jewelry. Click for photos and to continue reading.
Looking for something to do? Every Monday morning, we present to you "Modern Mix Monday", a brief but link-filled one-liner review of our past weekend loaded with suggestions to inspire you for your next!

Despite being the the midst of exam season, I still managed to go out and celebrate a friend's birthday at The Blarney Stone on Saturday night. The Blarney Stone is more "grungy bar" than modern Gastown joint. However, I was quite impressed by the size of the venue! Two floors with a pool table and a moderately large dancefloor on the bottom floor. On the second floor, picnic-style benches fit about six to a table – perfect for having a drink or looking out of the castle-like window openings to the floor below. However, despite spending my previous New Years Eve Celiah ("cay-lee") dancing in Scotland, the live Celtic music at the Blarney Stone is not my preferred genre of music. Then again, with 2 for 1 shooters for $6.50, you could just drink a lot and drown out the music.