By Kenneth Law, Modern Mix Vancouver writer The Donnelly Group adds yet another venue to its healthy portfolio – lounge/club Killjoy, and Modern Mix Vancouver had a preview of the …
The The Donnelly Hospitality Management group (Pop Opera, Bar None, Library Square, etc.) has reopened the downtown pub Smiley's as "Smiley's Public House" (911 West Pender Street).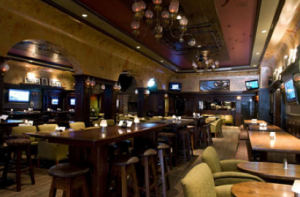 The space has been given a sleek makeover that has drawn both thankful regulars and new clientele. Smiley's Public House delivers the style of a modern, British-style pub while retaining the warmth and character of a traditional pub. The open-concept room boasts 240 seats and a range of table sizes, including 16-seat picnic tables. Guests come in to loosen their ties, tuck into modern pub food, watch a football match and engage in good-natured banter around the pool table. The dance floor brims on busier nights, and a DJ spins to the after-work crowd on Fridays.