Killjoy Cocktail Tavern (1120 Hamilton Street)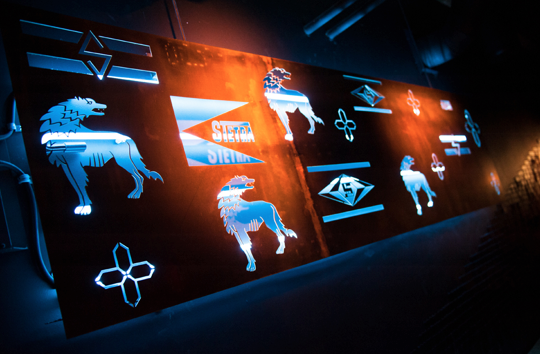 By Kenneth Law, Modern Mix Vancouver writer
The Donnelly Group adds yet another venue to its healthy portfolio – lounge/club Killjoy, and Modern Mix Vancouver had a preview of the venue at its VIP & media party on June 28th. With descriptions about a "deconstructed piano", "fetishist prints" and "arcane neon-accented installations", one has to come into the place expecting quite a unique and flamboyant affair unlike quite anything else in Yaletown.
Well, not quite. The Donnelly Group certainly knows exactly who they are catering to and how to appease them, so Killjoy fits right in with the expectations of regular Donnelly lounge/bar/club patrons.  There are three areas to Killjoy to keep patrons entertained throughout the night. Upstairs, one side is well lit with tables suitable for a full service restaurant, while the bar at the other end is more dimly lit and appropriate for drinks into the night. Downstairs you will find a nightclub with ample seating, a DJ set and a small dance floor.
This gives people plenty of options and reasons to stay for the entire evening – the menu offers a limited but interesting mix of meats, cheeses and small dishes, the drink menu is impressive and the dance club very cozy and comfortable. The DJ spins to a very small crowd here and plays up to around 1:30AM – larger shows are unlikely to be held here, but conversely it's not hard to lose someone you had just met here.
At the event itself, I had the opportunity to sample the English Breakfast Cocktail and the Smoked Albacore Tuna and Avacado – the drink was smooth and creamy while the tuna was good but not fantastic; and the portion size was quite small despite being priced at $12.  At the event, service was very slow as the staff seemed overwhelmed.  Hopefully, when the doors officially open there will be more staff to take on the load, as Killjoy is yet another promising new venue in the heart of Yaletown.