SELV Rituel is a Montreal-based online vegan body, bath, and wellness brand delivering clean, natural, and breathtaking products. Founded in 2020, SELV believes in the importance of taking time for yourself, one bath at a time. The brand encourages customers to take more moments for themselves and time alone to unwind and focus on their needs. As they say, it's time for your SELV-love revolution to begin!
This winter, SELV Rituel's latest collaboration is with Salon Chez Marcus for three haircare products to help combat dry and brittle hair, especially in cold weather.  Made in Quebec with all-natural and high-quality 100% vegan ingredients, each product is designed to help you obtain healthier and happier hair.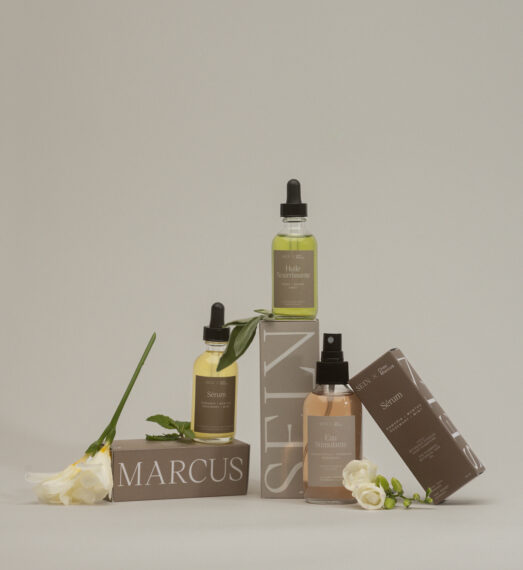 The SELV x MARCUS Collection
The collection is made up of three products that were created to target different needs all which contribute to your hair health. These products include:
SELV x Marcus Nourishing Hair Oil – A formulation of oils (including blueberry, camellia, cloudberry and argan) is used to give a shiny, hydrated and healthy finish for your hair. 
SELV x Marcus Pre-Shampoo Serum – Loaded with vitamins and good things for your hair. It aims to give more density, more hydration and improve overall health. Massaging helps stimulate hair growth and makes it stronger and healthier. 
Eucalyptus & Rosemary Stimulating Hair Mist – This is a spray-on scalp and hair product for use before bedtime. Rosemary hydrosol soothes the scalp as it relieves itching and regulates sebum, eucalyptus hydrosol stimulates hair growth, while provitamin B5 moisturizes and softens, calming skin irritation while protecting against external aggressions. 
For more information about SELV Rituel, visit: selvrituel.com.