Travellers from across the globe visiting Vancouver International Airport now have another delicious, nutritious beverage option at their fingertips, 24/7, with The Smoothie Machine. A first for North American airports, five machines were recently installed in various locations throughout YVR. The robotics vending unit by Burnaby-based TrendiTech Inc. was created to help make healthy options more accessible. It automatically doles out blended smoothies made with rescued fruits and vegetables.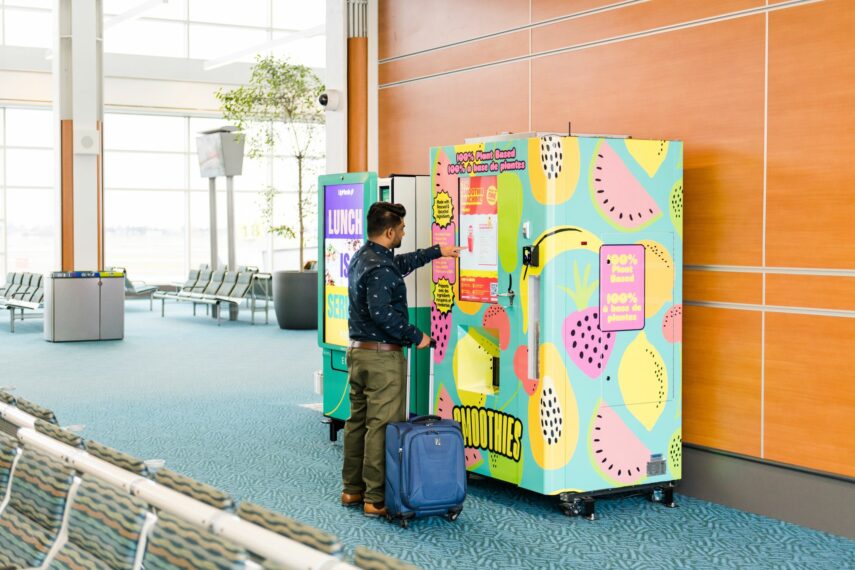 The five Smoothie Machines are located post-security at YVR – currently three in domestic departures, one in U.S. departures, and one in international departures. Each machine blends healthy smoothies in about a minute with no added sugars or preservatives.
"Each smoothie exclusively uses misfit fruit and veggies, picked directly from a farm and rescued before they would be wasted. YVR is one of the biggest and renowned airports, visited by many people across the world. It's incredible to have the opportunity to showcase The Smoothie Machine and our mission to fight food waste on a global scale, especially since 3.5 billion tonnes of food is wasted globally each year. " – Carissa Campeotto, Co-founder and CMO, TrendiTech Inc.
The smoothies are dispensed into recyclable cups, along with a lid and single paper straw. Payment is easy and cashless, made through a simple tap using most major credit cards and e-wallets, such as Apple Pay and Google Pay.

At launch, customers will have access to four fun and fruity flavours: Groovy Guava with guava, papaya, soursop, apple, lime, and turmeric; Berry Breeze with strawberry, raspberry, blackberry, and apple; Mango Tango with mango, banana, passion fruit, ginger, and lemon; and Strawburst with strawberry, banana, orange, beet, and apple. The flavours were created by Trendi's president and chief culinary innovation officer Christine Couvelier, a world-renowned chef and global culinary trendologist who has worked with some notable organizations such as President's Choice, Maple Leaf Foods, and Unilever.

The Smoothie Machines continue YVR's dedication to transforming its food and beverage program by offering more sustainable and innovative culinary options, working towards its goal of being the most sustainable airport by 2030. For more information about The Smoothie Machine, please visit trendi.com/the-smoothie-machine.