For moms with babies or young children, you're probably already doing this. When I'm cooking a quick and easy meal for myself (like instant noodles!) I'll often portion off a part of what I am eating to make a baby-friendly meal for Theodore.  Let me explain! I'll be using a Lucky Me Noodles recipe (pancit canton and chow mein noodles) as an example.
When Theodore started on solids at 6 months old, it brought some much-needed structure to our day. He started with two meals a day (breakfast and dinner) then we added in a third meal (lunch) shortly after. 
Three meals a day for baby, is a lot of extra cooking for mom, Plus, I still have to think about what I need to eat myself as well. Naturally, over the past few months, I've developed a few recipe hacks when it comes to meal times for Theodore and me.  
A single package of instant noodles is enough for a small adult meal, but given my voracious post-partum appetite, I've gotten into the habit of using these noodles as a base, then adding extra toppings to make a Lucky Me Noodles recipe. These extra toppings are perfect for a baby-friendly meal for Theodore!
 

 

View this post on Instagram

 
What is Pancit Canton?
Pancit Canton is a Filipino adaptation of chow mein. The company Lucky Me makes an addictingly delicious instant noodles version, which takes less than five minutes to make. All you have to do is boil the noodles for a few minutes, then add in flavour seasoning packets like Chili Mansi (Chili and Philippine Lemon), Kalamansi (Philippine Lemon), and, my personal favourite, Sweet and Spicy.
Lucky Me Noodles Recipe (adaptations for baby)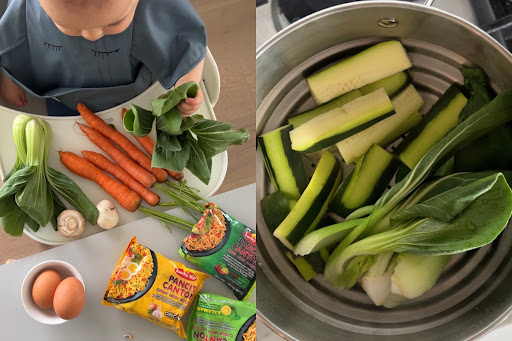 Instant noodles, like Lucky Me Pancit Canton / Chow Mein Noodles, are one of the quickest meals to make for myself. There's a reason why they are called instant noodles. They are already delicious on their own, but they are also a versatile base for quickly topping up with protein and veggies. Some of the extras I like to add to my instant noodles include: prawn, fried egg, bok choy, mushrooms, and sliced carrots – the exact combo just depends on what I have in my fridge that day!
As I'm prepping lunch, I keep Theodore busy by letting him 'play' with raw veggies in his highchair before I cook them so he can discover different colours, taste, and textures. It's a fun sensory experience for babies, and it helps them get familiar with what they will be eating.

On days where I'm making Lucky Me noodles for myself, I find it most convenient to steam Theodore's veggies in the same pot while I'm boiling the noodles. Both only take a few minutes to cook and it's one of the quickest, easiest, and most efficient meals I can make for both of us to enjoy at the same time!
5 Ways to Upgrade Your Pancit Canton (lucky me hack)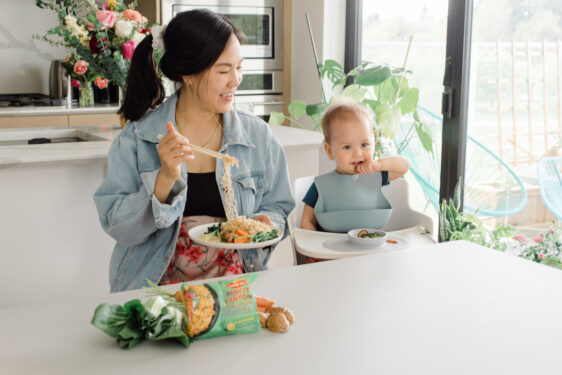 Here are some ways I've upgraded my Lucky Me Pancit Canton noodles (aka. A Lucky Me hack) and why the 'upgrades' also work for a baby. I love calling this a 'hack' because you are taking an existing meal then adding something more to it to make it new and different. 
Add egg

– Sliced boiled egg, fried egg, or poached sous vide – whatever your favourite style of egg is, you can add to your pancit canton. Egg is a great source of protein for babies! Beware, however, it's also a common allergen for babies. 

Add broth

– Pancit Canton is intended to be a fried dish, but you could also put into a mild or unsalted chicken or vegetable broth to make a soup-based version. 

Add veggies

– This is my favourite Lucky Me upgrade. As mentioned, I find it most convenient to steam Theodore's veggies in the same pot while I'm boiling the noodles.  

Add protein

– Prawn or chicken are my preferred proteins to add to pancit canton. Cook the unseasoned protein separately for your baby, and be sure to cut them in a baby-appropriate manner before feeding, to reduce the risk of choking.

Add garnishes

– Cilantro, green onion, chive, and other herbs are all wonderful garnishes for your pancit canton. You can portion off a tiny bit for your baby and add to their meal – chives and other herbs are a great tool to enhance flavour without adding salt.