Plain Jane Skinbar
is a facial boutique on Main Street that offers medical-grade facials with a chic customer-oriented environment. Its warm coffeeshop-inspired decor with its striped awning, artwork, wishbone chairs, and arched doorways, reminds me more of a stylish retail boutique rather than your typical medi spa in Vancouver.
Plain Jane Skinbar: Not Your Typical Medi Spa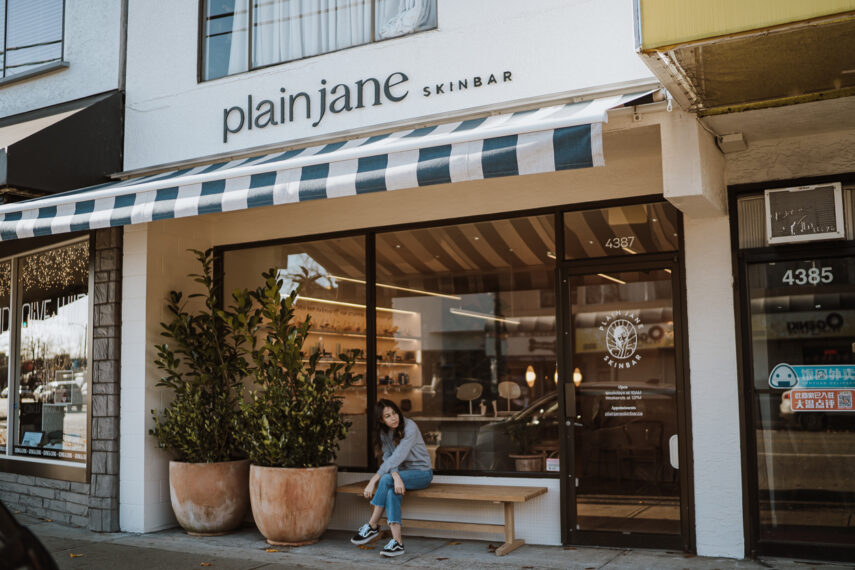 If you've been to a medical spa, you'll know that the vibe is often more 'medical' and less 'spa'.  It's expected to encounter clinical environments that make your facial feel like an obligatory medical appointment rather than an enjoyable, relaxation experience.
Ask Amberly Donnelly, she would know. For nearly ten years, she was a rep at Allergan, the pharmaceutical company behind Botox and Juvederm. Her career background gave her the unique perspective to go into every medical aesthetic clinic in British Columbia, and some in Alberta and Ontario. Even though every clinic's cliental is predominently made up of women, many of the top medical aesthetic boutiques were male owned and not at all cozy or inviting.  You're going for a medical facial, but the medical part—with too many options, a sterile environment and transactional service—dominated the industry.
After working in the industry for nearly a decade, Amberly knew things could be done differently, and when she left Allergan to pursue her MBA at the Sauder School of Business, she came up with the business plan for the much more approachable concept of Plain Jane Skinbar.
The first location of Plain Jane Skinbar opened at 4387 Main St in November 2020.
Plain Jane Membership and Services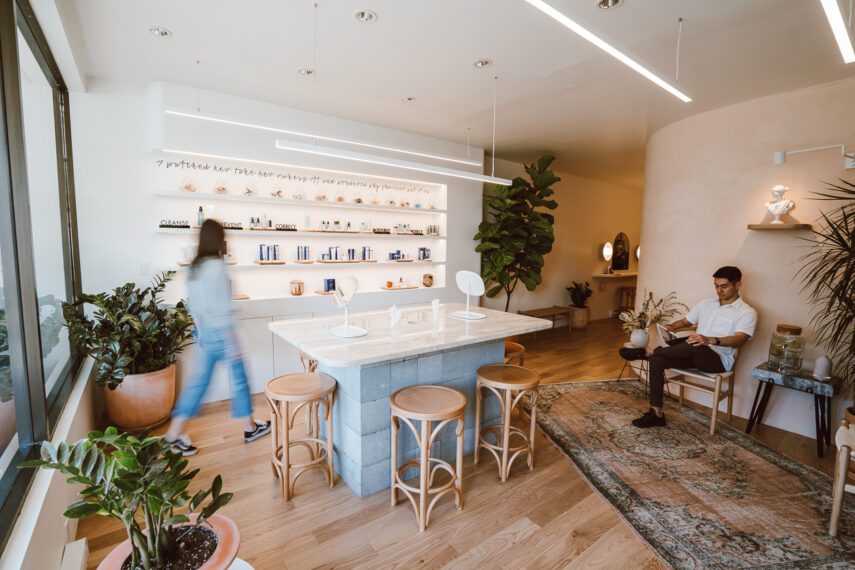 Plain Jane Skinbar was the result of two years of research; it was discovered that what women really want for medical-grade facials is for them to be simple, accessible, and effective. According to Amberly, "Our target market asked us to simplify and eliminate the choice overload. They also asked for facials that were scientifically proven to be results-driven but had little to no social downtime."
Plain Jane combines the service of a relaxation facial, with the results of a medical-grade facial. Their short list of curated treatments includes the Hydrating Facial (HydraFacial), Laser Facial (Laser Genesis), MicroNeedling, and Fractional Facial (Clear + Brilliant technology).
All their facials allow for busy guests to be in and out within 45 minutes. There are, of course, options to add on longer experiences for those who have time. The thinking behind these speedy facials is if you can make skincare health a regular part of your routine, you'll be able to cut down on the time-consuming day to day efforts when getting ready.
For Amberly herself, "Most days I run out of the house with the classic messy bun and a touch of mascara but always feel confident because my skin looks good."
To help with regular skincare maintence, Plain Jane Skinbar offers an annual monthly membership option. For $179/month, members can choose one Basic Combo, Hydration, or Laser Facial a month as well as get 25% off any additional Basic, Basic Combo, Hydra, Laser or Fractional facial booked throughout the month.
My Skincare Journey at Plain Jane Skinbar
Over the next six months, I'll be trying out the various services available at Plain Jane Skinbar and documenting my skincare journey.  For context, I'm a newbie to medical-grade facial treatments. My main goal of visiting Plain Jane is for maintenence and I'd describe my skincare type as pretty normal. My main concerns are fine lines, pigmentation, occasional blackheads, and wanting more plump, dewy, and hydrated skin. The 'relaxation' part of the facials at Plain Jane is important to me.
Month 1 (April 2022): Hydrafacial at Plain Jane Skinbar
The Hydrafacial is a medical-grade facial that combines exfoliation and hydration. What I loved about this facial was the satisfying "ch ch ch" sound of the handheld suction-like device "vacuuming" my face and clearing out dirt and debris from my skin while infusing it with serums and other hydration products. My skin felt dewy and glowy after the treatment, and, in the days after, noticibly softer.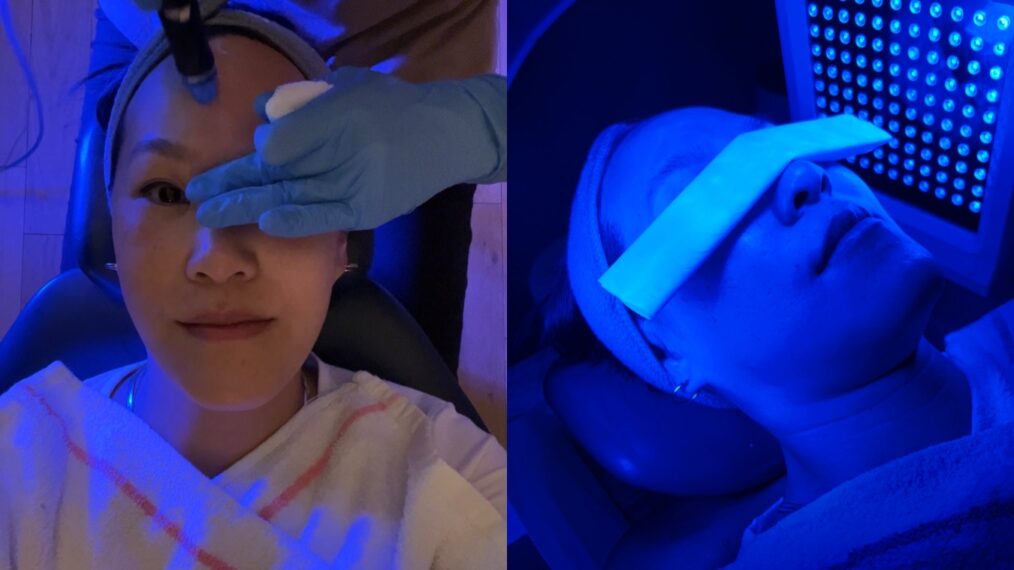 Month 2 (May 2022): Laser Facial at Plain Jane Skinbar
I just got my first-ever Laser Facial experience from Plain Jane Skinbar! Laser Genesis targets the part of the dermis where collagen and elastin activity happens, but doesn't disrupt the top layer. This allows for the facial to address the root of skicare problems without disrupting the surface. Expected results over time includes less redness, correcting uneven skintone, reducing fine lines, and helping with acne.  The laser feels warm on my skin, like being close to a campfire or a heatlamp. I wore eye protectors for this service. There was no downtime after this facial, and the days following, my skin felt soft. However, this is a long-term service that you need to keep up with in order to see results.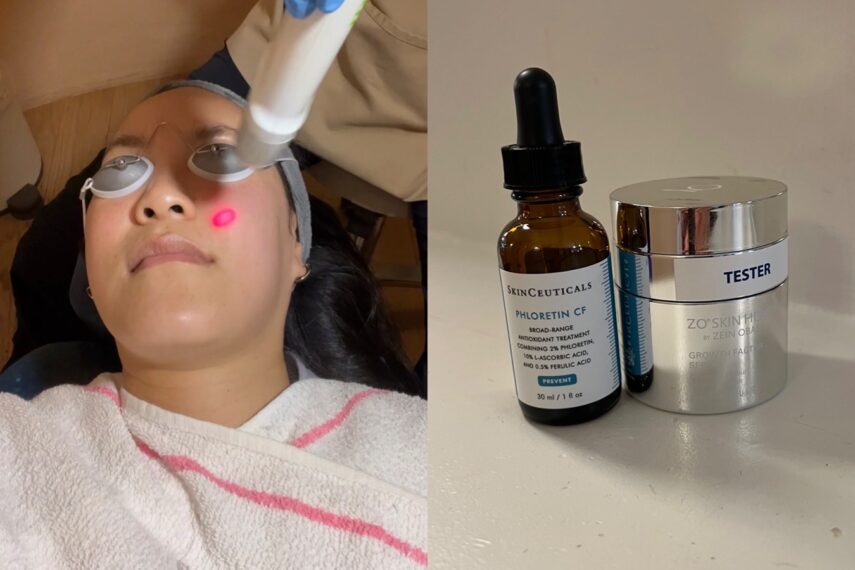 Month 3 (June 2022): Hydrafacial and Dermaplaning at Plain Jane Skinbar
Similar to the first month, I went with another hydrating facial at Plain Jane Skinbar. This time, I added on a service called Dermaplaning. After cleansing, a surgical scalpel blade is used to gently scrape off the top layer of dead skin and any fine hairs. The idea is that having a clean, unblocked skin surface will allow for the subsequent hydrating products that are applied with the Hydrafacial machine to absorb better.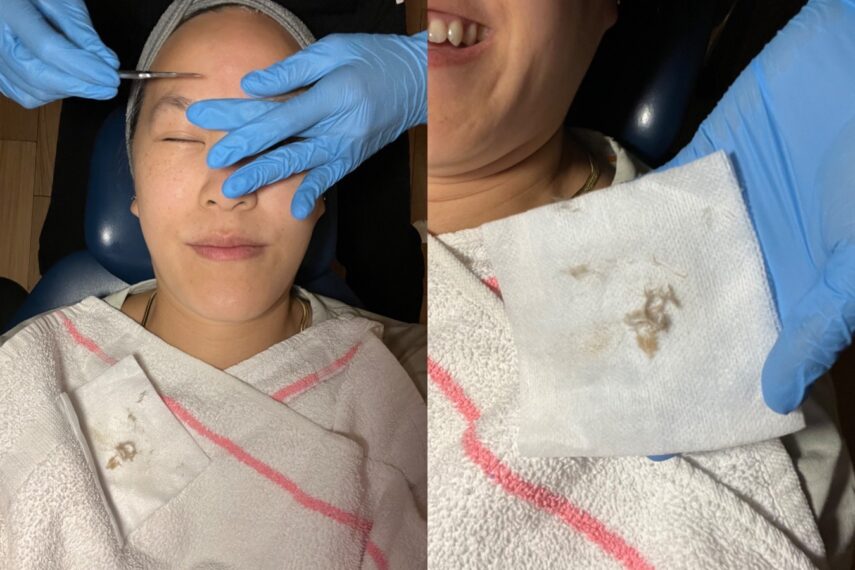 —
For more information on Plain Jane and to book a service, visit: plainjaneskinbar.ca. Your first treatment is 40% off with with code FIRSTFACIAL.