Inspired by our recent visit to Salt Spring Island, I wanted to share about Salt Spring Coffee's new coffee bean collection that's been released in celebration of the roaster's 25th anniversary.
This limited-edition collection of single-origin coffees is grown using regenerative organic agricultural practices. Each of the three coffees in the collection  is made from the same beans, but processed using a different method, allowing coffee lovers to appreciate how each method changes the coffee's flavour.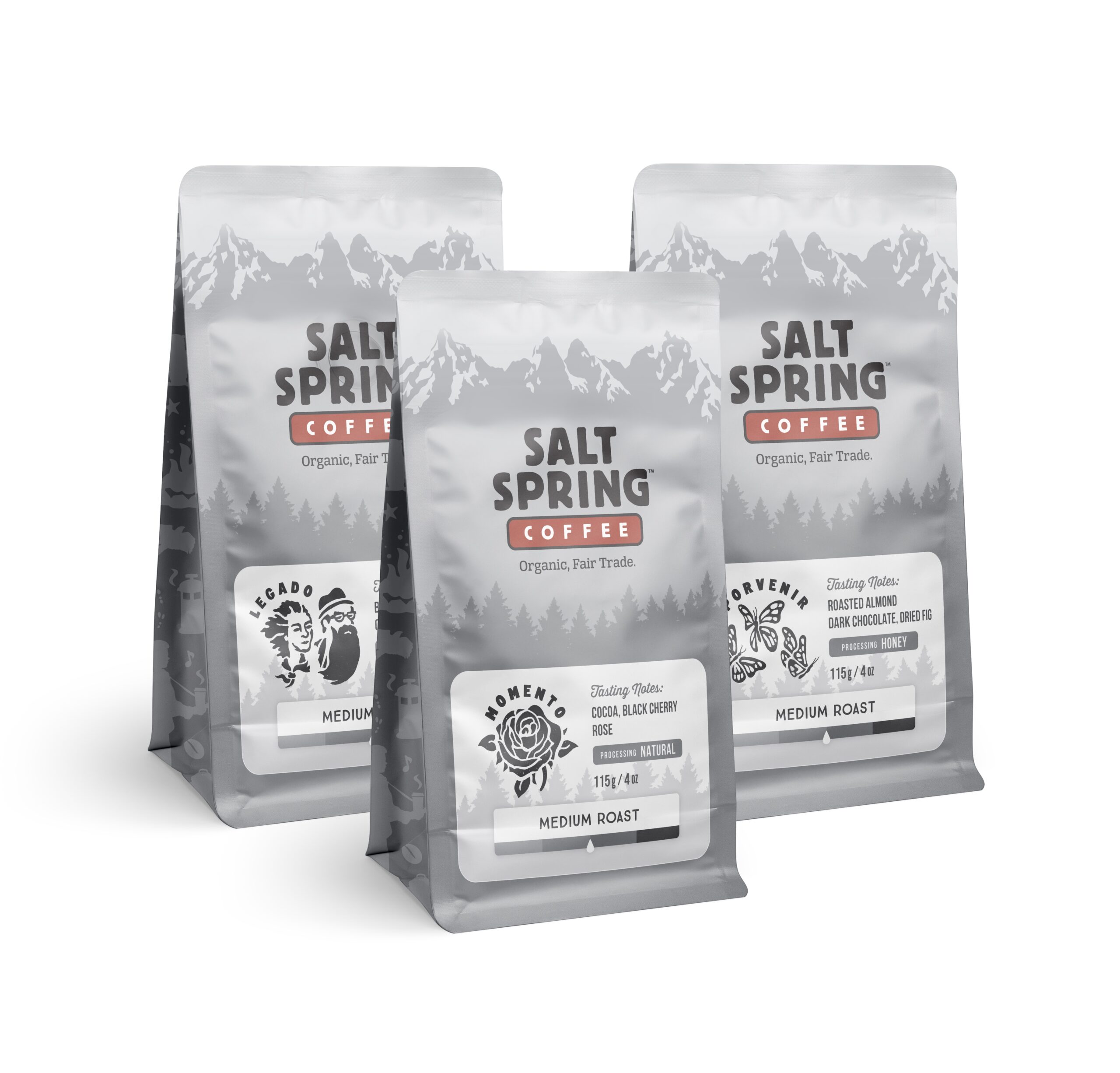 What are the three coffee processing methods?
The three methods of coffee processing (washed, natural and honey-processed) differ in the amount of coffee cherry flesh that is left on the bean as it dries, which results in the coffees having different flavour characteristics.
Washed coffee removes all of the pulp from the bean before drying, allowing the true character of the regional terroir and growing conditions to shine through.
Natural coffee leaves the pulp intact allowing it to infuse the beans with intense fruit notes and give it a more dynamic character.
Honey-processed coffee leaves only a thin layer of pulp (known as mucilage) on the bean, which eventually turns brown and sticky (hence the comparison to honey) and provides sweet, fruity notes that are subtler than natural coffee.
The coffee beans were sourced from Byron Corrales' Finca Los Pinos in Matagalpa, Nicaragua. Corrales is an expert grower and long-time Salt Spring Coffee partner who has been growing coffee using regenerative organic agricultural practices for over 25 years. The names of the three coffees – Legado, Momento and Porvenir – represent the past, present and future of the company while the use of Spanish is a nod to the coffee's Nicaraguan roots.
"With this collection we wanted to take the same, high-quality beans from Byron Corrales, one of our most trusted producers, and have him process them three different ways so that coffee drinkers could appreciate the different flavour characteristics that each method imparts on the coffee. It's not often that most consumers get a chance to taste and compare differently processed coffees side-by-side. This is an exciting opportunity to experiment and expand one's palette." – Jessie Gullett, Director of Coffee Quality & Production, Salt Spring Coffee.
Regenerative organic agriculture is a set of agricultural practices that allow for the cultivation of crops in a way that has minimal impact on the environment and even helps return it to a healthy state. For the production of this coffee, practices included fertilizing the coffee plants with cow manure enhanced with forest microorganisms, using honeywater produced during coffee processing as a natural insecticide and choosing coffee saplings whose roots run deep rather than wide, increasing the plants' longevity and reducing the disruptions to the soil ecosystem associated with frequent replanting.
The limited-edition coffee collection is available for sale at saltspringcoffee.com and at Salt Spring Coffee's Café & Kitchen on Salt Spring Island.
Salt Spring Coffee is also launching ground coffee and compostable pod versions of its existing coffee blends. The ground coffee is already available in store and online while the compostable pods will be available online starting in late November and in grocery stores starting early 2022.