At 36 weeks pregnant, it was confirmed that our baby was healthy but breech, meaning he wasn't in the optimal "head down" position for a vaginal birth.
Up until this point, I had a fairly smooth and uneventful pregnancy. With the discovery of the breech baby positioning, something that only happens in approximately 4% of pregnancy, my birth plans were unravelling. I'd prepared for a "midwife doula hypnobirthing" combo for a vaginal birth but a breech baby would result in a big change of plans.
Rather than the midwives I had developed relationships with throughout pregnancy, I was referred to a new OBGYN, our doula wouldn't be able to attend a surgery, the hypnosis I had been practicing so hard at was catered towards a vaginal birth and any hope of attempting to have an unmedicated birth was out the window.
Attempting to turn our breech baby
We tried everything to turn the baby including chiropractic services, pregnancy acupuncture at Acumamas, and Spinning Babies home inversion exercises for flipping a breech baby. My dear husband would light incense near my baby toes (also known as moxibuston) as I lay upside down on an ironing board propped against our couch while listening to the "Turn Baby Turn" Hypnobabies visualization track.
The External Cephalic Version procedure (ECV) at BC Women's Hospital
At 37 weeks pregnant, our efforts cumulated in medical intervention at BC Women's, opting for an External Cephalic Version (ECV) procedure where they try to manually turn the baby from the outside. Despite two doctors bracing themselves against my hospital bed and floor trying to pry baby's bum out of my pelvis, the procedure failed. I left feeling disappointed, bruised, and a bit sad and sorry for myself.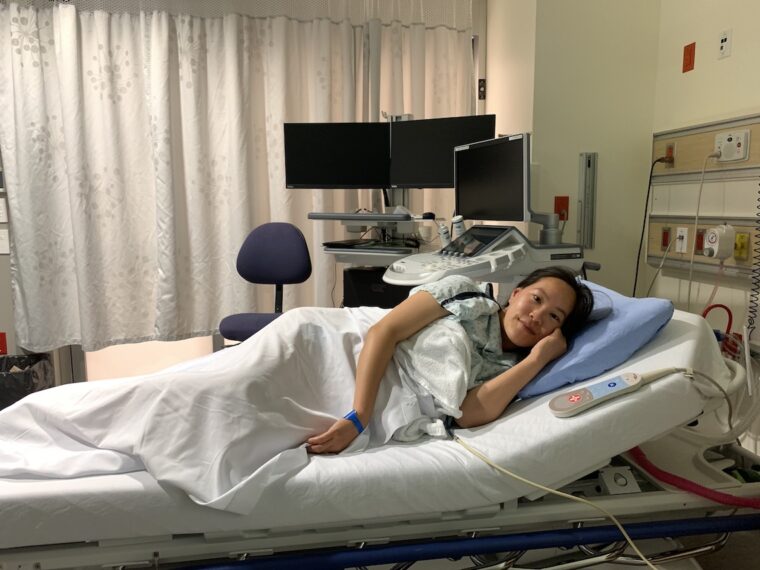 We were left with the option of a vaginal breech delivery (unconventional) or a planned c-section (common but a major surgery).
A change of plans…
I was so scared by the sudden change of plans, and also completely overwhelmed by the prospect of surgery. I felt like other people's well-meaning excitement brought them five steps ahead of me, jumping to conclusions, when I was still processing our new reality, one step at a time.
For example, I was asked if the ECV failed, couldn't I deliver immediately deliver via C-Section? — a comment which unnerved me, as it wasn't something I was ready to commit to yet. Or unsolicited advice about how so-and-so had a vaginal breech delivery but "wouldn't recommend it". Or, wasn't a C-Section a surgery where your insides fall out?!
Everyone seemed to have a story or opinion, but above all, was fixated on "dates" and "next steps", that I felt like my feelings of fear and anxiety were cast aside and not acknowledged. Unless you've also been through a 'change of plans' in pregnancy, I literally felt like no one could say anything right to me.
We as a couple set our boundaries and provided no further updates on our baby boy. With family, our unshakable message was: we are healthy, the baby is healthy, we'll let you know when he is born.
Our scheduled C-Section at BC Women's Hospital
On our scheduled birth day, our morning was so peaceful. We tidied our home, cut up snacks, and calmly made our way to the hospital. The C Section went so smoothly. The team at BC Women's was phenomenal and I felt confident I was in excellent hands. My midwife, although not the one delivering the baby, was with me the whole time, offering encouragement, holding my hand and calmly explaining what was going on. I listened to my hypnosis tracks through one ear — the voice, music and reminders to breathe and relax were so helpful.
The baby came so quickly, only ten minutes into the procedure! I felt tugging, then a deflating sensation, and next thing I knew, a crying baby was lifted up and looking over me from over the curtain, then placed on my chest for skin-to-skin contact.
And just like that, I became a mother.
I did always say that my hope for birth was to have an uneventful and drama-free birth story. With a planned and orderly c-section, I got just that — but maybe not in the format I had expected.
Post-partum recovery at BC Women's Hospital
We spent three nights at BC Women's recovering. The nurses there are amazing and so knowledgeable. It was a huge learning curve; we felt tired but supported the whole way through.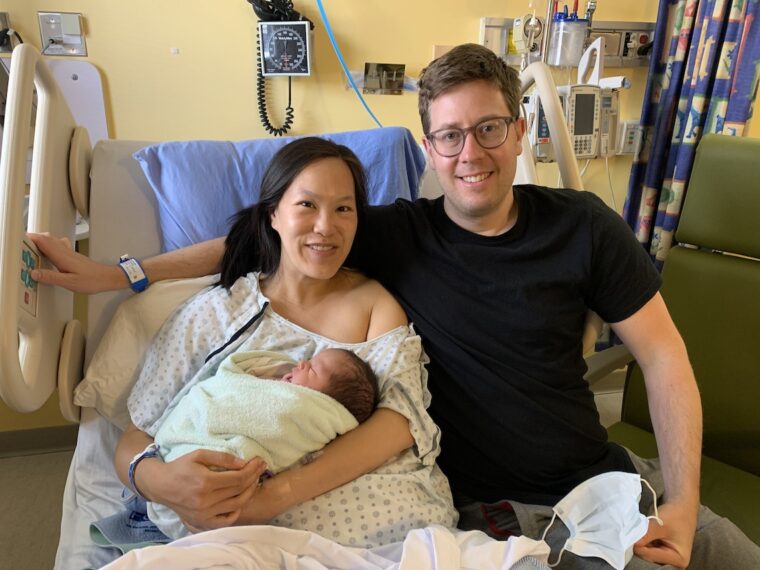 People often say nothing matters as long as the baby is healthy, but I would disagree with that. Your own mental and emotional states matters too — you gotta take care of Mom, so Mom can feel good about taking care of baby.
What I've learned is that giving birth is unpredictable and I'm sure parenthood is even more so, as we've already discovered in the first week on everything from sleep to breastfeeding.
I am so relieved the birth is over and that it ended up being a smooth and positive experience, and I can now concentrate on recovery and our new journey into parenthood and raising our son who we love so much already.