Meet Osolumio™: a disinfecting LED light that brings hospital-grade sanitization to your home, in the form of a portable plug in lamp. Invented by the Burnaby-based healthcare company Renu Bio Life, the Osolumio™ light bar avoids the conventional UV method of sanitization, and instead, puts forth a safer option using "Fusion Light Technology™" (a wavelength of 405nm combined with IR infrared light) to kill up to 99.9% of bacteria and viruses on surfaces and in the air.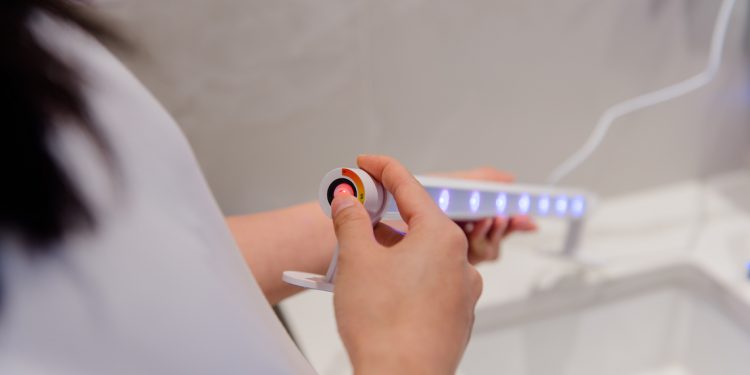 To turn it on, all you have to do is plug in the cord, like any other lamp, and click a button. There are two modes to the lamp: the disinfectant mode (which glows a bright purple) or, if you click twice, just a regular LED bar for when you need extra portable lighting in your home.
Having used Osolumio™ in my home for the past month or so, I like how the device is so lightweight and easy-to-use; it barely takes up any space! I've been mainly keeping it on the edge of my bathroom countertop and shining the disinfectant lamp in the sink, on makeup brushes, into the shower, on damp towels, and into my laundry bin. The lightbar swivels at various angles, so you can easily point and shine it on whatever surface you'd like to have continuous disinfection on. The subtle heat generated from the infrared light does particularly well in damp conditions and has the extra benefits of drying moisture, so I don't have to worry about the growth of mold in the bathroom.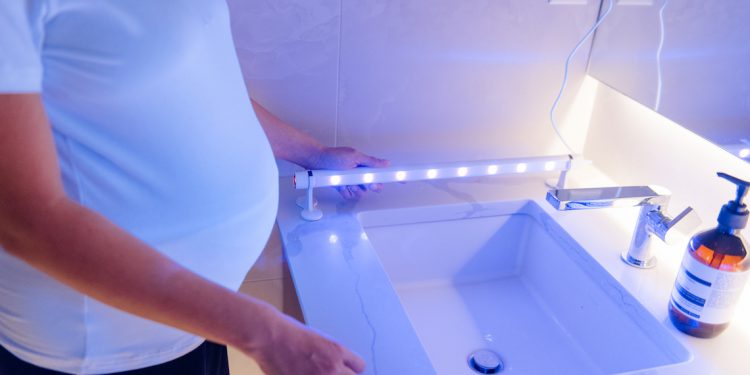 For other areas of your home, you can also use Osolumio™ at the entrance to your home, mounted above your workspace, in your kitchen, and any other high touchpoint areas that could benefit from regular sanitization.
I've also hung my reusable face masks in front of the lamp. Sometimes they get a bit moist from breathing in them, and I find that the heat from the Osolumio™ lamp will gently dry them off and help disinfect so I don't have to worry about germs in between wash cycles.  
If you're looking for a real-life example of Osolumio™ while out and about in Vancouver, I saw two of these lamps being used at Timbertrain coffee shop in Gastown, mounted above the payment areas. From Osolumio's Instagram Stories, they've shared that their LED disinfectant lamps are also being used at: Fiore Republic Floral Design (New Westminster), Beehouse Daycare (Coquitlam), Evergreen Health Clinic (Burnaby), Sejong Hair (Coquitlam), The Well Medical Clinic (Coquitlam), Mello Donut Shop (Vancouver), and Pelicana Chicken (Burnaby).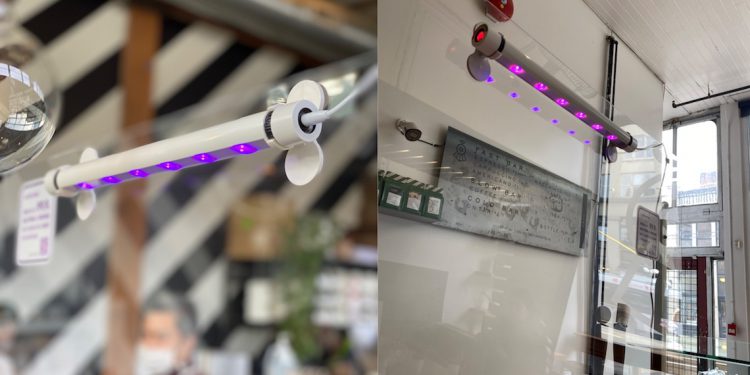 Osolumio™ launched their LED disinfectant lamp in Spring 2021, kicking off with a crowdfunding campaign on Indiegogo.  If you'd like to be an early backer of this project, and get your own Osolumio LED sanitizer at special pricing, there's currently an Indiegogo campaign running 'til the end of April.
For more information about Osolumio™, visit: osolumio.com.
===

This post was written in collaboration with Osolumio™.