Last Spring, I wrote a blog post on Modern Mix Vancouver about "Subscription Box" services based out of Vancouver.  The producers at Global BC's Morning Show recently came across my round-up and invited me to be interviewed as a subscription box expert on a "Subscription Box 101" segment.
So, what exactly is a Subscription Box?  A Subscription Box is a postal mail service which delivers a curated selection of themed products to you on a regular basis.  Depending on your interests, you can subscribe to boxes which feature everything from beauty products, to loose-leaf tea, coffee beans, healthy snacks, and even pet-products!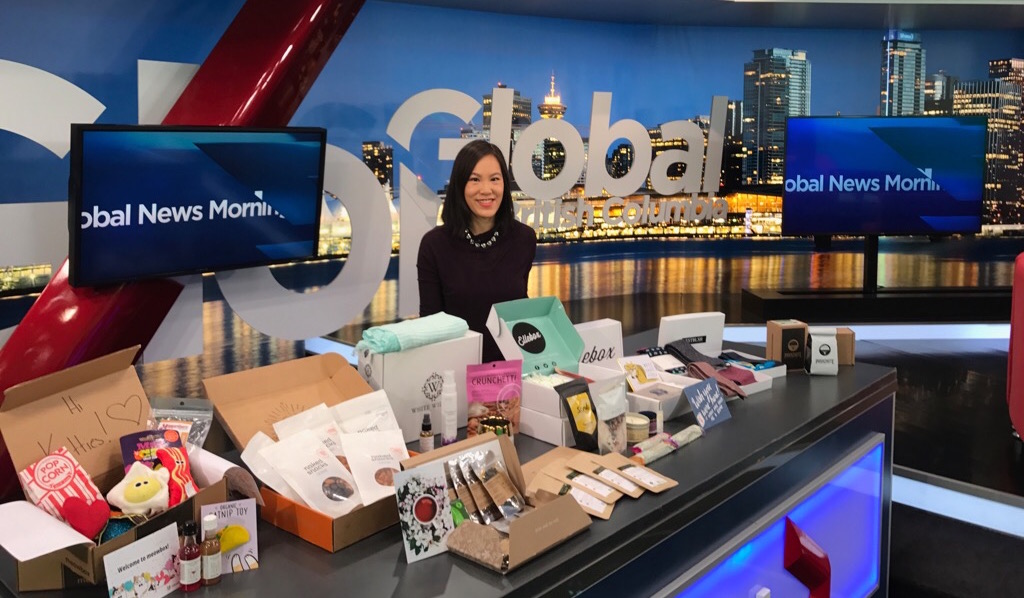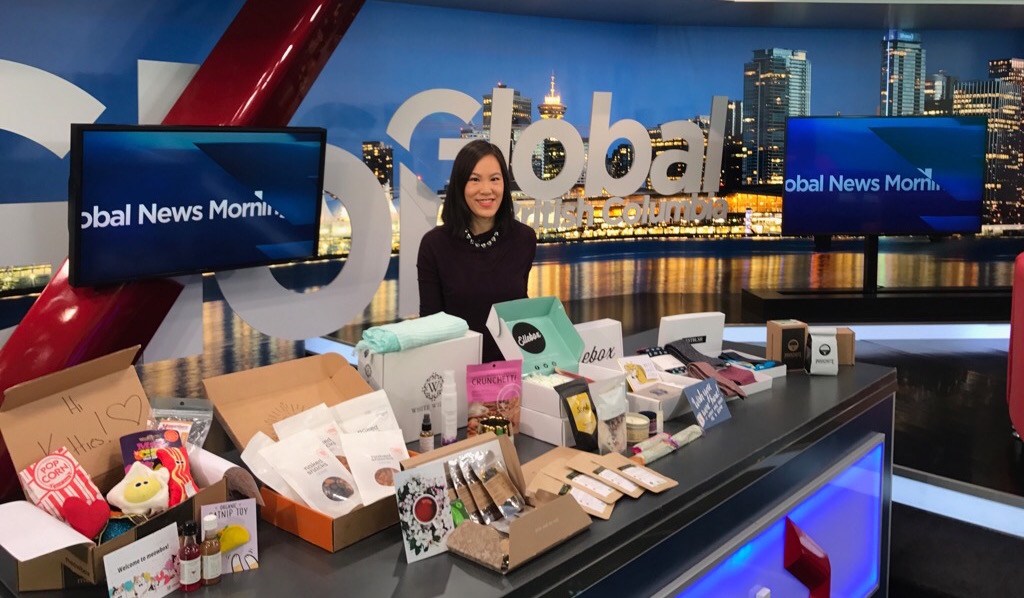 Being a Vancouver-lifestyle blogger, it was the perfect fit to bring me on to talk about the modern trend and experience of ordering Subscription Boxes online.  The segment started off with Meow Box (which specializes in cat products), then moved onto Naked Snacks (healthy snacks), then onto gift-oriented themes like Amoda Tea, Tea Sparrow, and White Willow Box.  Then finally the 5-minute segment concluded with something for the men: ESTBLSH, a Toronto-based company which mails its subscribers a trio of men's products on a monthly basis.  Other boxes displayed on the table included Q&A Letterbox and Parachute Coffee.
Not only was I thrilled to be able to speak on behalf of such a unique and diverse selection of Canadian small businesses, but I was even more delighted to see the ripple effect it caused among local businesses.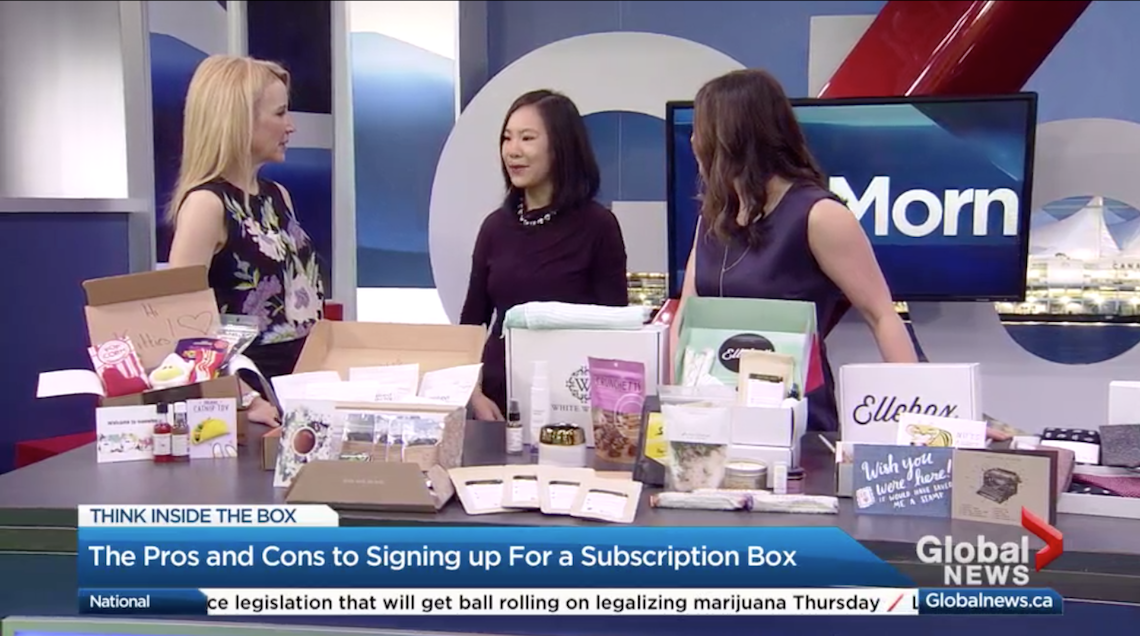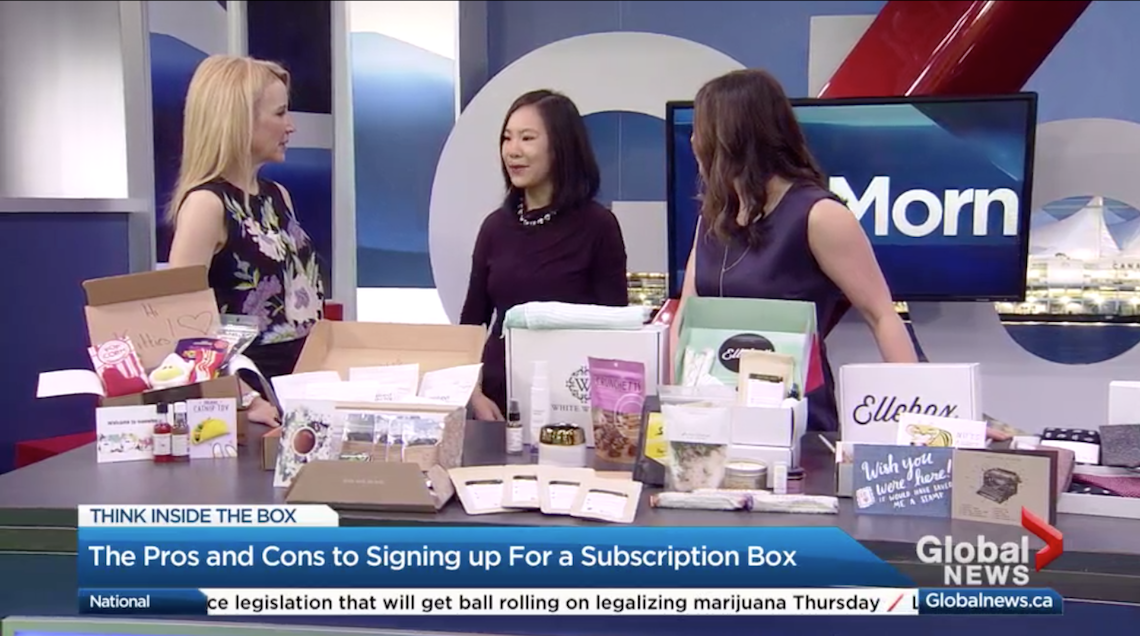 Although all the subscription box brands got a heads up from me that they were going to be presented on live TV, the brands within the subscription boxes, many of which are even smaller small businesses, were pleasantly surprised to find themselves on live television.
As the Subscription Box brands gain recognition, so do the products within them.  And, more often than not, local supports local.
I received an email shortly after the segment from Wolf Clothing Co (a Vancouver-based sock company) thanking me for picking up their brand's sock within the ESTBLSH box on the segment.  Likewise, Red Lemon, an Abbotsford based skincare company, was alerted of their appearance via a friend who spotted them on a segment and snapped a photo.  Imagine that – you're tuning in to the local morning news, as you do every morning, and one day, you see your own product being featured on live television!
Perhaps on their own, the local businesses might be too small for its own segment.  But grouped together, alongside other local businesses, and you send a powerful message to support local.
After the segment, the various Subscription Box brands were tagging each other on social media saying they were "excited to be included in this fantastic group of Canadian companies" or "we had some of our beautiful friends along with us as well".  This includes Spring Activator, a start-up based in Vancouver, was excited to see two of its alumni being featured on their show.
View the full segment here: