Headquartered in Vancouver, Luvo is a food company which offers frozen meals that have an emphasis on high-quality, nutritious ingredients. This was the company that Christine Day joined, after her six year tenure as the CEO of Lululemon (and 20 years of experience at Starbucks, prior to Lululemon).  Upon joining Luvo as CEO in 2014, she shared her vision of sparking a change in the way consumers eat and think about frozen food.
We know that British Columbians with busy lifestyles want the best of their bodies, and are looking for convenient and affordable options that deliver both great taste and optimal nutrition.  We are extremely excited to be expanding our presence in our home market of BC and bring a wide range of nutritious options that are made with real, wholesome ingredients, so consumers can feel and perform better in every aspect of life." – Christine Day, CEO, Luvo.
Despite Luvo being a company headquartered in Vancouver, the company first focused its first efforts in gaining recognition in the US, and has only just begin expanding into the frozen food aisles of BC grocery stores.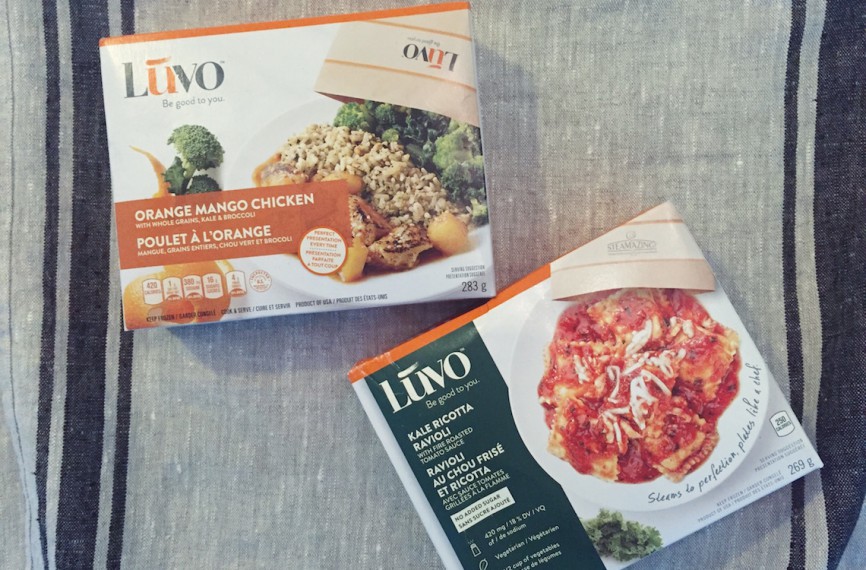 Prior to Luvo, I would stay far away from the $1 portions of Hungry Man and Michelina's Frozen Dinners which I have seen coworkers eating as a quick, microwavable meal.  These recognizable brands synonymous with the frozen food aisle all have an emphasis on convenience, but lack quality and nutrition.
Luvo, on the other hand, offers chef-inspired, nutritionist-approved meals, for people with busy lifestyles who don't always have the time to cook healthy meals for themselves.  They've committed to providing meals which are high in fiber, have an emphasis on whole grains, have no artificial colours, flavours or sweeteners, made with non-GMO soy, corn and canola, and contain meats raised without antibiotics.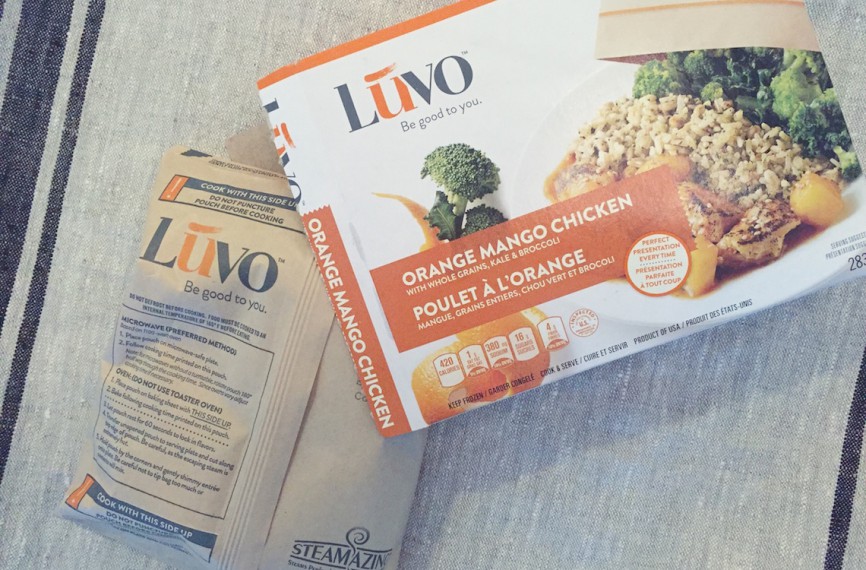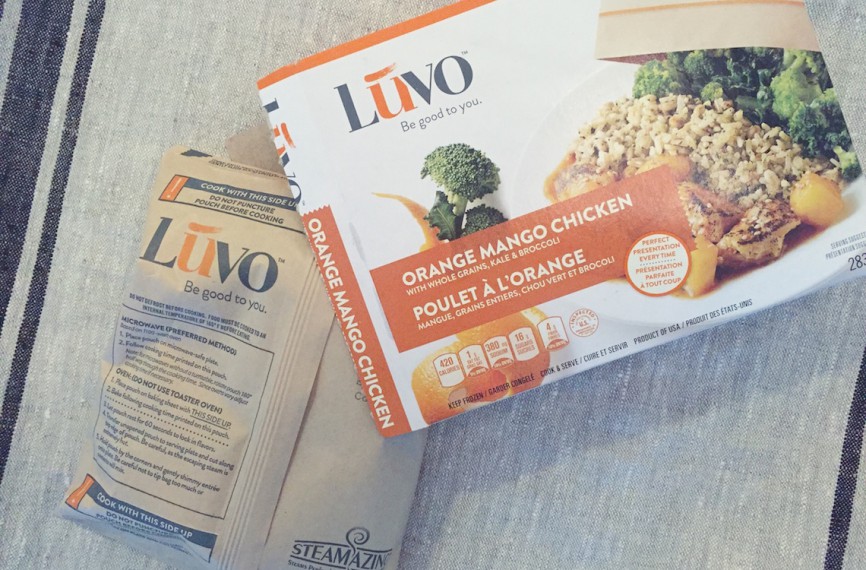 Rather than the flimsy plastic container and plastic wrap that most frozen meals are contained in, Luvo packages their meals in an unbleached paper pouch, made from 20% pre-consumer waste.   After microwaving your meal for approximately 5 minutes, your meal is supposed to slide out for "perfect presentation every time".
I think the "perfect presentation every time" is a bit misleading, because the way my meal looked was no where near perfect. I tried the Chicken Poblano Verde Burrito, but after microwaving it, it bursted at the seams.  When I had the Orange Mango Chicken, I served my meal in a bowl because it was too saucy and sloppy to pour out onto a plate.
Regardless of presentation, the enjoyable flavours were still there. The Orange Mango Chicken, for example, didn't taste super-sweet and artificial (like it does at a Chinese food court restaurant, for example).   The chicken tasted real, not rubbery (like in Campbell's canned soup, for example).  The Kale Ricotta Ravioli cooked well, and I was happy that the pasta didn't clump together and slid out nicely into my bowl…but there were only 6 ravioli in the meal, which left me hungry and wanting to snack on something more.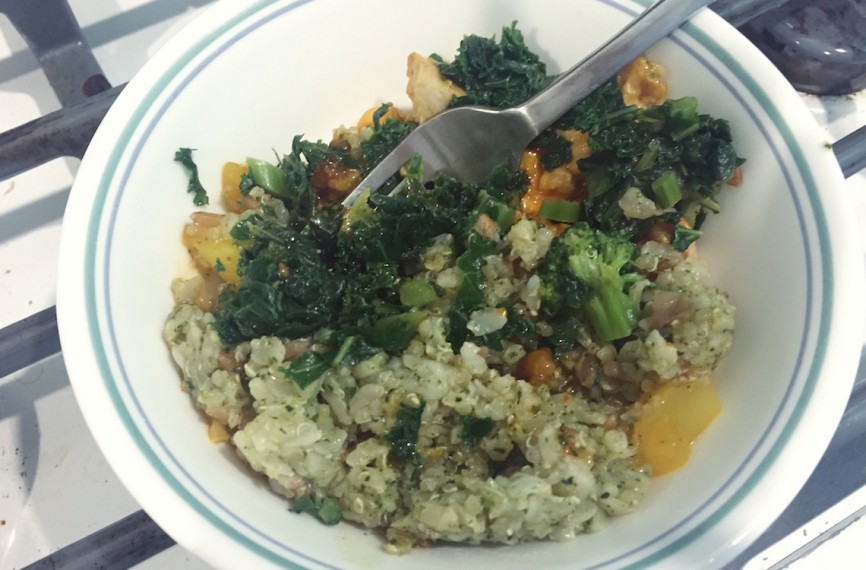 At Urban Fare, the meals are in the $7 – $8 range.  It's good value for the quality of ingredients you're getting, but if you live near any sort of salad bar or sandwich shop (and there are a lot in Yaletown), it may be just as convenient and nutritious for you to take a five minute walk and get something else.  I think Luvo would be a great quick-meal to keep in the freezer at home (or at work) for the days you just don't feel like cooking, and don't have the option to purchase a fresh, healthy meal nearby.
For more information on where to buy Luvo in your local area, visit: luvoinc.com/where-to-buy.