Holy Crap is an organic, gluten-free, vegan, chia-based cereal brand which started off in Gibsons, BC.  Started by husband and wife duo Corin and Brian Mullins, this artisan cereal brand was started in 2009 to address Brian's food allergies and sensitivities.
Originally named Hapi Food cereal and sold at Farmers Markets on the Sunshine Coast, Brian changed the name to "Holy Crap Cereal"  when one of their very fist customers said, "Holy Crap… this is amazing!".  Since then, Holy Crap has gained worldwide attention; sold at a kiosk at Granville Island Market during the 2010 Winter Olympics, being on Dragon's Den twice (a 2012 Dragons' Den special update show declared Holy Crap the most successful business ever to come out of the Den), making it into 2,500 stores across Canada, and even brought up to the ISS by Canadian astronaut Chris Hadfield.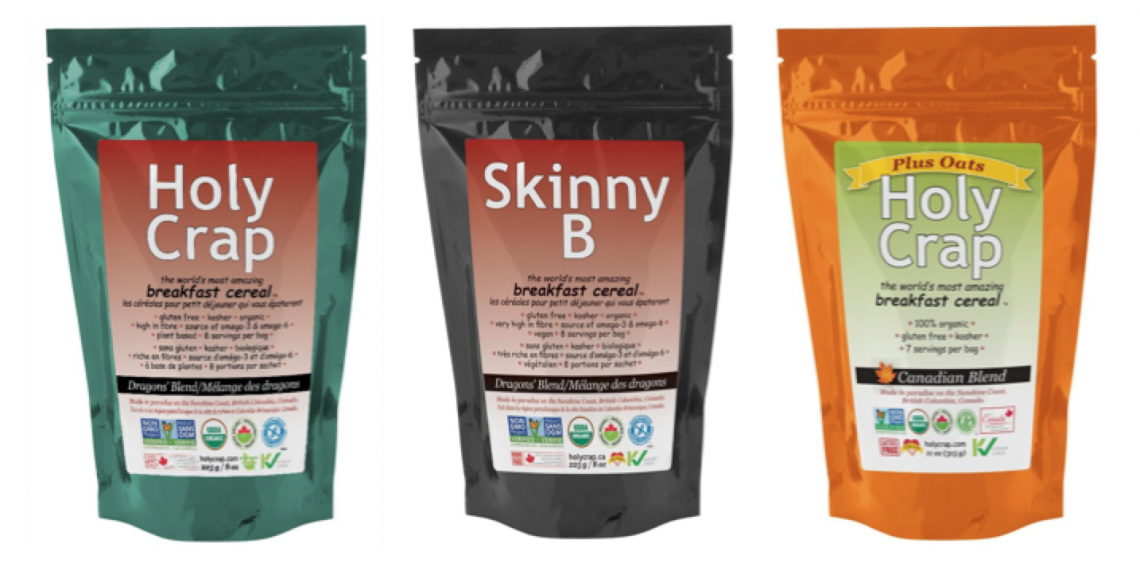 Intrigued by Holy Crap's BC roots and its tagline of of "The World's Most Amazing Breakfast Cereal" Modern Mix Vancouver taste-tested this cereal, after visiting their booth at this year's Gluten Free Expo.
Instead of describing Holy Crap as a "cereal", I would call it a chia seed based breakfast booster.  To me, cereal is something you pour an entire bowl of to eat, pour over with milk, and can eat right away.  Holy Crap, on the other hand, is packaged in small 8 oz / 225 g packages, and 1 oz is considered a serving…you wouldn't ever need to ever pour yourself an entire bowl to eat.  The product is very nutrient dense, and two tablespoons mixed with milk or yogurt will be enough for breakfast.    The trick is to soak the cereal in liquid for at least a few minutes, allowing the chia seeds to expand into a gel-like consistency.  Otherwise, it'll be dry to swallow, and end up absorbing liquid within your digestive system, which may lead to dehydrating your system.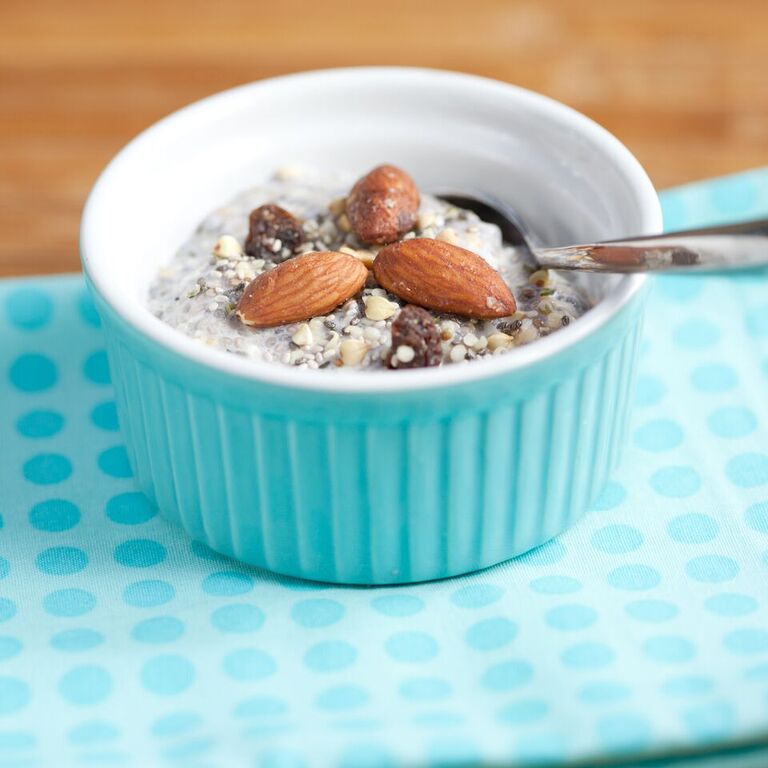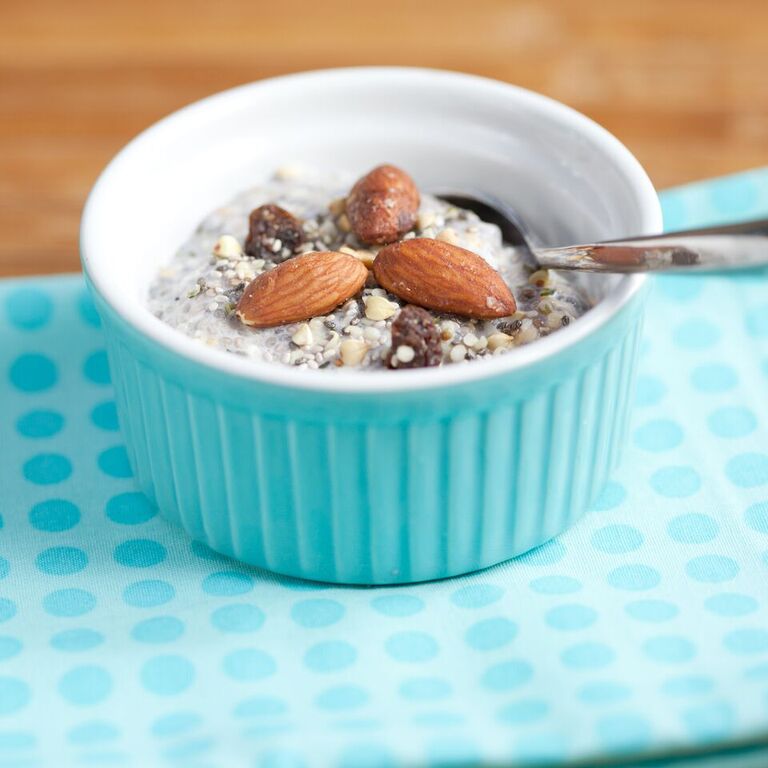 There's a ton of good traits about this product.  It's organic, high in fibre and a source of Omega-3 and Omega-6.  It's also vegan, gluten-free and kosher.  Whether you love the taste of Holy Crap or not, comes down to if you're a fan of chia seeds, which are highly nutritional tiny black seeds which turn into slimy clumps when mixed with liquids.  With Holy Crap, the bland, healthy taste of most chia-based blends, is balanced out by the sweetness of raisins, dried cranberries and cinnamon in Holy Crap.  In terms of texture, the raisins and dried cranberries add a nice chewy texture, and I enjoyed the crunch that the buckwheat pieces provided.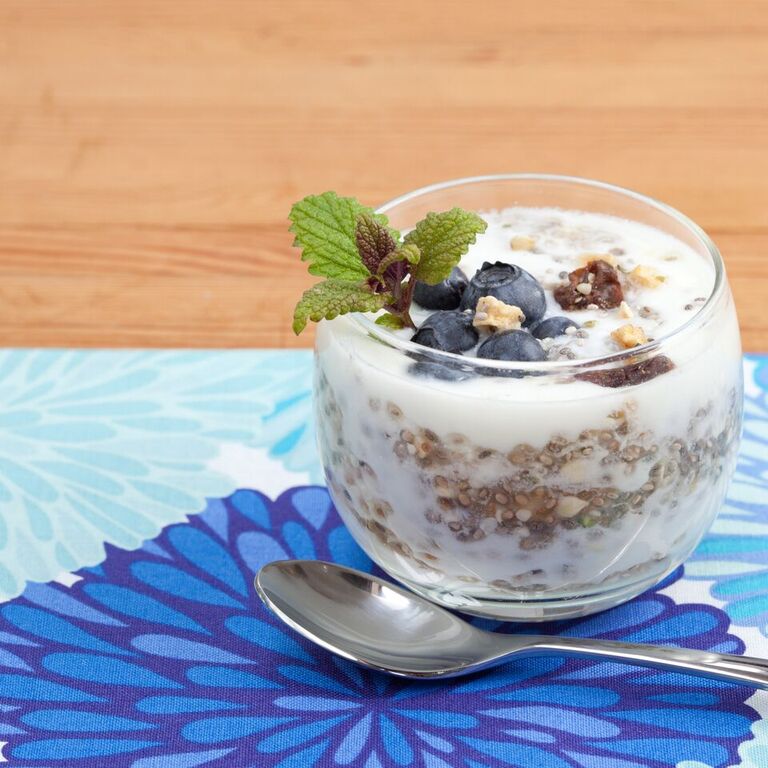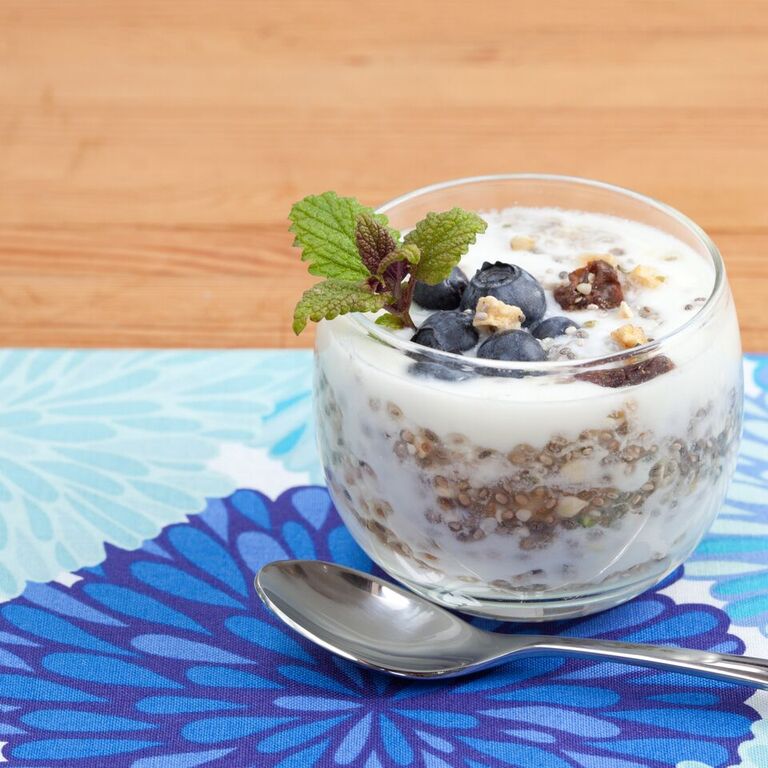 Most breakfast cereals, you eat with milk or yogurt, and that's about the extent of the versatility of the product.  However, with Holy Crap, there's an entire section of recipes on their website and even a free e-book to download.  From sweet snacks like dark chocolate bark and peach crumble, to savoury dishes like crispy crab cakes, these recipes help you experiment and create with Holy Crap.
My personal take on Holy Crap would probably be "Holy Crap this is nutritious" or "Holy Crap this is convenient".  Other products currently in the Holy Crap family includes the high-fibre Skinny B (which is quite bland as the chia seed portion is increased and there are no sweet raisins, dried cranberries or cinnamon), and Holy Crap Plus Gluten Free Oats which is the oatmeal version of the product. From trying all three products, I'd recommend sticking with the original Holy Crap, which offers the best balance of health and taste.
Holy Crap retails for $10.95 in stores, and, in Vancouver, is available at select locations of: Whole Foods, Meinhardt, Nesters Market, Market Place IGA and Choices.  For more information, visit: holycrap.com.