Continuing with Modern Mix's Vancouver weekend brunch series, we went for a visit to Milestones Yaletown, located in downtown Vancouver, to get a taste of what they offer.  Milestones might not be the first spot that comes to mind when you think of brunch, but after you read and see the delicious choices which are available, we think that might change. Though other menus in the restaurant are updated every few months, Milestones' brunch menu is tried, tested and true and has been around for about a year with no immediate desire to change it. We can understand why.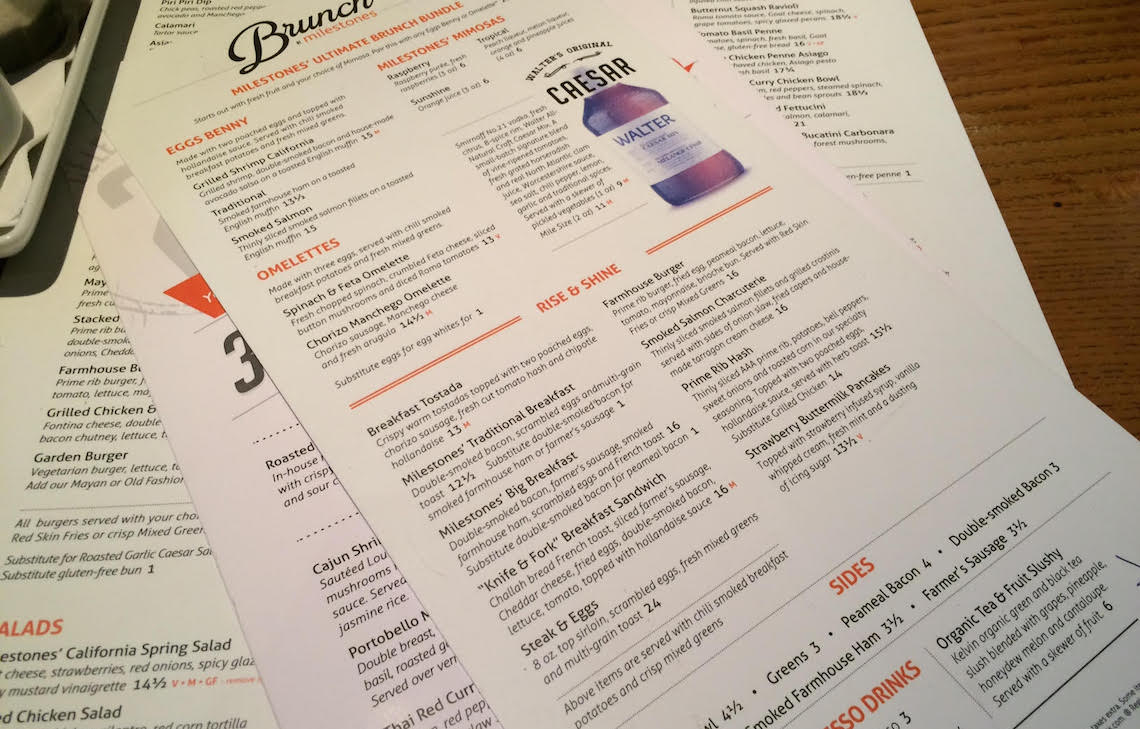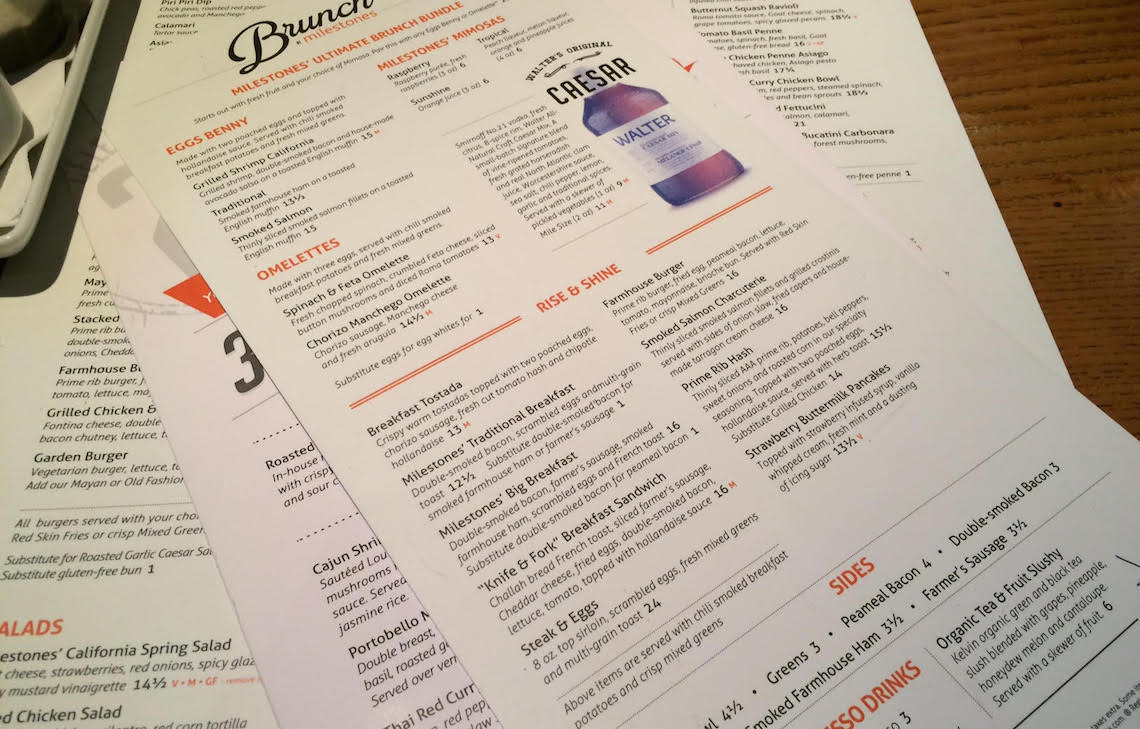 Rather than ordering off the menu, Modern Mix had the opportunity to sample different Milestone signature brunch items. Chef Jerson Limbaroc, who has been with Milestones for 11 years, sat down with us and chatted about the highlights of each signature item and why people keep coming back for more. As one of the few restaurants in the Yaletown neighborhood that's open for brunch, Milestones food is always fresh and served in generous portions, and customers love the option of coming in for a later brunch since it's available on Saturdays and Sundays from 10am to 4pm.
Our Modern Mix Milestones brunch included three types of eggs benedicts: the Traditional ($13.50), Smoked Salmon ($15), and Grilled Shrimp California ($15). The Grilled Shrimp California was by far our favourite because it combined juicy pieces of grilled shrimp and house-made avocado salsa, topped with poached egg and hollandaise sauce. It was new, it was different, and we loved it! All eggs bennys at Milestones are served with chili smoked breakfast potatoes and fresh mixed greens. There is also a gluten-free option available.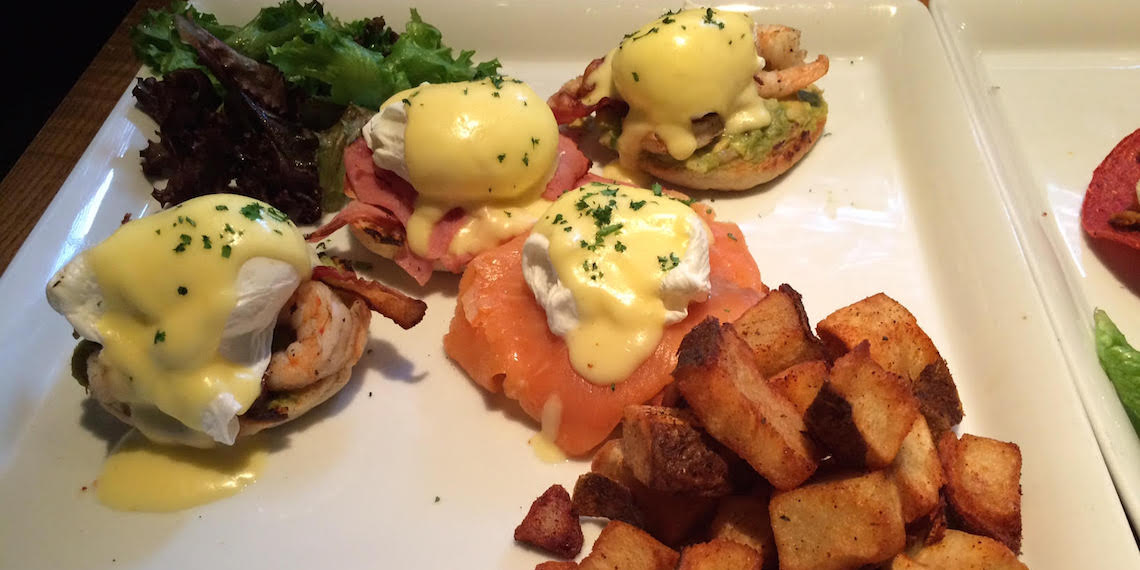 Next on the menu were Breakfast Tostadas ($13), which are crispy warm tostadas topped with two poached eggs, chorizo sausage, fresh cut tomato medley/salsa, and chipotle hollandaise sauce. This unique brunch dish had so many delicious elements to it; the warmth of the egg yolk, the spice of the chorizo sausage and the crunch of the tostadas. It's no wonder these Breakfast Tostadas are a Milestone Signature.
For the last of our savoury brunch dishes, we got to indulge in the famous and flavourful Prime Rib Hash ($15.50), was a medley of AAA prime rib, shredded potatoes, red peppers, sweet onions, and roasted corn with what else but a poached egg and hollandaise sauce on top! With its rich and hearty flavours, it's the perfect brunch comfort food. This dish is served with herb toast, and the prime rib can be substituted for grilled chicken. It's definitely more on the greasy side, but sometimes greasy is just what you need on a Sunday morning…just not every Sunday morning!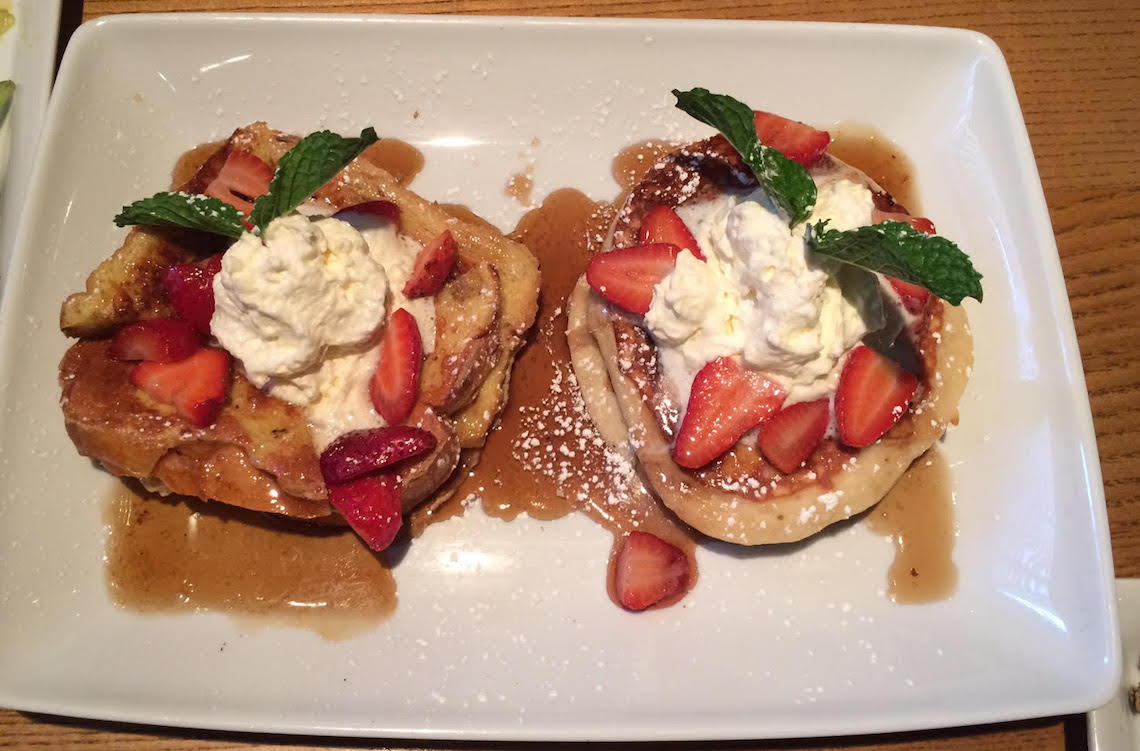 Even though we were stuffed after our breakfast platter, we made room for French Toast and Buttermilk Pancakes, recommend by Chef Jerson. Both items are available on the Milestones brunch menu, but in different dishes: The "Knife & Fork" Breakfast Sandwich ($16) and The Strawberry Buttermilk Pancakes ($13.50). The dish was topped with warm maple syrup and light whipped cream. It was the perfect dessert brunch dish.
Aside from brunch, there is no better time than now to visit Milestones for their food and service. For the seafood lovers out there, the Milestones Seafood Event is happening from October 15 to December 6, but from now until October 31 only, they're offering guests 25% off their entire Seafood Event menu. In addition, Milestones is participating in A Taste of Yaletown, running now until October 29, so act fast if you want to try some of the best dishes they have to offer! Their $25 Taste of Yaletown menu is listed here. Reservations are recommended.