On Modern Mix Vancouver, we've reviewed monthly subscription services for beauty, tea, healthy snacks for the office, and even a monthly "Barkbox" for dogs.
The newest subscription service to arrive in Vancouver postal boxes is the "Ellebox", a Vancouver-based subscription service for 'that time of the month'.  Yup, you read correctly: Ellebox is a new Vancouver-based subscription service designed to revolutionize your period by sending you the basic necessities: pads, tampons, tea and chocolate, and a few other comfort and wellness goodies, to make that time of the month a little more pleasant
There are two monthly box options: the basic "Neccessities Box" ($12/month) or the more deluxe "Comfort Box" ($33/month). Both versions also come in an organic version, for women who prefer to use organic pads or tampons.  Upon subscribing, you can indicate your preferred brand(s) and request a certain allocation of pads and tampons.
Ellebox October 2015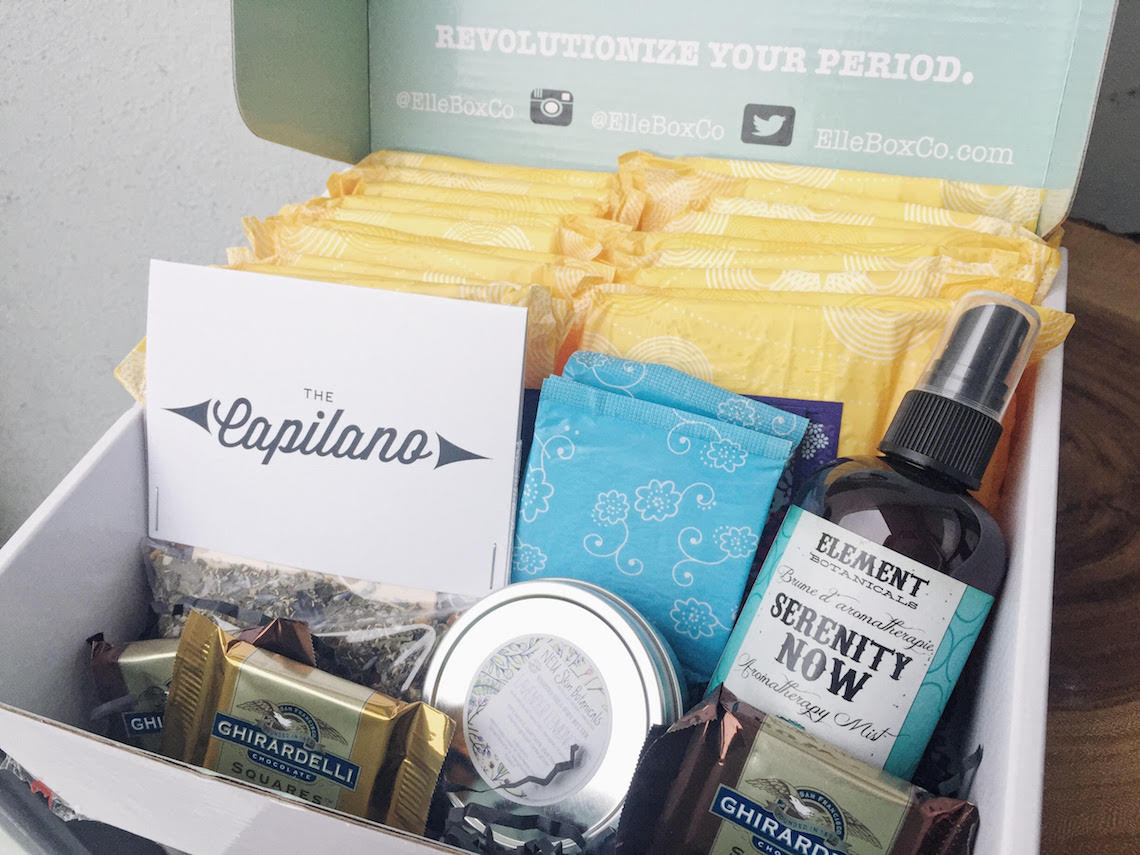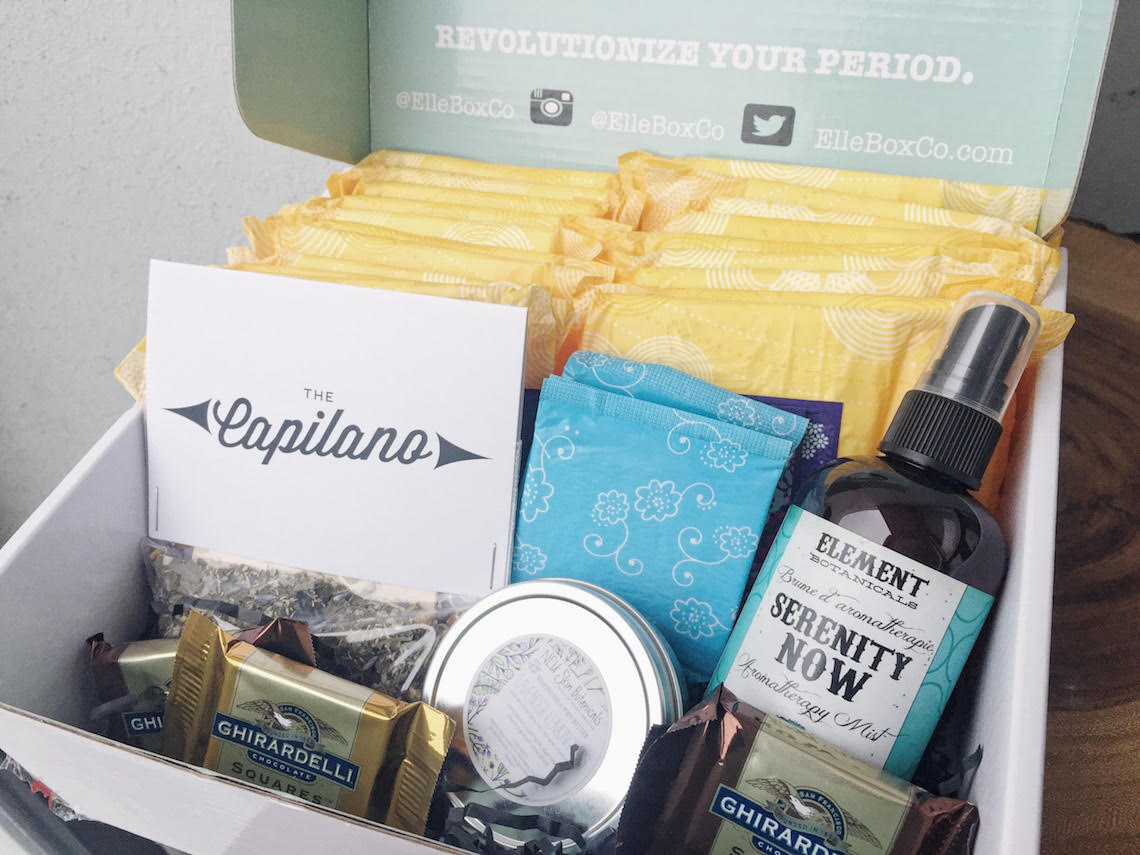 In Modern Mix Vancouver's October 2015 Comfort Ellebox, in addition to feminine hygiene products, we also received a sample of loose leaf tea from Capilano Tea (a local mother-daughter tea company), organic Lavender Lemongrass body butter from NEU Skin Botanicals (based in Chilliwack), an aromatherapy spray from the Vancouver-based Element Botanicals and a handful of Ghirardelli Chocolates.  If you like the comfort and wellness products in your Ellebox and want to buy more, you will soon be able to shop online at elleboxco.com to purchase more.
Ellebox Holiday 2015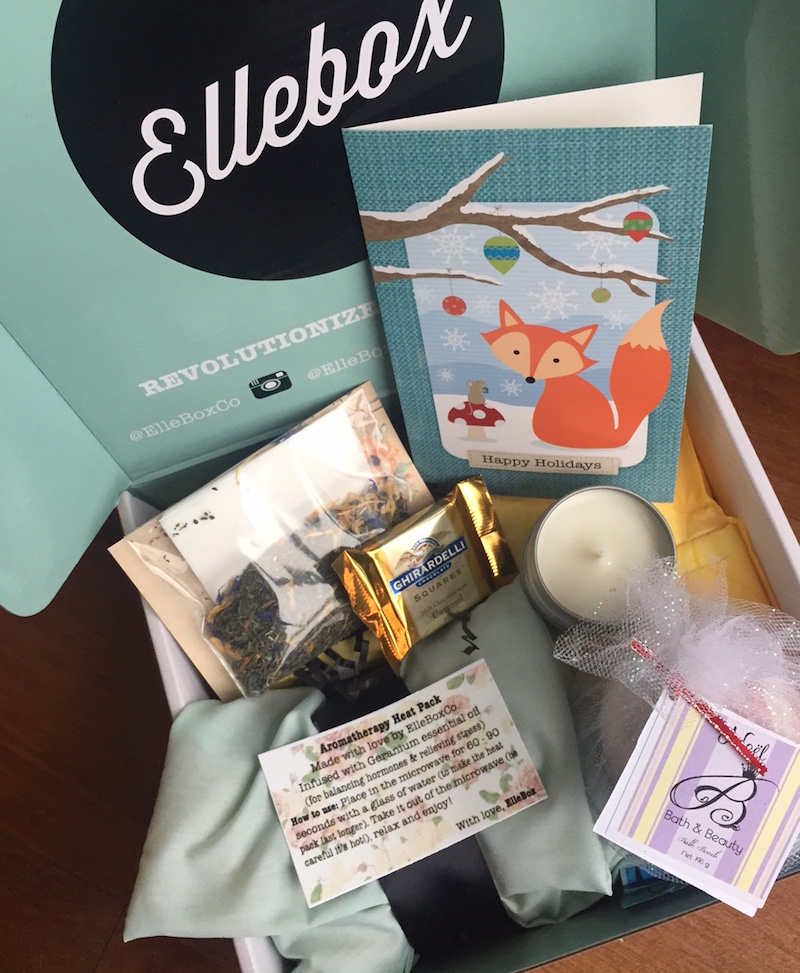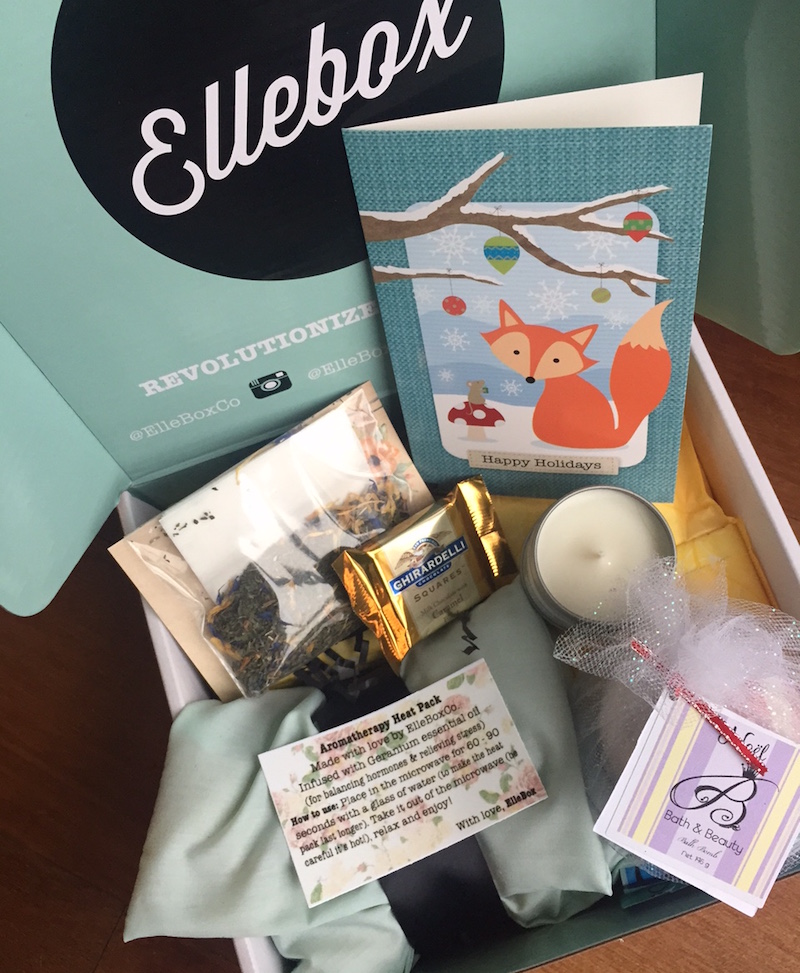 In our Holiday 2015 Ellebox, we were in for a treat with something handmade especially for subscribers by Ellebox: an Aromatherapy Heat Pack infused with Geranium essential oil, which is used to alleviate the symptoms of imbalanced hormones and reduce stress.  In addition to relieving cramps with this heatpack, I have also been heating up the aromatherapy bag to sleep with in my bed, so I can stay toasty warm.  I noticed that after about two weeks, the original Geranium floral scent starts to fade, so what I've done is put drops of my own essential oils directly on the pack to keep it scented.
Other relaxation products in the holiday Ellebox includes a soy tin candle from Pura Vida, loose-leaf tea from Capilano Tea, and a sparkly bath bomb…all three items are from Vancouver-based businesses!
==
All products included in the Ellebox are chosen with ethics, wellness and community in mind.  As Modern Mix Vancouver loves to support local, we were glad to see numerous local brands and businesses featured.   In addition, partial proceeds from Ellebox subscriptions and purchases are donated back to Vancouver food banks and womens' shelters to help buy pads and tampons for those in need.
For more information about Ellebox or to start your subscription (or gift to a friend), visit: elleboxco.com.  Modern Mix Vancouver readers will receive a 10%-off discount off their first box with the code: "MODERNMIX10".  Check back here next month to see what goodies Modern Mix Vancouver will be receiving in next month's comfort box!