Known for her role as the host of the Food Network Canada's Pitchin' In and a judge on Chopped Canada, Celebrity Chef Lynn Crawford has been making her way across Canada to demonstrate her recipes and cooking techniques with the new Catelli Healthy Harvest Ancient Grains Pasta.
With the Pacific Institute of Culinary Arts as the venue for the event in Vancouver, our evening began with an animated cooking demonstration from Chef Lynn.  Celebrating the launch of Healthy Harvest Ancient Grains Pasta, Chef Lynn has created a series of easy recipes made with this nutrient rich pasta.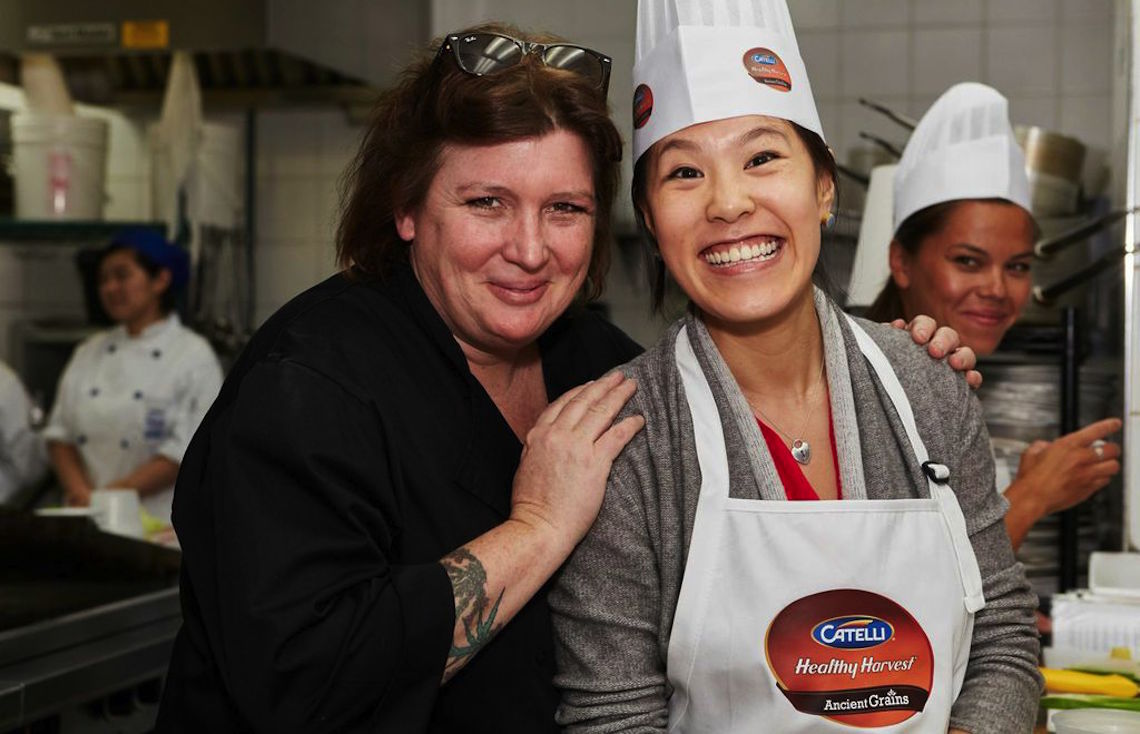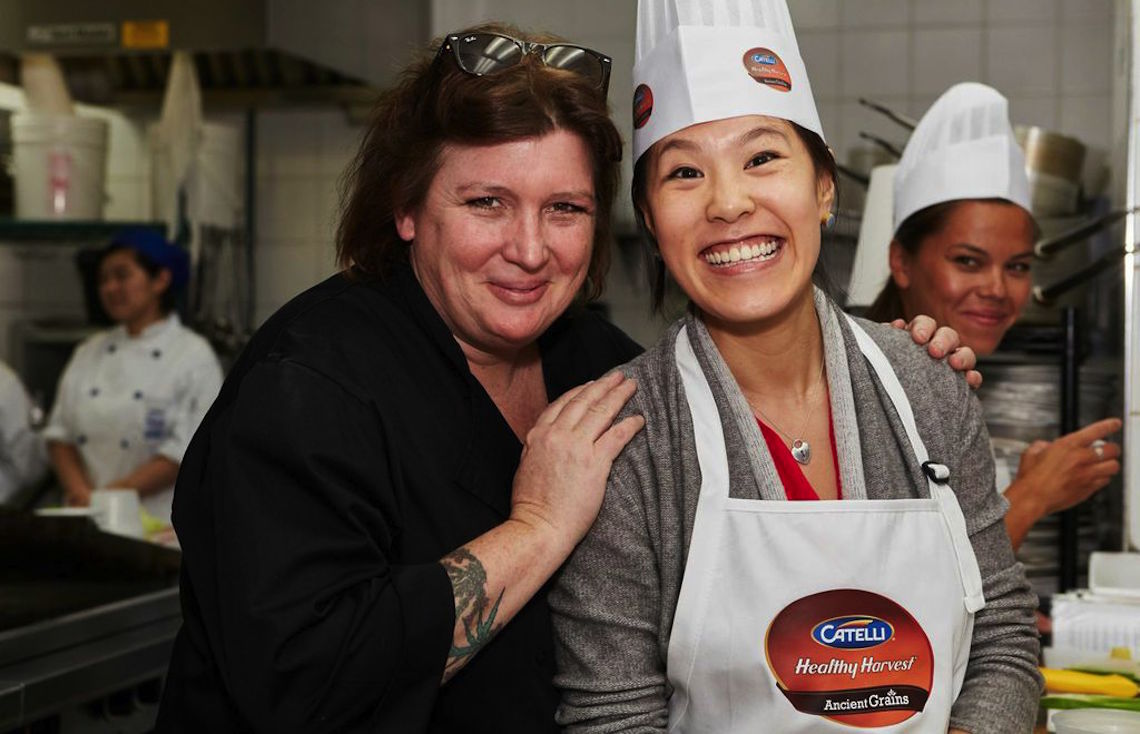 We learned that Catelli's Healthy Harvest Ancient Grains pasta is made with a blend of five ancient grains: quinoa, amaranth, teff, sorghum and millet.  Which are known to be high in fibre and rich in mineral content.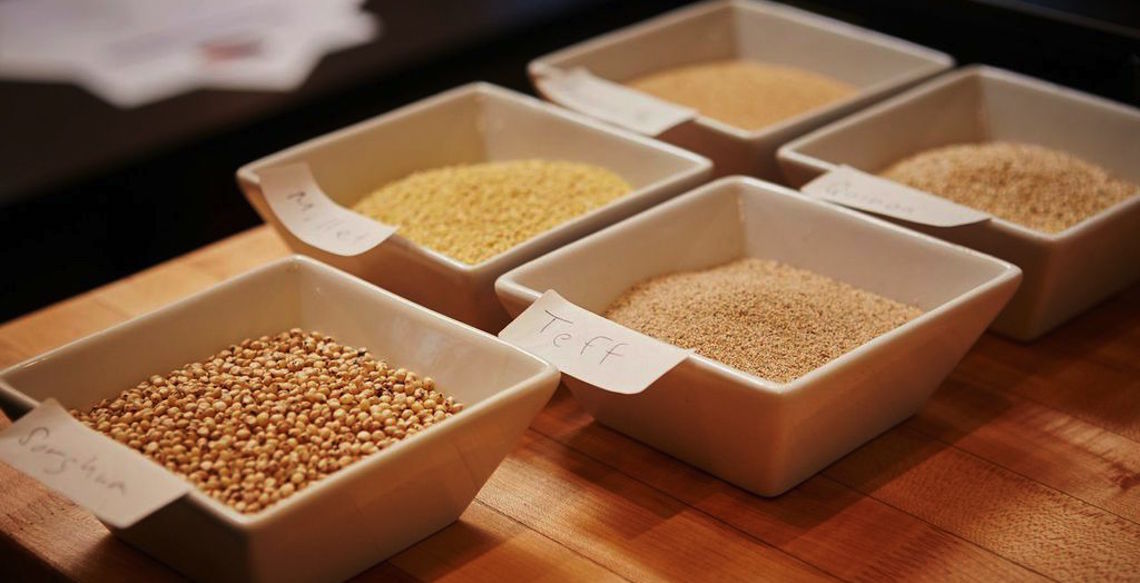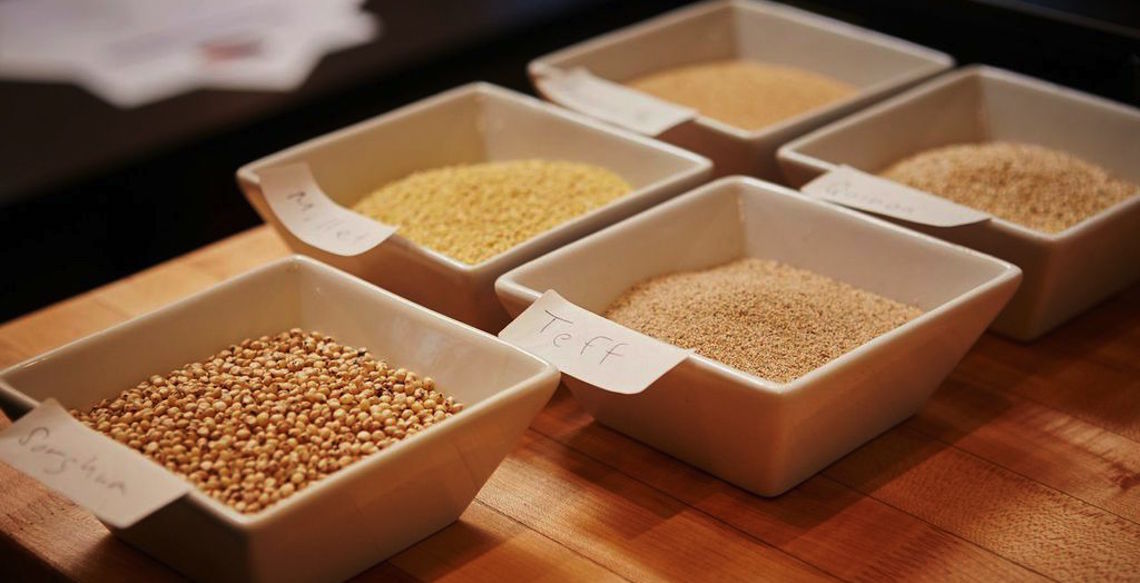 The health benefits of eating 100 per cent whole grain wheat have been touted for years, but what makes the other grains so healthy? Here's the ancient secret:
Quinoa: Dating back to the 13th century South American Inca Empire, quinoa is high in fibre, protein and minerals –including magnesium, potassium, zinc and iron – and low on the glycemic index.
Amaranth: Native to the Americas and prized by Aztec civilization, amaranth is rich in protein, containing all the essential amino acids, key vitamins, and minerals such as calcium, magnesium, potassium, phosphorus and iron.
Teff:  Originating in Ethiopia and Eritrea between 4,000 BCE and 1,000 BCE, this poppy seed-sized grain is high in protein, fibre, calcium, thiamin and iron.
Sorghum: Domesticated in Northeastern Africa more than 5,000 years ago, sorghum – a good source of vitamin B6, riboflavin, thiamin and magnesium – is known to support digestive health, help fight cardiovascular disease and help control blood sugar levels.
Millet: Cultivated 4,000 years ago from wild West African grass, this nutty-flavoured grain is known to be heart healthy, containing a high level of protein, magnesium and niacin. Alkalizing to the body, millet is considered one of the most digestible and non-allergenic grains available.
The second half of the event was a hands-on cooking class in the kitchens of the Pacific Institute of Culinary Arts, where we re-created Chef Lynn's recipe for a Chilled Noodle Salad with Ginger Wasabi Dressing.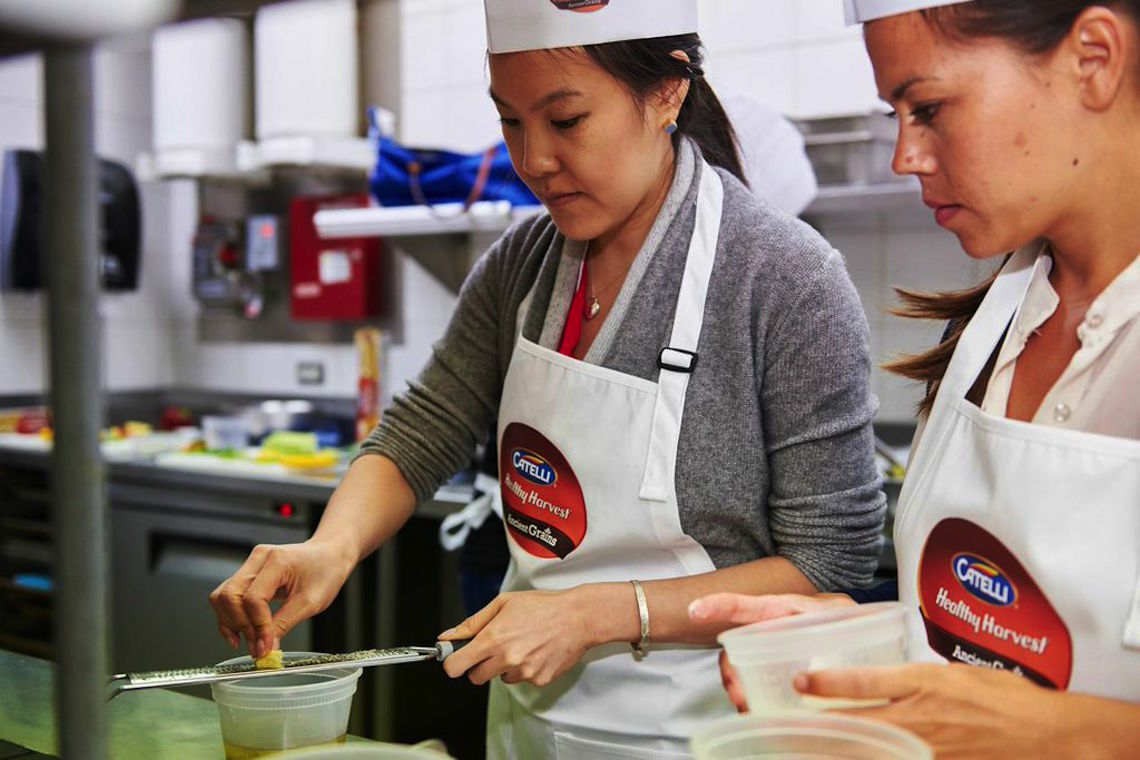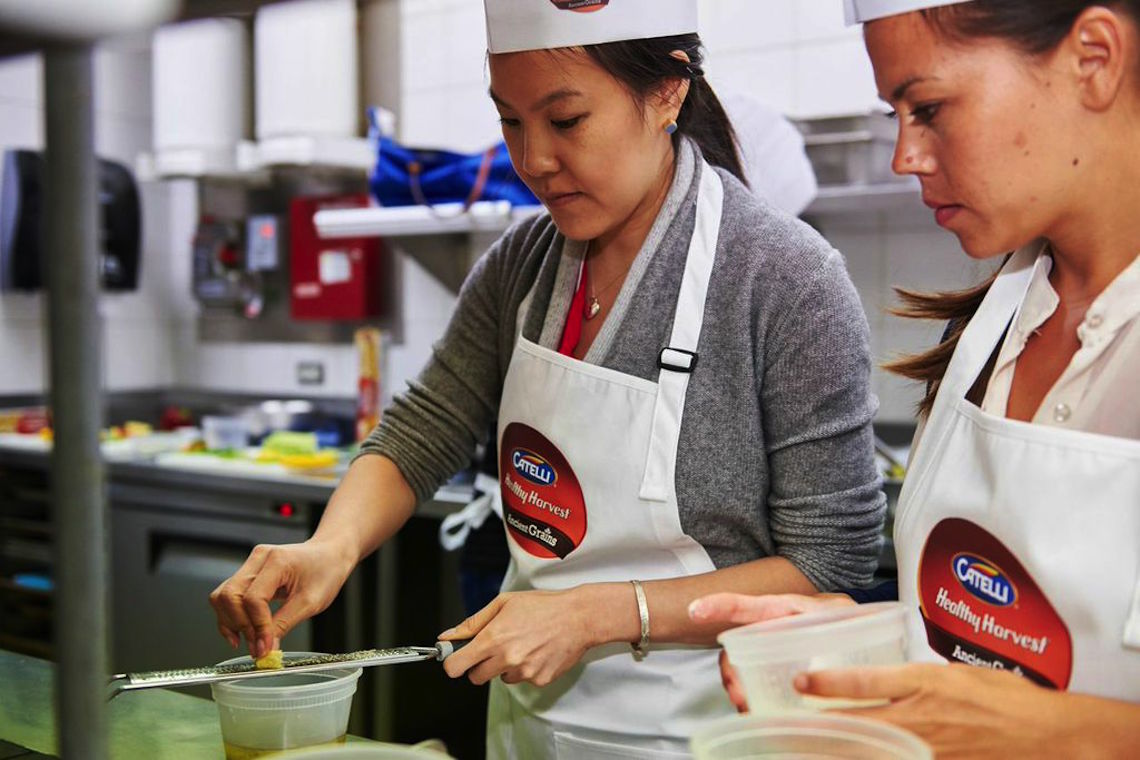 Can you spot the ingredients in our salad from the photo below?  My cooking buddy Lindsay Jang and I combined snow peas, edamame, cucumber, cabbage, red pepper, green onions and avocado with Catelli Healthy Harvest Ancient Grains Spaghettini and topped with sesame seeds.
The dressing was super easy to make from scratch: rice vinegar, canola oil, soy sauce, lemon juice and zest, brown sugar to sweeten things up, a nutty sesame oil, and fresh ginger and wasabi to give it a spicy kick.  We didn't even use measuring spoons and went by taste!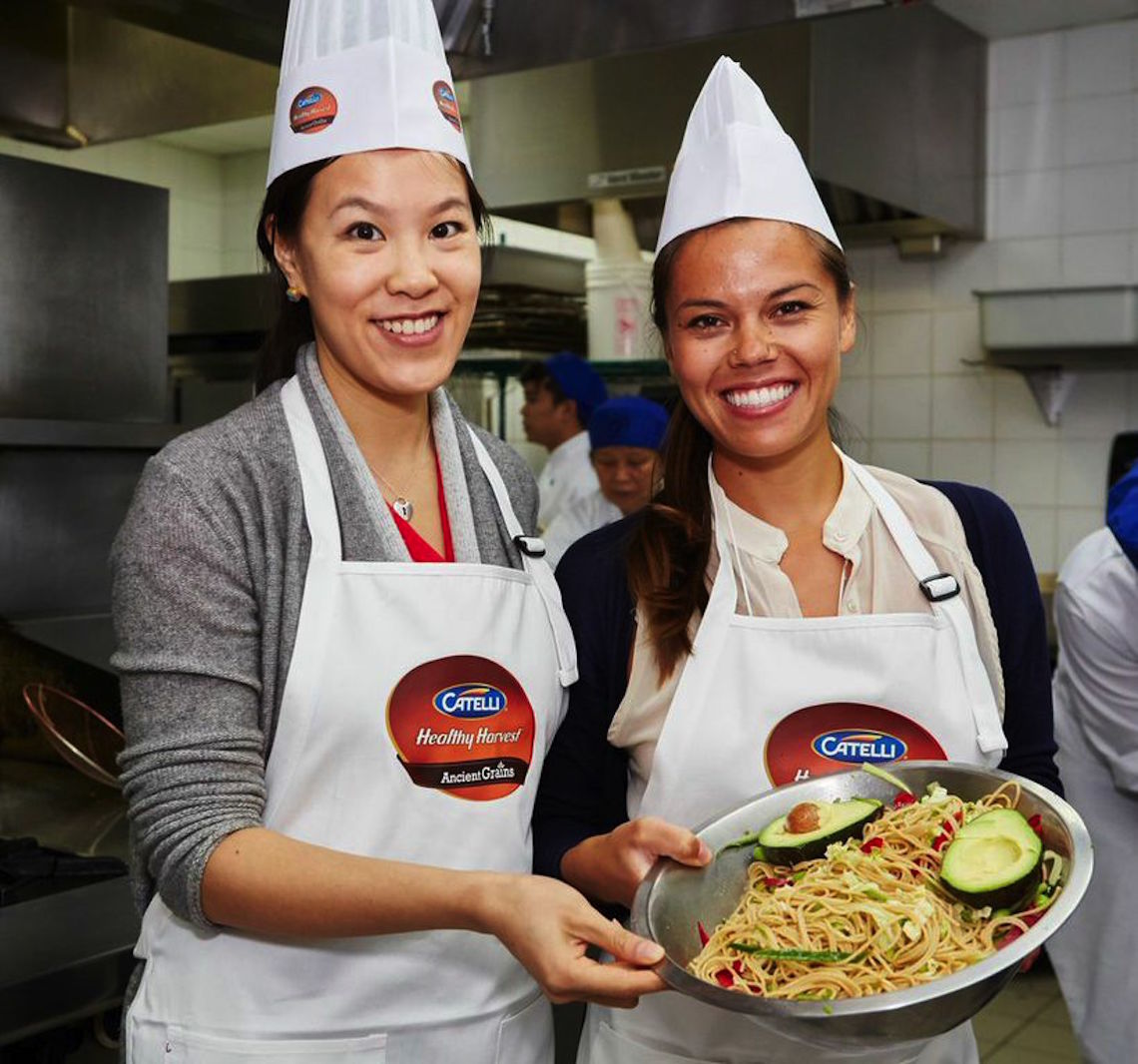 Want to try Catelli's new pasta for yourself?  Modern Mix Vancouver is giving away a year's supply…scroll down for more details!
Modern Mix Vancouver Giveaway: Win a year's supply of Catelli Healthy Harvest Ancient Grains Pasta
MMV is giving away a 1 year supply of Catelli Healthy Harvest Ancient Grains Pasta. You can enter between now and Sunday April 5. Open to Canada.