When you go for a "canadian brunch" you expect to see waffles, pancakes and an over-abundance of maple syrup.  The Oakwood Canadian Bistro, however, has taken more of an upscale twist on this concept.
From maple confit pork belly, to lemon mascarpone french toast, eggs cooked in the "sous vide" style, and a vegetarian omelette topped with truffle creme fraiche, these are not your typical brunch menu items.  The Oakwood goes the extra mile by showcasing culinary talent and technique on their brunch offerings (and even more so on their dinner menu).
Since Modern Mix Vancouver first visited The Oakwood at its opening party in 2011, the details and embellishments of the restaurant have most definitely  increased.  The Oakwood's current decor is an eclectic mix of upcycled goods, knickknacks with woodsy references to nature, and items you'd expect to find in a Westcoast cabin.  For example, trophy antlers mounted on top of the fireplace at the back of the restaurant are authentic antlers hunted by a friend of the owner, and then painted and displayed at The Oakwood.  The hallway to the bathrooms is lined with some sort of pig mural painted in a renaissance style.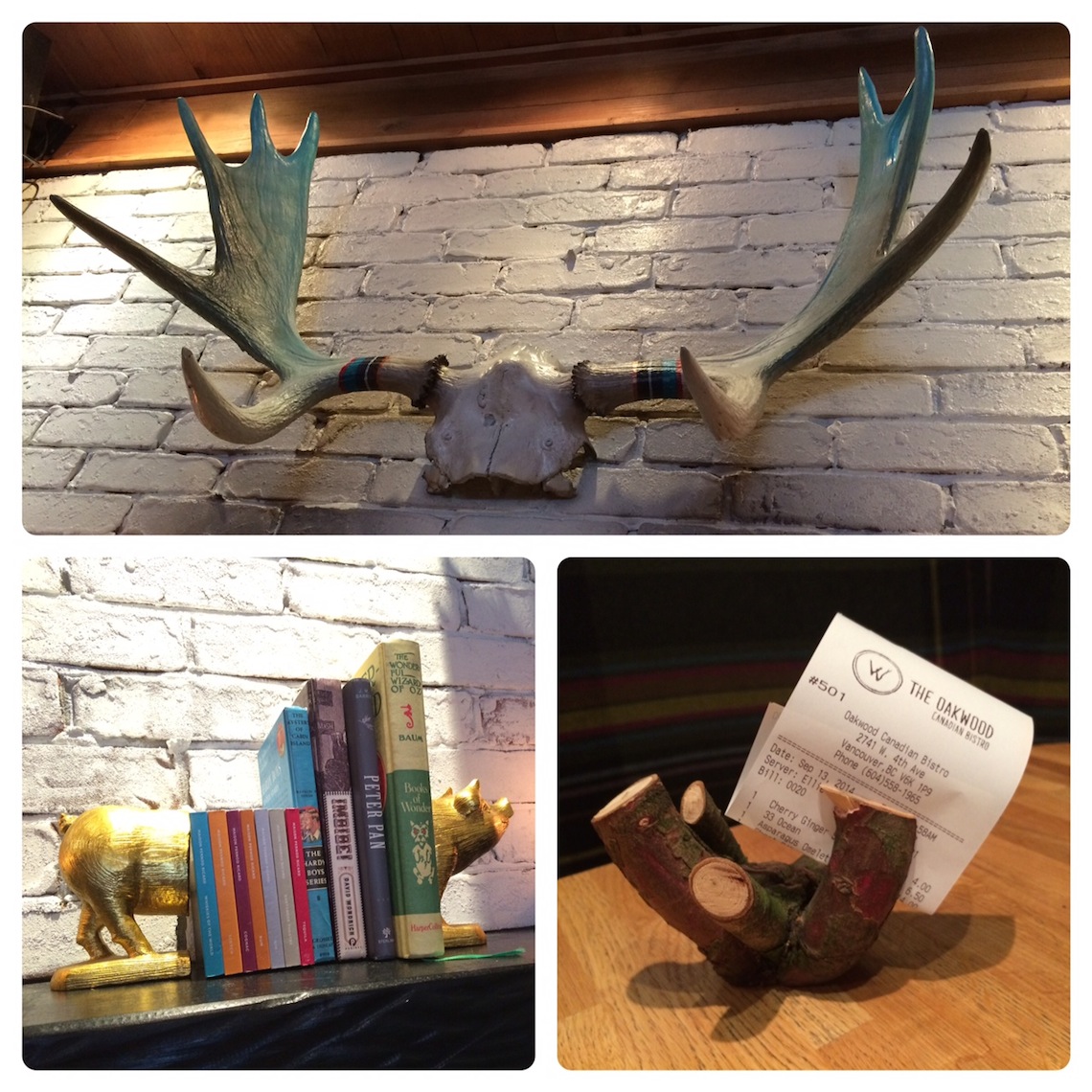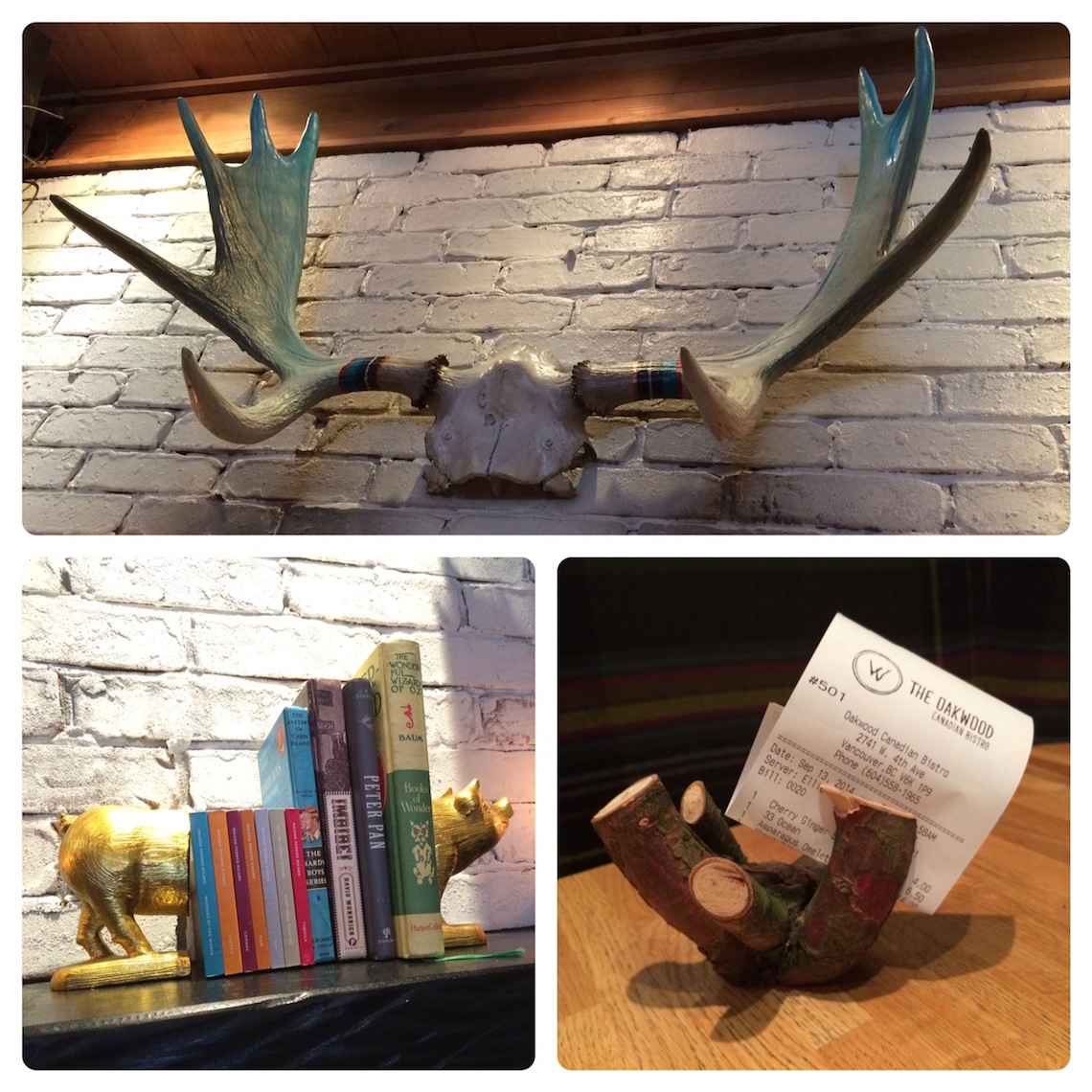 It's all very odd, but adds to the unpretentious and welcoming environment of The Oakwood, like you are hanging out in the cabin of your friend's quirky uncle, where every item collected has a story behind it.  Meanwhile, all of this homeyness is contrasted by the use of metal, white-painted bricks, angular lamps and modern wood for an industrial Westcoast feel.
Now, on to the food. The brunch menu currently consists of eight items, with a couple of sides to add on.  We ordered the short rib dish with hash brown croquettes, sous vide eggs and a caramelized onion puree.   Sous-vide is a method of cooking food in sealed, airtight plasic bags to ensure that the inside is properly cooked and moisture is retained.  As a result, our eggs were poached to the perfect temperature, a slightly runny yolk, encased within a soft and wobbly egg white.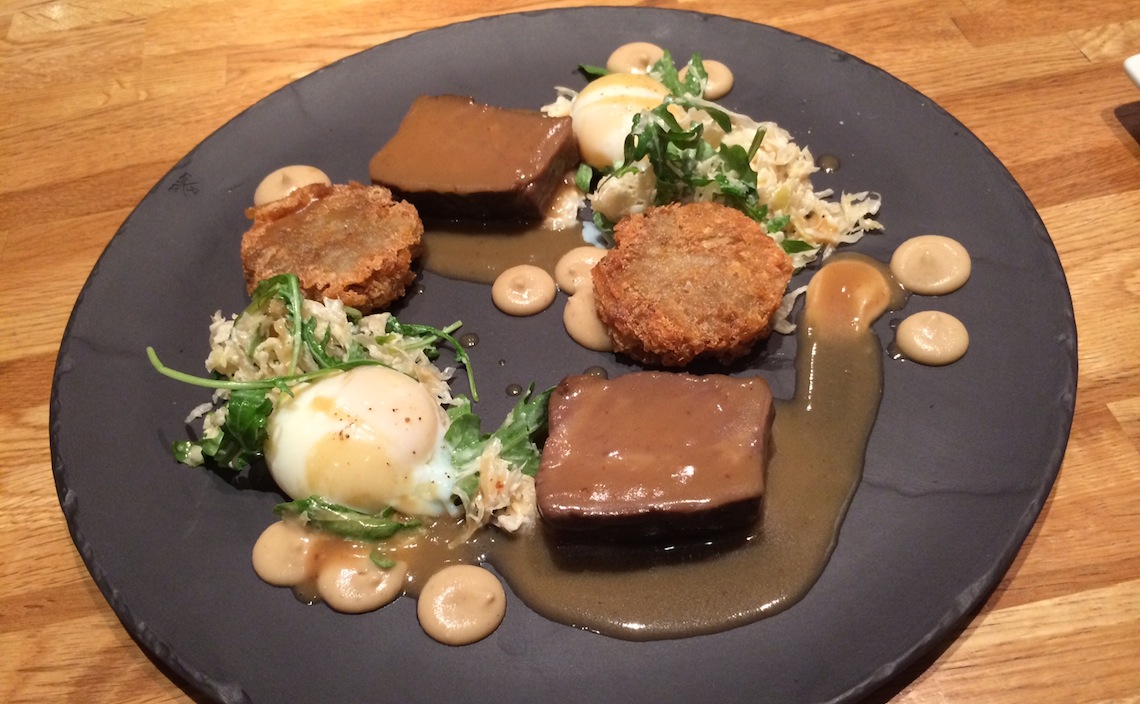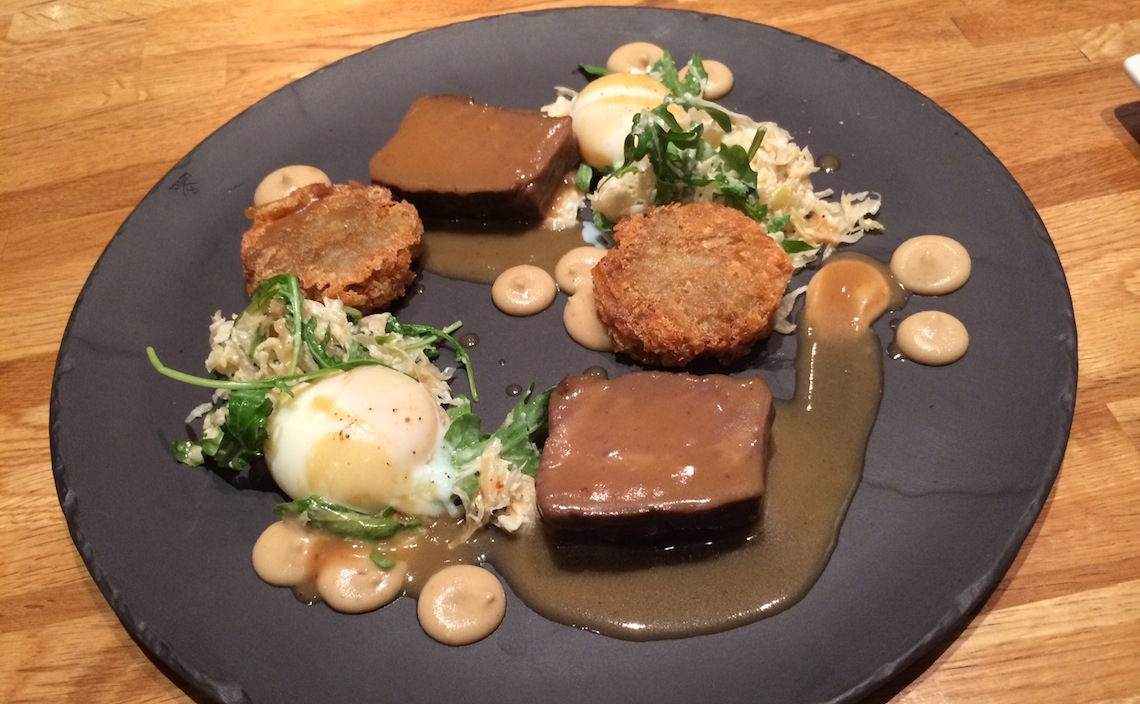 As a vegetarian option, we also ordered the asparagus omelette, fried brussel sprouts, charred tomato sauce and truffle creme fraiche, which was surprisingly hearty for a vegetarian dish.
We were told that other popular brunch dishes at The Oakwood include the french toast and the open faced corn beef sandwich.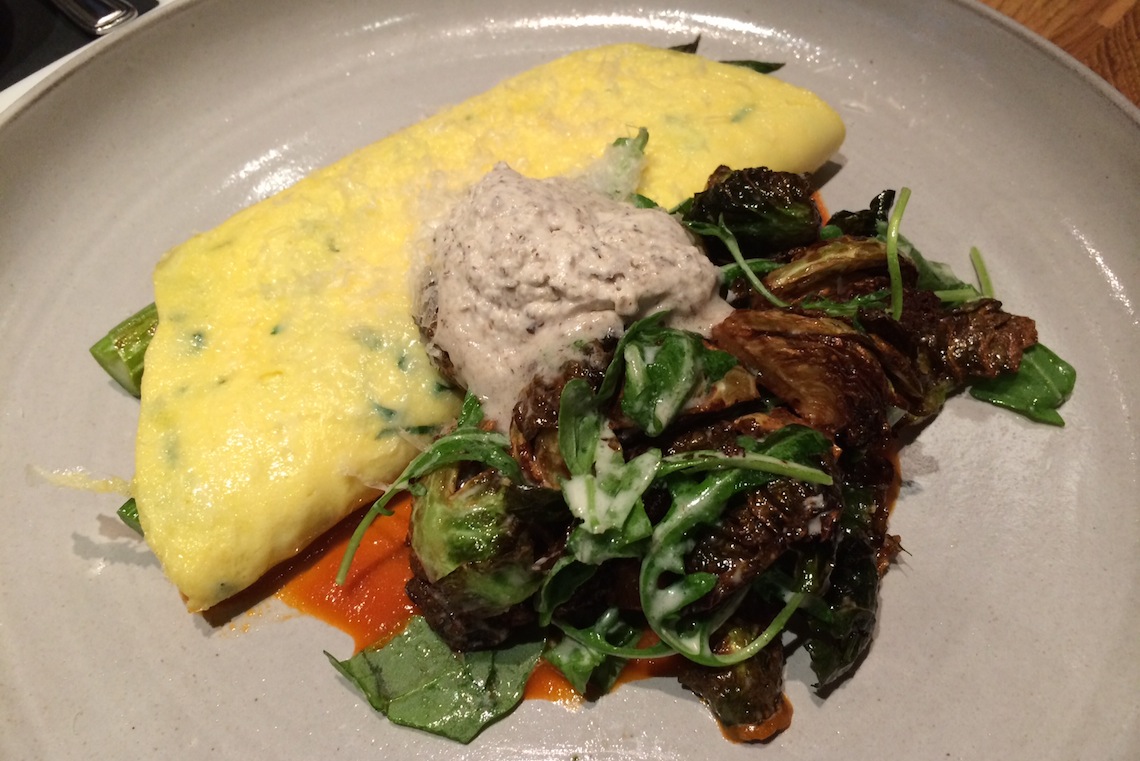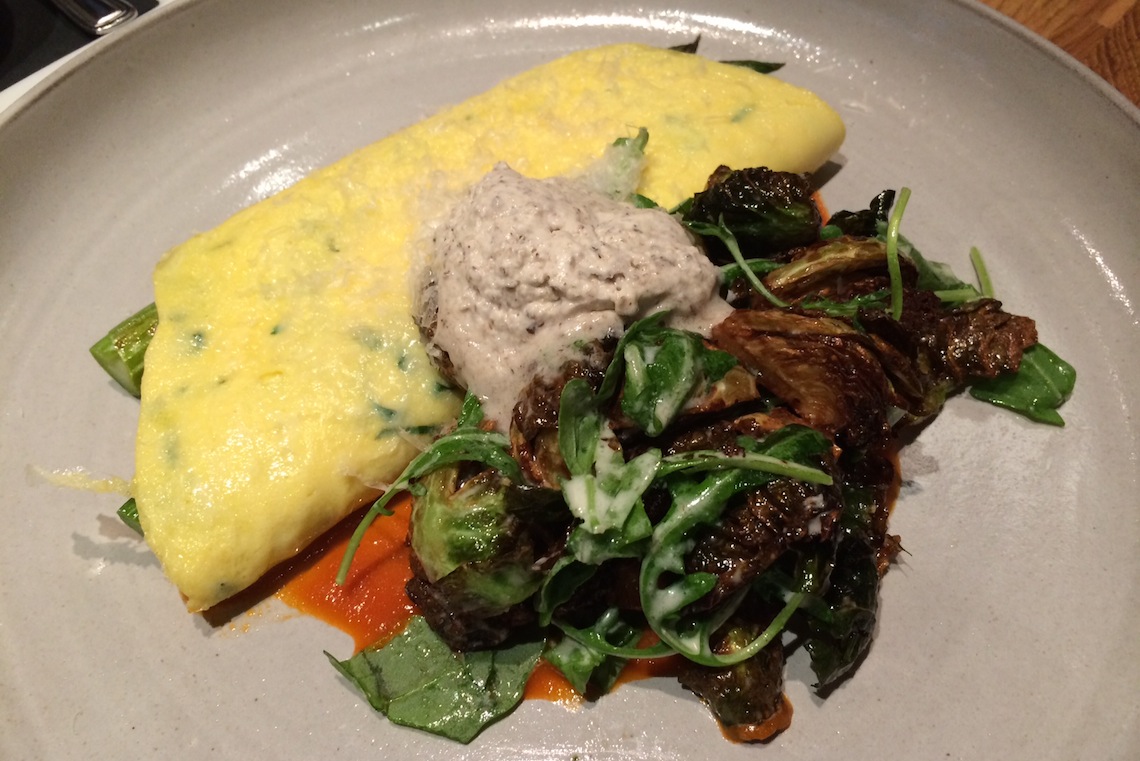 True to being a Canadian bistro, The Oakwood also has an extensive selection of local craft beer on tap, including Farmhand, 33 Acres, Parallel 49 to name a few well-known favourites.  Their wine menu only offers wine from the Westcoast – mainly the Okanagan, and some offerings from California.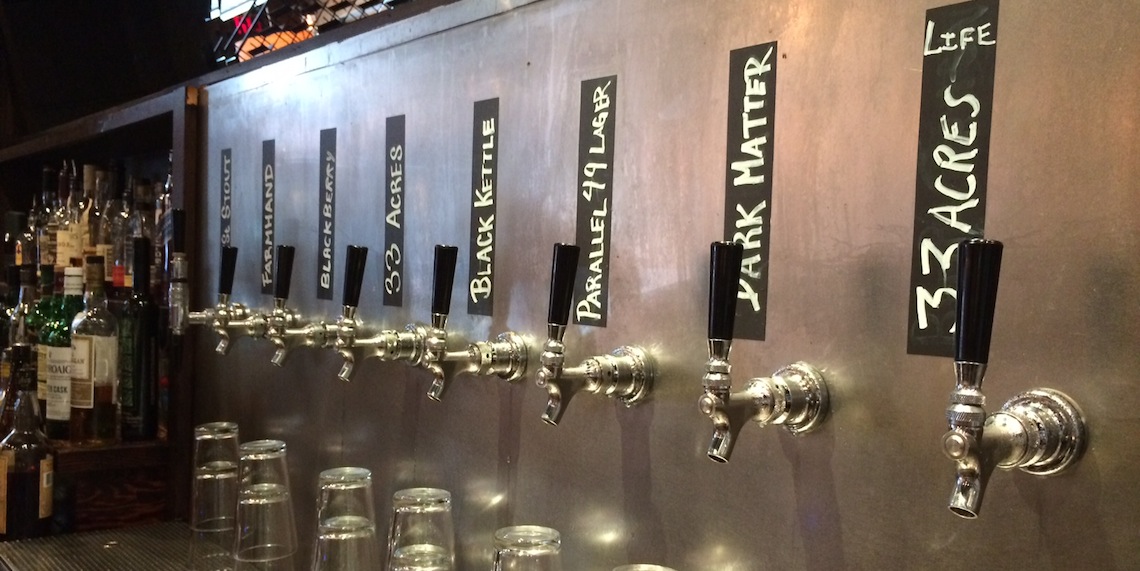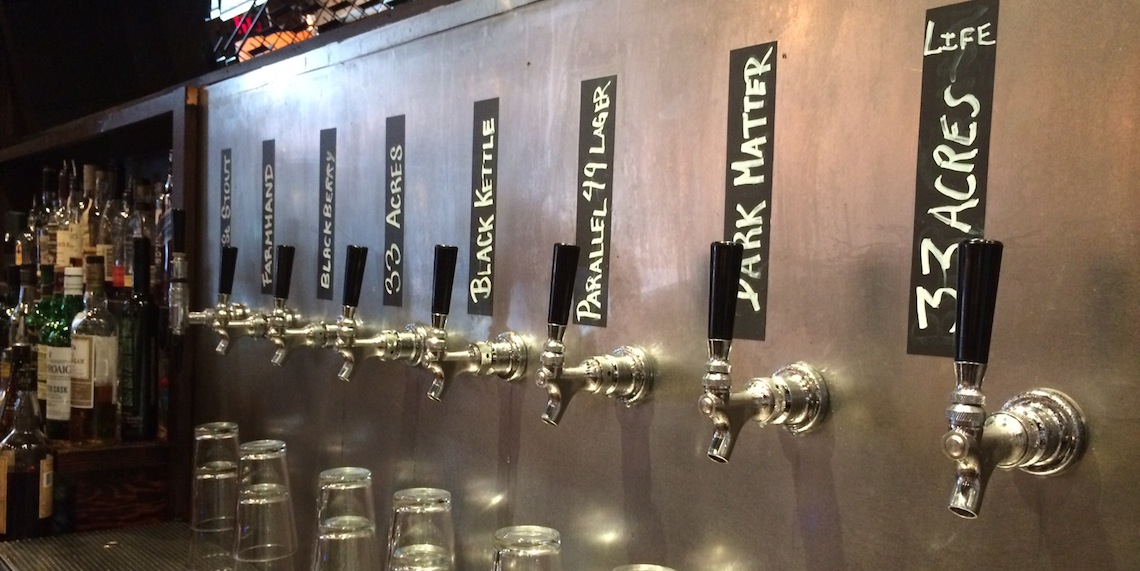 After our meal, Modern Mix Vancouver had the opportunity to chat with The Oakwood's new Head Chef, Ryan Murphy.
Ryan Murphy is a Halifax native who has spent years traversing the globe in pursuit of his culinary passions. Ryan gained extensive experience working in international kitchens including Vue de Monde in Melbourne, Australia; Restaurant Fifty Three in Singapore; and Restaurant Frantzen in Stockholm, Sweden; and numerous well-renowned eateries around Vancouver.
When asked about the pig theme found throughout the restaurant, it symbolizes that the Oakwood is hearty and flavourful, and not afraid to indulge in a bit of fat added to their dishes.  And yes, it is a reference to The Oakland Raiders (the American football team).
Although Ryan has not made any changes to The Oakwood's brunch menu yet, there are plans in the fall to revisit and put a twist of some of the current customer favourites.
Brunch is served from 10am to 2:45pm on Saturday and Sundays. For more information, visit theoakwood.ca.