MARKET: Got Craft? 2013 – Holiday Craft Fair (Dec 14/15)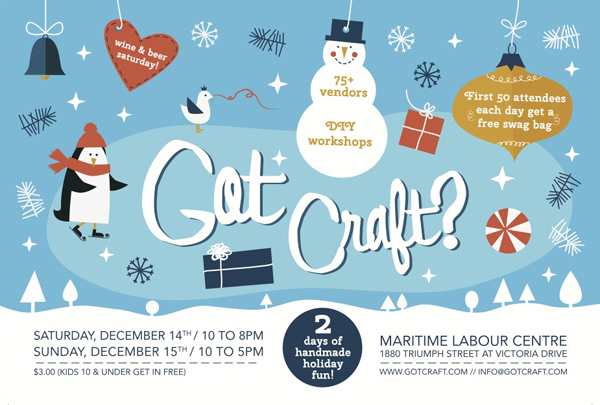 It's time to get your craft on! Vancouver's largest indie craft fair returns December 14-15, 2013 at its new home at the Maritime Labour Centre (1880 Triumph Street), with all new DIY workshops, extended hours, and beer and wine on Saturday.
"We strive to make each event as awesome as it can be," says Andrea Tong-Tucker, one half of the husband-wife production team. "Each event is a little bit different so there is always something new and exciting!"
Noteworthy newcomers include The Candid Confectioner, The Salt Dispensary, and Strathcona 1890 Urban Seed Collections. Keep an eye out for these vendors as well: Pip & Pin, Mellifera Bees, Element Botanicals and The Beautiful Project.
"The big trend for holiday gift giving this year is artisan food," says Andrea. "There are so many sweets like cookies, caramels, and good old fashioned holiday baked goods!"
Check out a workshop before you pick up a limited edition Got Craft? tote bag and get ready to shop. The first 50 people through the door each day will receive a swag bag filled with goodies from vendors and sponsors.
Got Craft? is happening Saturday, December 14(10am-8pm) and Sunday, December 15 (10am-5pm) at the Maritime Labour Centre, located at 1880 Triumph Street in Vancouver, BC. Beer and wine will be available for purchase between 12pm-8pm on Saturday. Admission is $3 at the door and little ones (10 and under) are free.  For more information visit gotcraft.com