Going Nuts in Vancouver for Coconut Water & Giveaway for 1-Month's Supply of O.N.E. Coconut Water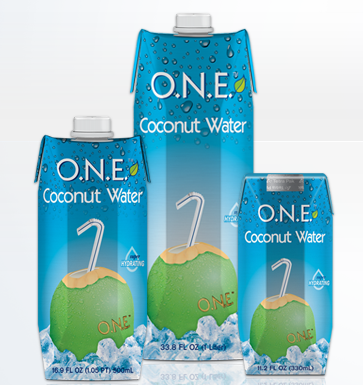 By now, you probably have that one friend in Vancouver who rants and raves about all the amazing benefits of coconut water.  What they are saying is probably not too far from the truth!  I was recently sent a coconut themed package from O.N.E. Coconut ("One. Natural. Experience."), complete with three servings of their coconut water, which prompted me to look more into the health benefits of coconut water.
According to coconut water retailers, the electrolytes and vitamins found in coconut water improve circulation, slow the aging process, fight viruses, boost immunity and reduce the risk of stroke, heart disease and cancer.  O.N.E. Coconut Water is the all-natural water from inside a young, green coconut. It is super hydrating as it contains 3 naturally occurring electrolytes and more potassium than a banana.  Although technically considered a juice, 100% natural coconut water is referred to as a water because it is clear, can be enjoyed throughout the day like water, and is lower in calories than most juices.
So why are Vancouverites going nuts for coconut water?  In general, the West coast tends to embrace trends and new things faster.  Especially when it comes to health & wellness, many Vancouverites see a healthy and active lifestyle as a priority.  Because coconut water is low in calories, rich with hydrating electrolytes, and 100% natural, this drink fits the Westcoast mentality exactly.  Especially with summer on its way, this is a great time to try out coconut water as a thirst quencher.
MMV Giveaway: Modern Mix Vancouver is giving away a month's supply of coconut water to one lucky reader in Canada.  To enter, please "LIKE" the Modern Mix Vancouver Facebook Page at facebook.com/modernmixvancouver and ALSO leave a comment below about something healthy/active that you do.  A random winner will be chosen from the comments below. Giveaway ends Monday June 24th (11:59pm PST).
For an additional entry: Follow @ModernMixVan on Twitter and tweet "Win from @ModernMixVan a month's supply of coconut water from @ONECoconutCA! Details here: http://bit.ly/15jf2k2 | RT to enter!"