DAVIDsTEA – The Spring Collection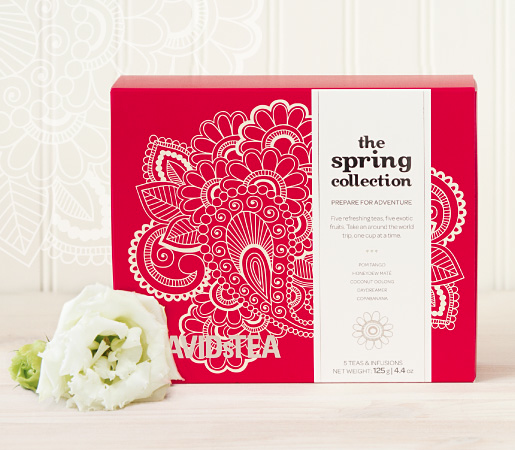 Five exotic teas will take you on a journey around the world with DAVIDsTEA's "The Spring Collection".  Packaged in a eye-catching red gift box with a floral paisley motif, this sampler box with 25 grams of each tea is perfect for gifting (or keeping for yourself, if you can't bear to give it away!)
Pom Tango is a fruity black tea which will "whisk you away to the fruit markets of India".
Honeydew Maté is my favourite in this collection.  I love the melon flavour and Maté is known to be energizing and a change from the black tea I would normally be drinking in the mornings.
Coconut Oolong is inspired by island paradise.  For an island escape, rich and creamy Coconut Oolong is the perfect taste of paradise.
Daydreamer is a green tea with a prominently mango taste.  There are also more subtle notes of guava and mangosteen, fruits which can only be found on a hot, tropical vacation.  Thailand, anyone?
Copabanana is a chunky, banana tea with big banana chips, coconut, cacao, almonds, apple and strawberry bits.  Reminds me of a fruity trail mix – there aren't actually any tea leaves in this blend.
Be sure to follow the instructions on each packet of tea for brew times to optimize your flavours and antioxidants.  The Spring Collection is available for $25.50 at DAVIDsTEA locations and online at DAVIDsTEA.com.