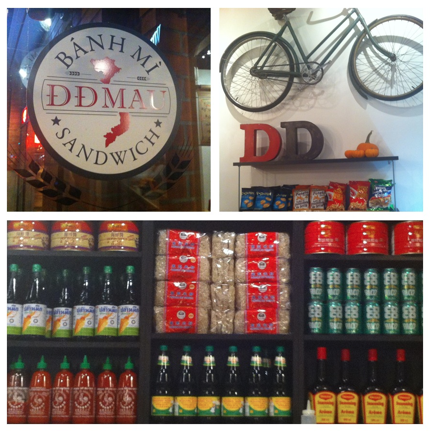 Located on Pacific Street in Yaletown, DD Mau is a "Bahn Mi" (Vietnamese Sandwich) quick service restaurant.  All their sandwiches are served on French baguettes, but with Asian seasoning like lemongrass, kimchi or sweet chili aioli.  DD Mau's specials of the day are written on sheets of brown paper on the wall, the other menu options are on chalkboard.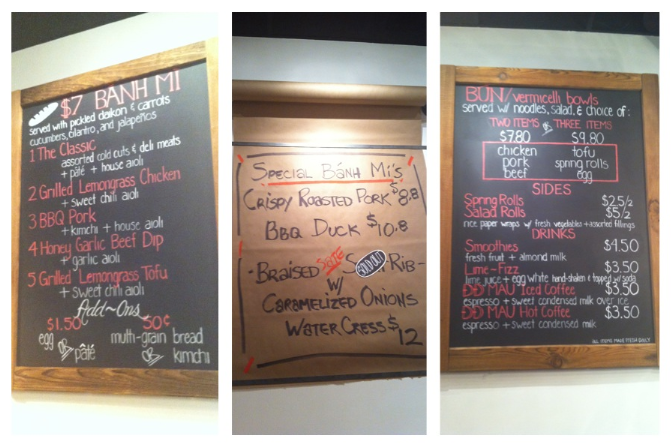 DD Mau's two most popular sandwiches are the Grilled Lemongrass Chicken and the BBQ Pork.  As a result, those are the two sandwiches offered in VanEat.ca's newest dining pass "Give Me Mau". For $9.50, you will receive:
1/2 Grilled Lemongrass Chicken: grilled chicken thighs + pickled veggies + cilantro + sweet-chili aioli jalapenos
1/2 Crispy Roasted Pork: crispy roasted pork + sauteed scallions + pickled veggies + cilantro + garlic aioli jalapenos
Smoothie, your choice of avocado or honeydeTranslated from Vietnamese, "Di Di Mau" literally means "Go Go Quick".  Our order was ready within a matter of minutes.  There is limited seating at the restaurant (and my dog was waiting outside) so we got our sandwiches to go and ate at home.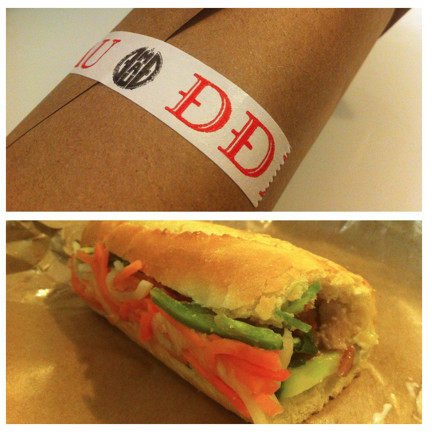 Since DD Mau's opening in the spring, I've been back three times and always to order the lemongrass chicken.  The pickled cucumber and julienne carrots gave a fresh, crispy texture to the sandwich.  The lemongrass half of the sandwich continues to please.  The crispy roasted pork was a bit fatty and I didn't prefer it.  But it was nice to be able to try another flavour, otherwise I'd probably keep ordering lemongrass chicken forever.
I also loved the honeydew smoothie the VanEats.ca pass came with – it tasted like a sweet, milky bubble tea but without the pearls.   As each half of the sub is about 6 inches, and the smoothie is a reasonably large size, you can pretty much split this meal into two portions and share with a friend.DD Mau is open Monday to Sunday from 10:30 to 8pm.  You can use the VanEats.ca dining pass for either lunch or dinner.