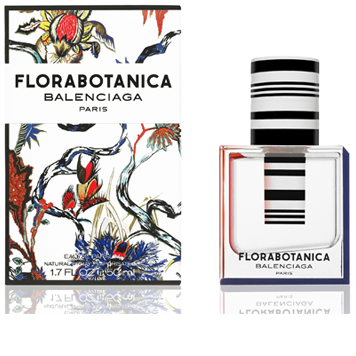 Newly available this month in October 2012 is Balenciaga's Florabotanica, a very pretty light floral fragrance.  The box packaging has a beautiful floral motif on the outside while the bottle itself is quite contemporary with black and white stripes and a rectangular bottle.  The oversized bottle cap looks like a laboratory test tube looking to capture the secret essence of flowers, to "create a sensory paradox between the rigour of experimentation and the poetry of the spirit of plants".
The advertising campaign stars Kristen Stewart and as part of her debut as the face of Florabotanica, she will be answering questions to internet users in a 30-minute interview on October 18th (Noon PST), which will be broadcasted live on the Balenciaga Fragrance website and on the Balenciaga Facebook page.
The thirty-minute interview will be moderated by French Fashion Editor Virginie Mouzat, who will ask Kristen questions covering her roles as brand muse and fragrance endorser.  Registration to submit a question is open here and will remain open until the interview closing time.
To take advantage of this opportunity, anyone may register and submit their questions online. There are no restrictions on the number of questions per participant, and registration is free of charge. Twenty questions will be selected. A Florabotanica fragrance will be sent to anyone whose question was selected.
Florabotanica Eau de Parfum Spray retails for $63 (30ml), $90 (50ml) and $115 (100ml) and is available at Shoppers Drug Mart, The Bay, Holt Renfrew and Sephora.