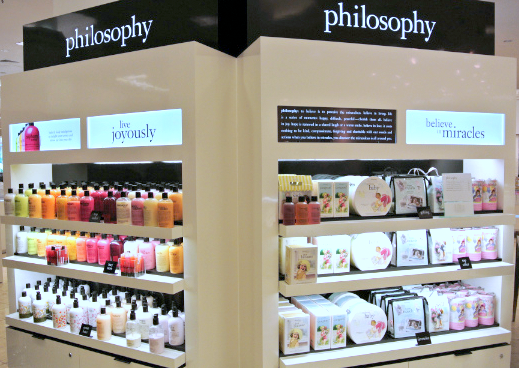 To believe is to perceive the miraculous. Believe in living. Life is a series of moments: happy, difficult, peaceful – cherish them all. Believe in joy. Hope is renewed in a shared laugh or a warm smile. Believe in love. It costs nothing to be kind, compassionate, forgiving and charitable with our words and actions. When you believe in miracles, you discover the miraculous is all around you.
Modern Mix was recently invited to experience the wonders of Philosophy and their inspiring skincare line at The Bay in downtown Vancouver.  Since 1996, Philosophy has been combining skincare with inspirational messaging to create a fresh, approachable attitude towards beauty.
Upon approaching the Philosophy beauty counter, the open shelf concept is already quite eye-catching. While many skincare and makeup brands at department stores are behind glass counters, Philosophy encourages you to look, smell and feel anything within their extensive line of skincare, bath & body and beauty products.  According to Philosophy, it's only when you feel good that you can truly look your best.  As a brand, not only is Philosophy dedicated to nurturing your skin, but also your well-being.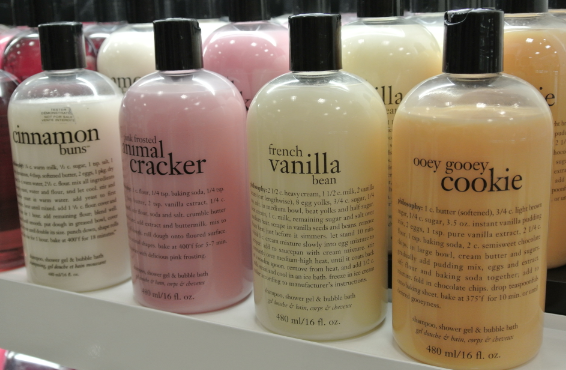 So while the brand's bottles and packaging are very simple – plastic jars and containers, it's the stark messaging on the packaging which makes the Philosophy brand so visually recognizable. No photographs of models are used in their packaging; in some, vintage images of children are used to evoke/bring to mind a sense of optimism, innocence and purity.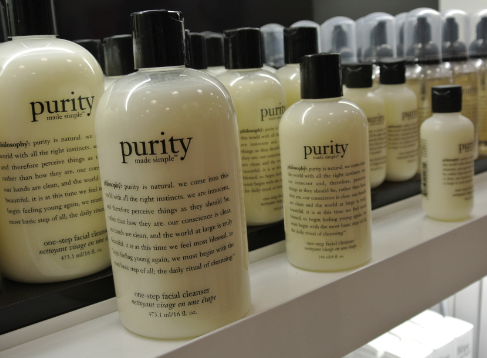 Speaking of Purity, that is the name of Philosophy's skincare line. Purity Made Simple ($26) is a one-step facial cleanser which melts away dirt, oil and makeup. Purity Made Simple comes in the original creamy version and also a gel version.
Another popular pick is the Micro Exfoliating Peel ($70), which is used on a weekly basis. Two products work in tandem to smoothen and brighten the skin by gently scrubbing away at dead skincells. The Micro-exfoliant duo is gritty, but felt by no means abrasive.
Next up in our Philosophy experience, we were shown several options for eye cream including Eyes Wide Open ($39) and Eye Hope ($66).  Eyes Wide Open is more for an instant gel refresh and depuffing, while Eye Hope is an eye cream for dark circles, puffiness and lines.
No skincare regime is complete without moisturizer!  We were shown Hope in a Jar ($52), which has a unique fluffy, souffle texture to hydrate, exfoliate, and protect the skin. The scent is a bit odd at first, but I got used to it over time.  I love the way Hope in a Jar spreads like liquid over your skin, this is now my regular nighttime moisturizer.
Lastly, we ended on the Philosophy "Grace" fragrance line, which now has six scents under the same name. From the original "Amazing Grace" ($55) to the newest "Summer Grace", the fragrances each have a soft, feminine and delicate scent and are meant to be layered with similar scents in the same collection. Perhaps the most unique scent of this collection is "Pure Grace" ($55) which smells like fresh laundry.
With a walk through of so many Philosophy products, we look forward to incorporating Philosophy into our regular skincare routine!  To check out Philosophy for yourself, head to The Bay in downtown Vancouver and at select locations across Canada.
For reviews on other Philosophy products on Modern Mix Vancouver, read up on: Purity Made Simple Cleanser, Eyes Wide Open, Miracle Worker and the Recipe and Drinks Collection.