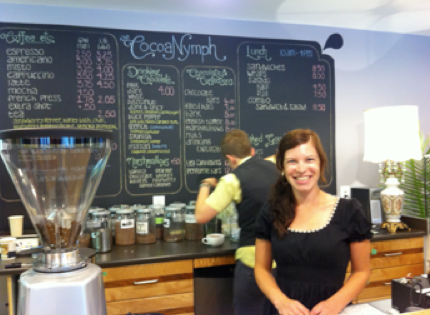 Cocoa Nymph, well known for their uniquely hand crafted chocolates just recently celebrated the grand opening of their second location at 4 West 7th ave.  Having met with owner, Rachel only 8 short months ago, it was particularly special for Modern Mix Vancouver to attend this event in support of this budding and local business.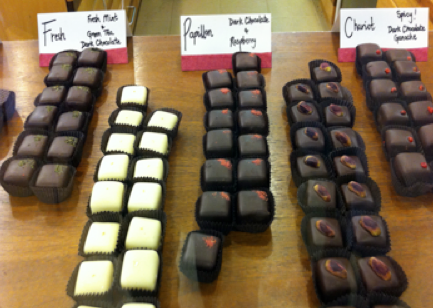 Nymph East offers a significantly larger space, yet still manages to feel like a unique, playful space. Expect to find the same cozy environment complete with an upright piano, display case for their beautiful chocolates, and an extensive menu of all things chocolate. The major difference at this location is all the extra room out back.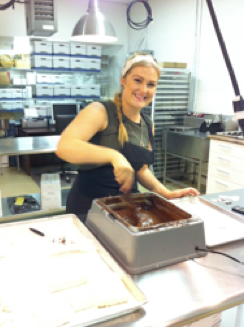 One of the main reasons for this additional space is the extremely popular Chocolate Lovers workshop which has become so popular it books 1 month in advance. Moving forward, chocolate workshops will be held exclusively at this location. The backspace boasts a large open area with aluminum tables all surrounded by boxes of Belgium chocolate and a heavenly smell that will make you want to melt.
Another perk of this new location is the addition of new menu items like sandwiches, wraps and salads. Look out for this new menu offering unique items like the Elk Sandwich (made with Oyama elk & juniper Salami), or the Cocoa Salad (made with dried apricot, cocoa nibs and chocolate dressing). No stranger to unique chocolate pairings, Cocoa Nymph continues to offer monthly workshops including chocolate pairing with wine, beer and whiskey.
With so much to offer we can only expect great things to come. As a local business, Cocoa Nymph is currently in the running for round #2 of Vancity's Good Money Mob. Cast your vote today to show your love of chocolate and to help support their newest location!