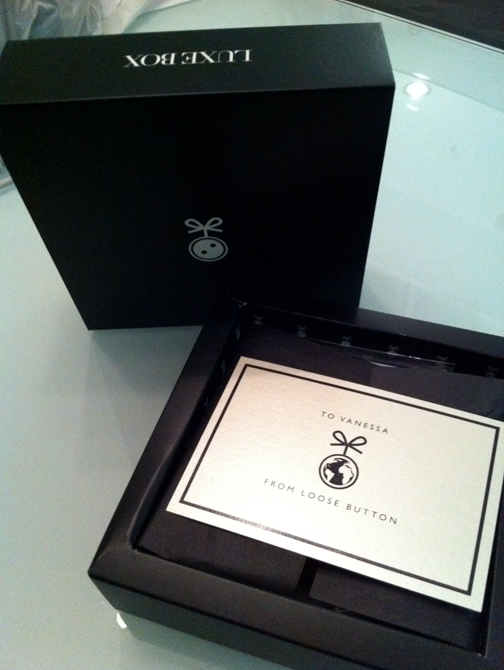 Introducing Luxe Box, a Canadian beauty subscription service which postal mails "deluxe" samples to you each month.  Each month's Luxe Box contains 4 – 5 miniature replicas of well-known brands, including Essie, Pur Minerals, Demalogica, Benefit, Stila, and more! Elegantly wrapped in a sturdy black box, this is no P&G BrandSampler, it feels more like a luxurious, hand-wrapped gift from a dear friend.
My November 2011 Luxe Box included:
Lise Watier – Eye Glitter Liner – Loved this.  I put it on over my regular liquid eyeliner and it gave my eyelids a refreshing sparkle.
Mereadesso – Lip Treats – German brand of skincare and beauty products.  This product is supposed to be a primer for your lipstick, but I use it on its own.
Paco Rabanne – Black XS and Black XS For Her – wasn't a fan of these.  Thought the keychains were too big, clunky and looked cheap.  Didn't like the goth look of the packaging either.
Benefit Cosmetics – B. Right! Total Moisture Facial Cream – I already use the eye make-up remover from this Benefit line, so it was nice to be able to try a complimentary product.  The deluxe sample came in a small glass jar, a miniature replica of what the product looks like in its full size.
Teaopia – Cactus Fig Tea Kit – 50 grams of this wonderfully fragrant loose leaf green tea is already worth $7 on the Teaopia website.  It came in a cute, squarish, orange tin and has a unique flavour of fig, aloe vera, sandalwood and orange flowers.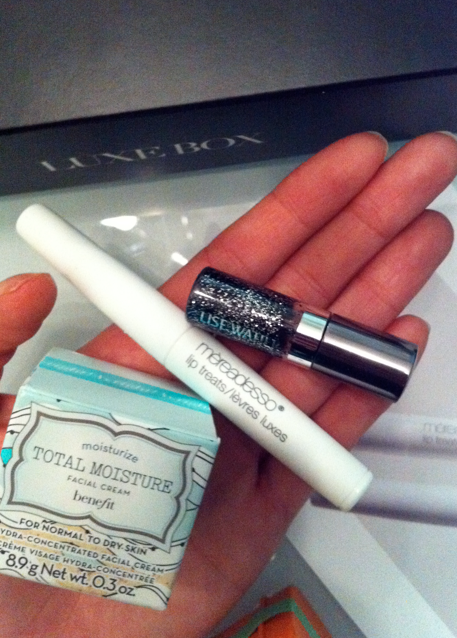 Subscription starts at $12/month (includes shipping and handling). I would definitely recommend Luxe Box to anyone who likes to play around with beauty and make up, and is open to experimenting with different brands of products.  This would also be a great subscription service for a beauty blogger who is just starting out, and wanted to practise reviewing multiple products, without paying for a full-price product.