From the creator of the revolutionary Raincoast Crisps, comes the newest addition to the Lesley Stowe Fine Foods family; another all-natural snack: Raincoast Cookies.  Available in three variety of flavours – "Dark Chocolate, Tart Cherry & Pecan", "Apricot, Ginger & Slivered Almond" and "Dried Cranberry & Toasted Hazelnut", Raincoast Cookies are packed with ingredients including chicory root, flax seed and chia. The individually wrapped portions, the "super-seed" ingredients, as well as a high fibre and protein content allow Raincoast Cookies to be comparable to a protein or energy bar, but in the fun shape of a cookie.  Raincoast Cookies can also be eaten as a breakfast substitute.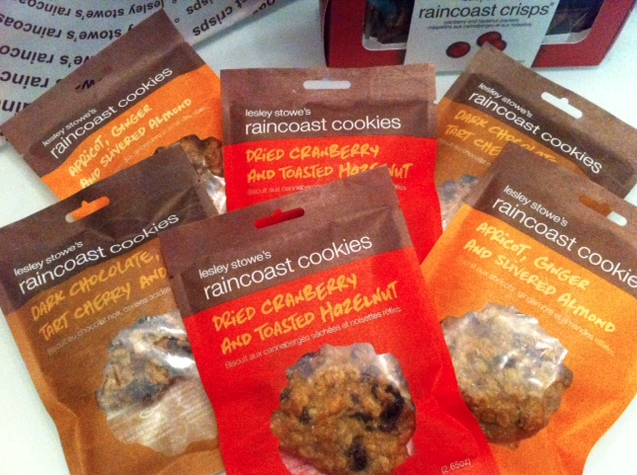 .
About the three flavours:
Dark Chocolate, Tart Cherry & Pecan – a guilt-free delight for chocolate lovers, the Chocolate Cherry Pecan cookie is baked with bitter-sweet chunks of 70 per cent fine quality dark chocolate and complimented with the tartness of dried cherries and whole toasted pecans to balance the combination.  Packed with Beta-Carotene it's a decadent and nutritious snack morning, afternoon or night.
Apricot, Ginger & Slivered Almond  – pieces of plump dried apricots are paired with the spicy-sweet flavour of candied ginger in this high fibre raincoast cookie.  Crunchy slivers of toasted almonds add nutty taste and texture to the snack, perfect on its own or with a smoothie.
Dried Cranberry & Toasted Hazelnut – this cookie is inspired from its ever popular raincoast crisps cousin.  As a cookie, whole oats are married with the creamy sweetness of hazelnuts with dried cranberries adding a tart finish.  This cookie is packed with antioxidants and a high protein punch, with a flavour profile that makes you stop and savour each bite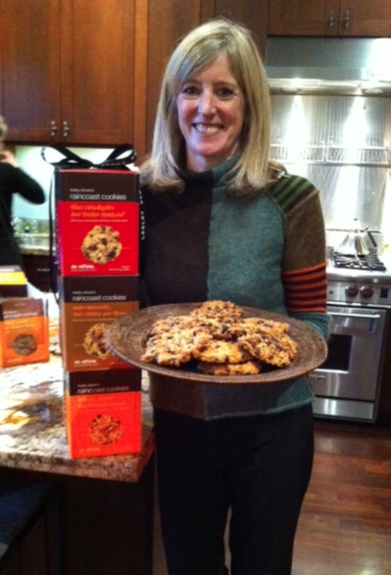 Modern Mix Vancouver was invited to a media launch of Raincoast Cookies in the kitchen of Lesley Stowe's Point Grey home. BC-born and raised, but a Parisian-trained chef, Lesley's line of specialty food products are fully manufactured locally, in a 20,000-square-foot production facility in Richmond, BC.
I thought it was a much more intimate and personal environment for the creator of the Raincoast brand herself to open up her home to us.  Just to jazz things up with a little bit of friendly competition, attendees were given the opportunity to sample and guess the Raincoast Cookies varieties before the correct flavour family was revealed.  Comparable to a wine and cheese, but with smoothies and cookies instead, Lesley also brought out her blender and made accompanying fruit smoothies to pair with our Raincoast Cookie tasting.
In our goodie bags after the event, all the guests were given boxes of Raincoast Crisps, Raincoast Cookies and a signed copy of the Lesley Stowe Fine Foods Cookbook.