Topshop – now open in Vancouver at The Bay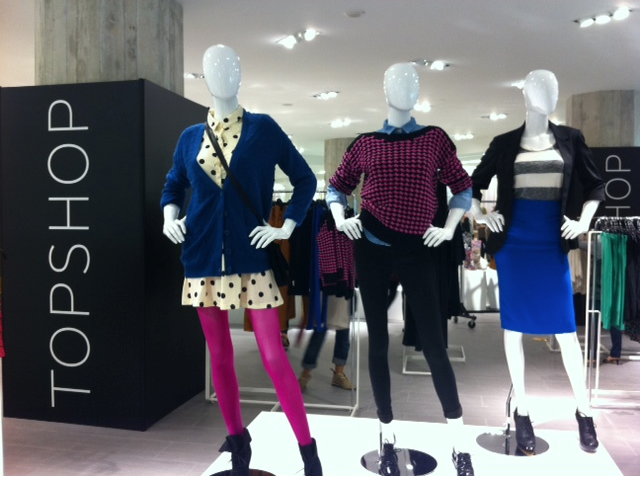 The highly anticipated opening of the Topshop capsule at The Bay was today, showcasing "fashion's favourite season" with its Topshop Autumn/Winter 2011 collection.
Known for its up-to-the-minute incorporation of trends, Topshop captures fall's best moments in the collection, adding a signature stamp of quirk and personality.  Reflecting the many moods of Fall, Topshop weaves an eclectic style story including: Pyschobilly – a cool blend of rockabilly and 60s mod, Thrift – an eclectic dressing up box of girlie vintage-inspired pieces, Glamrock – all-out 70s glamour, sans the grunge, complete with faux fur and touches of fluoro pink and shimmering gold, and Bavaria – a modern and distinctly luxurious take on keeping warm this winter, inspired by rich folkloric heritage.
Below are some more photos I took of styles from the upcoming season.  Lots of geometric patterns, bright blocks of colors including colored bottoms in tan, shocking blue and kelly green.  Kind of flamboyant, but in a good way, if done properly.  All I can say is style with caution and be sure to choose pieces that flatter your own tastes and body type.  Don't over do it on patterns, pick some staple pieces to go with one focus item from the Topshop collection.