MMV on Vacation – Nightlife in Las Vegas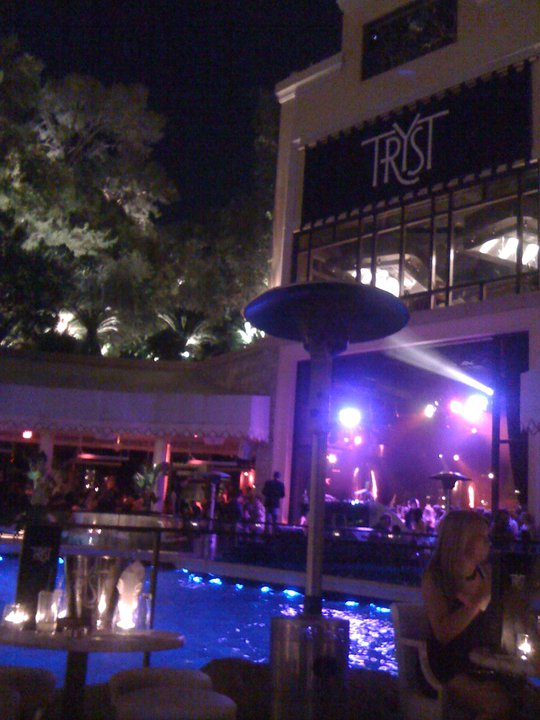 Earlier this spring, I went on my first trip to Las Vegas!  I always hear about my fellow Vancouverites getting fantastic flight deals through Allegiant Air by driving south of the boarder and flying from Bellingham.  Taking their advice, I paid $350 for two-way airfare from Bellingham to Vegas, two nights at Hardrock Hotel, including tax and fees.
I was really excited for the nightlife aspect of Vegas, as that is what people who return from a whirlwind weekend speak most excitedly about.   And I thought it would make a great personal post on MMV, to see the perspective of nightlife in Vegas from someone who has pretty much only known Vancouver nightlife.
Although there are some up and coming clubs in Vancouver which could be considered unique (ie. 560 on Seymour Street), it pales in comparison to the two clubs at the Wynn Hotel that I visited in Vegas.
Half indoors and half outdoors, Tryst Nightclub (3131 Las Vegas Blvd S) is the upscale main club located in the Wynn Hotel on the Las Vegas strip.  You enter the club through the Wynn Hotel, within view of the casino and slot machines and indoor shops.  It felt like I was lining up inside a shopping mall  (think Oakridge mall, maybe?) so I had no idea what to expect inside.  When we got through the line-up (I was with three guys, so there was a slight delayed before we got fast tracked to the front via prior arrangements through MMV), I was amazed at the sheer, cavernous size of Tryst.
There were multiple lounges, outdoor patios, seating areas.  But the most eye-catching part of Tryst was the 90 foot high waterfall and lake in the middle of the club, directly behind the DJ booth.  The main dance floor was average-sized compared to the rest of the club, but because of the club's expansive sound system, it felt like any part of Tryst could be a dance floor!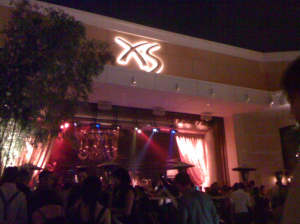 Next on the list was XS NIghtclub at the neighbouring Wynn Hotel, which has 16,000 square feet of indoor space.  There was a huge chandelier in the middle of the club, which I passed under in order to go to the back outside area of XS.  Think of a summer nighttime backyard pool party (although I don't think you're actually allowed in the pool in the evenings, since I only saw people dipping their feet in).  There was a gazebo-like platform in the middle of the massive pool, with musical performers on stage.
So as you can imagine, from the perspective of someone who is used to Vancouver nightlife, Vegas nightlife was definitely an experience worth checking out.  If you get a great flight deal and you're off to Vegas sometime soon, be sure to check out Tryst and XS.  Cover is usually $20 for the ladies and $30 for the gents.