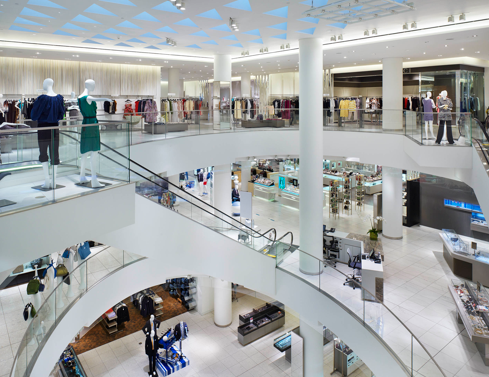 Holt Renfrew has had a presence in Vancouver since the 1970's.  Since the 2008 opening of the stunning westcoast flagship, designed by New York architects Janson Goldstein, the store has hosted numerous hot-ticket parties, and hosted some of the greatest names in fashion and entertainment.  Located at the epicenter of downtown activity, with its main doors opening to bustling Granville Street, Holts Vancouver is a shopper's paradise, and  a must-see tourist destination.  Over 200 individual brand names are represented within its walls, with shop-in-shops for Giorgio Armani, Gucci, Dolce & Gabanna, Louis Vuitton, Michael Kors, Burberry, Tom Ford, to name a few.
In the fashion industry, trendsetting can be compared to a pyramid.  High fashion and couture, starting at the top, and their runway looks for the upcoming season are way beyond the budgets of the average shopper (and MMV reader).  But as time passes, these trends trickle down the pyramid as assessable ready-to-wear fashion available at our favourite clothing chains.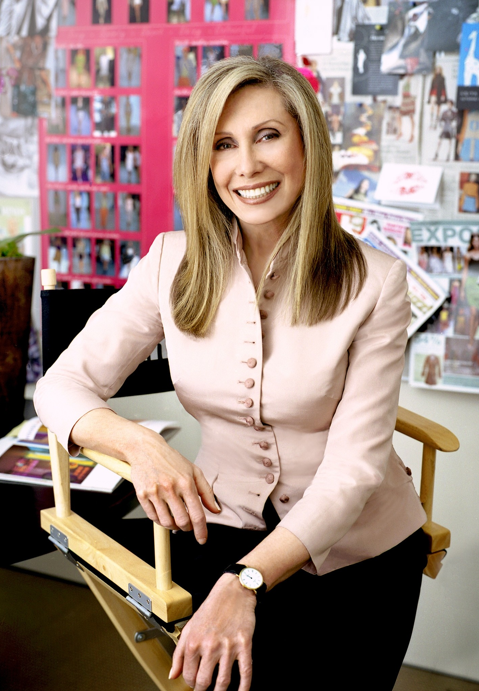 Described somewhat as a "fashion visionary", being a fashion globe-trotter is part of Barb Atkin's job description as the Vice President of Fashion Direction for Holt Renfrew (737 Dunsmuir Street).  At Holt Renfrew's Spring 2010 Media Preview, Barb gave a presentation about forecasted fashion trends for Spring/Summer 2010 and brought back to local media, her insights and observations about upcoming trends, neatly packaged into 4 easily-understandable "looks".  If you've been following @ModernMixVan's Twitter, you already would have had a sneak peek at Barb's forecasted trends as I was doing a bit of live-Tweeting from the media event last week.
World Cultures: The world is getting smaller with a melting pot of international cultures.  Just look around us with the upcoming Olympics, with 5,000+ Olympic officials from 80+ countries visiting our lovely city, it is no surprise that the upcoming season will incorporate global trends into our fashion too.  So what "World Cultures" signifies is the incorporation of cultural references into our clothing pieces.  This could mean an emphasis on hand-stitching, or hand-dyed items with colourful dyes, or origami-style folding in fashion pieces.
Urban Traveller: This look consists of slightly rugged, but functional pieces.  For example, nature-inspired with color pallets of earth tone and khaki with rough hewn and frayed edges or faded water prints.  Think "perfect imperfection" – not grubby but consciously rugged, for an "Urban Traveller" on the go.  Accessories may include oversized bags for all your travelling needs.  For jewelry, focus on natural elements like wood, stone or suede to accompany this look.
Executive Suite: The most corporate classic of the four looks, "Executive Suite" consists of a clean-cut look with smart cuts, luxury materials and a high attention to detail.  The power woman, ambitious but stylish.  These are investment pieces – timeless and iconic.  Your presentation in style enhances the experience with elegant but  simple, clean lines.  There has also been a trend towards a more structured shoulder for women, with a focus on the silhouette.  Meanwhile, the shoulders in men's clothing are becoming more slouched and rounded.
Cool School: With an emphasis on "whimsical fun", "Cool School" consists of a young, preppy look with bright, popping colors.  So take classic pieces like a polo and enhance it with color, on both guys and girls.  Bring back retro, with bright red lips and peals.  (I LOVE PEARLS).
Keep reading Modern Mix Vancouver this upcoming season to see fashion and beauty products in the retail world, of Holt Renfrew and beyond, which will reflect the trends that Barb Atkin has outlined for us.  See the gallery below for some Spring/Summer 2010 picks, available at Holt Renfrew.  Pay attention to the details on the items – a line of buttons, sturdy straps, the materials of the accessories, etc.  Click on the images to see prices.