Bombay Brow Bar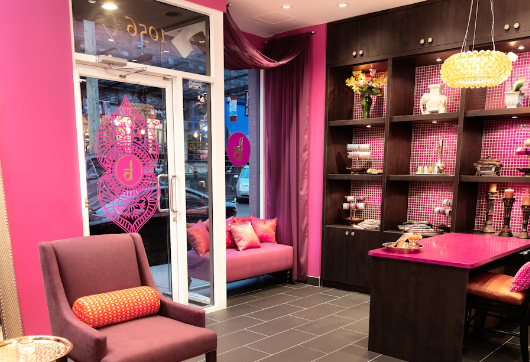 I had the opportunity to check out Bombay Brow Bar (1056 Mainland Street), a new concept boutique specializing in shaping your brows but with Yaletown service style.  Newly opened by sisters Ravy and Amy Minhas, Bombay Brow Bar brings in a Bollywood experience, with a Yaletown twist!  Ravy is a business graduate from Thomson Rivers University, while younger sister Amy is a freshly trained esthetician from Vancouver Community College.
Bombay princesses and stylish mavens, your brow search is over. At Bombay, we're not a spa. We have a major brow obsession – it`s all we do. Brow Sculptresses are trained to give you the ultimate brow experience. Sit back and relax in Bombay's trendy Indian environment. Your Sculptress will consult on the shape, define your brow, treat you to an Indian brow massage with a soothing rosewater gel, and finish with a complimentary make-up touch-up.
So what are some Indian stereotypes that the sisters would like to bust?  According to Amy, more often than not, Bollywood style services have been associated with tacky, overdone decor, clutter, and loud music.  However, when I entered Bombay Brow Bar, I was very pleased with the classy decor.  Magenta walls, with patterned wallpaper from the UK.  The decor of this cozy boutique fits right in with Society Dining Lounge and Blo Blow Dry Bar. Four plush chairs for clients to sit in, a gold framed mirror, a plush window seat with cushions….true to the vision of the Minhas sisters, the furniture makes you feel right at home.  The "Bombay Loft" as Amy calls it!
On one side of the boutique, a shelf of square shelves is up against the wall with tasteful Indian artifacts positioned right in the center of each cubical: a rack of colorful bangles, folded pashminas, an elephant artifact, a silver vase… Some of these items came right from their home, to add to the welcoming environment the sisters envision Bombay Brow Bar to be.  They want to share with Vancouver their living room, and bring a piece of their Indian culture and values to the rest of the world.
For $23, get your eyebrows sculpted, arched and groomed.  Each esthetician is trained with a "3-point technique" to get the eyebrow shape which compliments your face.  They also explain to you what they are doing, while they are doing it.  Feel free to ask questions, or tell them to stop or slow down.  They are very patient – it's all about customer service.  And you can choose the technique used on your brows – threading, waxing and tweezing.  I would personally recommend getting your eyebrows threaded for a very precise, sharp line.  With wax, it's hard to get out the smallest hairs, and you don't want saggy eyelids from getting your eyebrows waxed too often.
Sometimes my eyes start watering and my eyeliner/mascara starts running when I get my eyebrows threaded.  At the end of the 20 minute "treatment", you can always ask for a complimentary make-up touch up.  In conclusion, Bombay Brow Bar is a perfect fit in Yaletown "beauty lane".  If you don't mind paying a price premium (hey, it's Yaletown!) at a clean, trendy boutique, and you like to be surrounded by beautiful decor, Bombay Brow Bar will be the right fit for you!