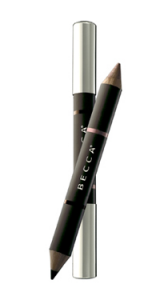 Because of the Kiss and Make Up relocation to Park Royal, I thought it would be fun to feature products that this boutique is the exclusive Canadian carrier of:  the line BECCA Cosmetics.  I was recently sent two products by the company to try:
BECCA's Line + Illuminate Pencil
A combination liner and illuminate in one, this convenient dual-ended pencil has a velvety soft texture that glides on easily to line, define, brighten, and contour the eyes. BECCA's Line + Illuminate Pencil gives the eyes beauty, mystery and magic by illuminating with the sparkling end and lavishly lining with the rich, defining end.
I like the thickness of this double ended eyeliner – it makes the whole product feel very heavy duty and premium.  The eyeliner glides on fairly smoothly, but it's nothing out of the ordinary – I've used other eyeliners with an even smoother application (ie. GOSH Velvet Touch eyeliner).  The black color is good for smudging and creating a smokey-eyed shadow look, however, if you are seeking a jet-black liner, it's best to stick with liquid eyeliner.
Luminous Skin Colour
A combination tinted moisturiser and sheer foundation, Luminous Skin Colour visibly improves the complexion, yet looks incredibly natural on the skin while offering skincare, makeup, and sun protection in one ingenious product. Contains anti-oxidant vitamins, anti-inflammatory and antiseptic ingredients with a broad spectrum SPF 25+.
The product goes on lightly with a powdery finish but I found the shade "sepia" a little bit on the orange-y side.  I didn't have a choice of the tinted moisturizer shade (no worries, BECCA has at least 15 shades for you to choose from) so I'm not sure if some of my comments are because "sepia" is not the right shade for me or if it's something inherent in the product.