Main Street >> Overview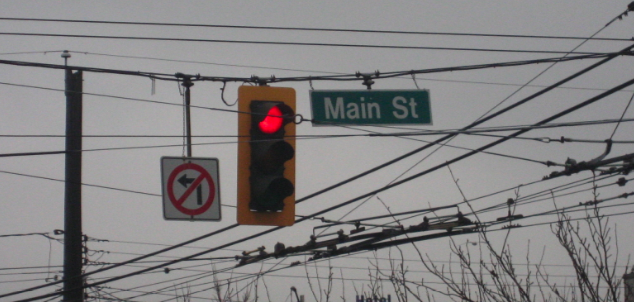 By Guest-writer Joanna Lee
Main Street has evolved. Having lived in Southeast Vancouver almost my entire life, I have certainly noticed the changes and rapid developments to Main Street. It has transformed from a majority of antiques-stores-thrift-shops neighbourhood to a bustling upscale locale with trendy restaurants and hip bars, independent coffeehouses and local designers/retailers.
Take, for example, The Cascade Room, located just off Broadway. I celebrated my 22nd birthday there and what appealed to me about this resto-bar/lounge was its comfortable booth seatings, long spacious bar, and most importantly, the drinks menu. Bar-managed by Nick Devine, the cocktails list is truly impressive in its extensiveness and creativity (egg whites in a drink?!). And with its standing-out neon blue signage, The Cascade Room radiates an unpretentious glow and is almost always filled with a young and urban crowd.
Adjacent to it is sister restaurant, Habit Lounge, serving small plates and tapas dishes to the electic Main Street crowd. Just down the block is the recently-opened Caffe Barney (of South Granville) and Bean Around the World coffeehouse. (Click here to read a Modern Mix Monday perspective on Bean Around the World.) North of Broadway is Soma Restaurant (formerly Soma Cafe), a small yet classy restaurant with interesting food and an extensive wine list that even wine connoisseurs can appreciate. And even further north is an even smaller bar called Narrow Lounge. Narrow is "dark and moody" and is indeed narrow, with only a few handful of tables. While the menu is unoriginal, Narrow is unique in that it is also an art gallery upstairs
What I like about many of these gathering places is that they open onto the street or include patio areas perfect for people-watching on a sunny day. From the aforementioned Cascade, Caffe Barney, and Soma, to the very recently-opened Burgoo, The Five Point, The Reef Restaurant, Public Lounge and Crave, which even has a heated patio. Even the coffeehouses including J.J. Bean and Salt Spring Coffee Co. stand out from Starbucks.
See what I mean? And these are only a few places I'm talking about. If you haven't been to Main Street lately, you don't know what you're missing out on.