Home » Food & Drink, Headline
Hidden Tasting Bar & Social Lounge (433 Robson Street)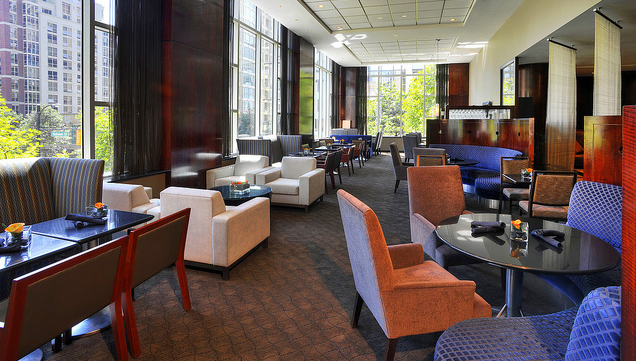 Located on the second floor inside the Westin Grand Hotel in Downtown Vancouver,
Hidden Tasting Bar & Social Lounge
is not the most obvious restaurant choice when it comes to stumbling upon a new restaurant in Vancouver.  I'm hoping by writing about this wonderful, neighbourhood gem, Hidden will get the exposure and recognition it deserves for its unique menu pairings, excellent service and reasonable prices.
I've been to Hidden at least 3 - 4 times in the past few months and every time I have been impressed by their extensive menu pairings and excellent service.  Let's start from the beginning.  What drew me into Hidden in the first place?  A 2-for-$15 tapas pairing menu during lunch, its close proximity from my downtown workplace, and the ability to make a reservation for points on Open Table.
[caption id="" align="aligncenter" width="255" caption="flatbread with spinach, smoked salmon and black bean dip"]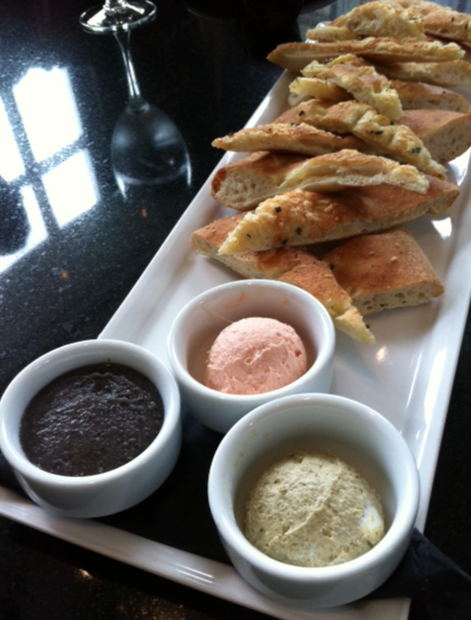 [/caption] Hidden's lunch menu is a contemporary Western style, categorized into "Bites", "Earth", "Sea" and "Land".  You can order a dish on its own for around $8 - $13, or you can partake in the Hidden tapas pairing special, where you can choose any two items, regardless of price, for $15.  Of course, the portions are slightly smaller than if you had ordered one item on its own, but it's paired to be the perfect portion size for lunch. [caption id="attachment_5581" align="aligncenter" width="276" caption="cantaloupe salad with goats cheese & crispy prosciutto and grilled brie cheese sandwich with short rib & cranberry puree"]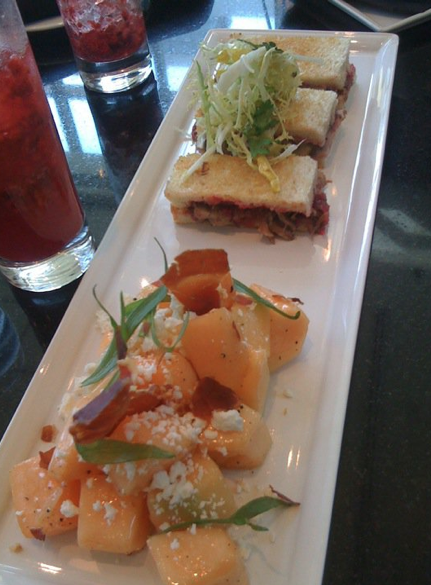 [/caption] All their menu items seem to have an unconventional twist to it.  For example, it's not just any old mac and cheese - it was made with scallops.  And the scallops were served on the side, on a bed of marinated raisins.  The sweet and savoury pairing was delicious. The grilled brie cheese and short rib sandwich, was made with a cranberry puree ... with the crusts cut off (awesome)!  My salad paired cantaloupe, goats cheese and prosciutto.  Another refreshing, fruit-based salad I tried paired watermelon with feta cheese, olives and mint puree. [caption id="attachment_5608" align="aligncenter" width="384" caption="watermelon salad with feta cheese, kalamato olives and mint puree"]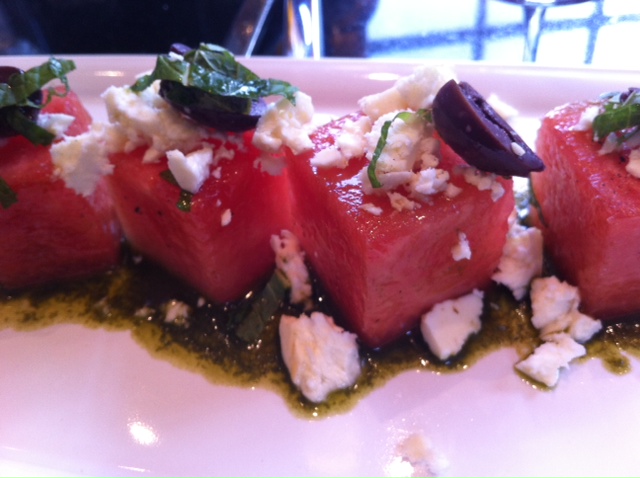 [/caption] The poutine wasn't just cheese and gravy, it was made with lobster.  (Although, the cheese curds were a bit rubbery and not fully melted in that particular dish).  Even down to the ketchup variation served with the fries, the ketchup had a smokey hickory flavour to it.  In short, basic ingredients, unusually paired, makes for a unique dining experience. [caption id="attachment_5587" align="aligncenter" width="432" caption="lobster poutine with montreal cheese curds and bacon & avocado mini burgers"]
[/caption] When I tell people about  my experience at Hidden, they seem to be surprised they haven't heard of this restaurant located in such a central spot in downtown Vancouver.  Unsurprisingly, this is likely because Hidden tucked away in the 2nd floor of a hotel, and perhaps not necessarily a restaurant you can just stumble upon?  My friend uploaded a photo of his Hidden meal on Facebook, and someone had commented asking where we were.  When he replied that we were at Hidden, the restaurant, the confused commenter replied with "No, but what city and country are you in?!"  Perhaps its unbelievable that a restaurant like Hidden could remain unheard of in one's own city. To make your experience at Hidden the most worthwhile, be sure to take advantage of their food and drink specials:
Locals discount: 25% off breakfast & brunch for residents of Vancouver
Hops Hidden Tuesdays: From 4:30pm to 7:30pm, beer tasting is only $10 for three 2 oz. beer tasters paired with tapas bites.  In addition, you can use the $10 as a credit towards your dinner on the same night.
Grape Sundays: 50% off selected glasses of wine
[gallery]
Tags: Dining, downtown vancouver, hidden vancouver, Hotel, Restaurant, tapas, westin grand