Forsya Boutique (2206 Main Street) is turning one, and what better way to celebrate the success of the Main Street boutique than with a party and fashion show, launching the first season of the new in-house label, Forsya by Julie Hebb. Sip spiked punch and try the adorable cupcakes in dreamy colours like lemon, sky, and lavender, mimicking the new in-house collection. So stop by Forsya Boutique, located at 2206 Main Street (at 6th Avenue), on April 9 to partake in the festivities and receive 20% off all merchandise.
.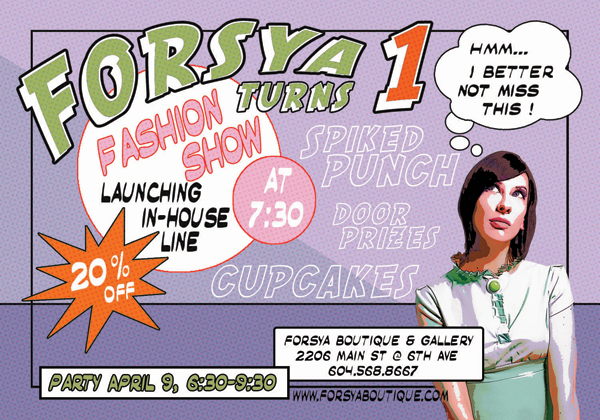 The first thing we saw as we walked inside was the elegant chandalier framed by the storefront window.
On Saturday February 14th (just another day, right?), Two of Hearts, a local fashion label, is having the grand opening of their boutique at 3728 Main Street. Visit on opening day, between 11am and 7pm, and share your love for fashion with the designers, Jenny Yen and Tabitha Savoie, who will be featuring a ten percent discount on their Togs, Two of Hearts and CiCi line.
.
They have chosen to decorate their establishment with the same twist that can be found in their creations; "the theme of the store is eco chic with a vintage twist" says Jenny. The new space, formerly Madison's on Main, incorporates the old wooden racks with new wood floors to create a clean natural feel. While a mix of modern and antique furniture and a splash of sassy red paint makes it a fun and flirty environment to find that perfect Valentine's Day dress.
.
Here's another bonus: the first 25 people through the door will recieve gift bags packed with a whole bunch of nifty goodies from Vancouver artists.
.