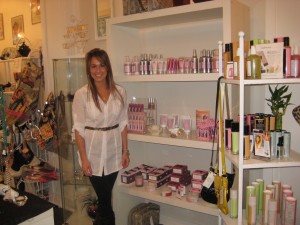 It's so exciting to take a leisurely stroll in a familiar neighbourhood and all of a sudden discovering a newly opened boutique!  Miranda (from Style By Fire) and I happened to stumble into the attractive Broadway storefront of Wish.List (2811 West Broadway @ Mcdonald), which coincidently just opened a few days ago!  The first thing we saw as we walked inside was the elegant chandalier framed by the storefront window.  We both gushed out "we love new stores!"
To our delight, we were greeted by Alisa West Folk, a Vancouver resident, marketing graduate, and saavy new Wish.List Boutique owner.  As we chatted with her for a good half hour, it became apparent to us that each and every piece of jewelry, household decor and cosmetic item was handpicked and chosen with a careful eye.  Particularly as a marketing graduate with a background in advertising, packaging plays an important role in the products chosen for the boutique.  Business card holders decorated with the Eiffle Tower came in sturdy boxes, bath products and lotion were in girly pink packaging (that's Alisa's favorite color!), big diamond gems were strategically scattered on the shelves (a customer came in and enquired if they were for sale), nailpolish were in stackable brick-like rectangular bottles, and Hershy Kisses and pink M&Ms were up for grabs in shallow dishes around the shop!
Although Broadway is not neccessarily the first neighbourhood we think of as a shopping district, I was pleasantly surprised by the camardarie of surrounding businesses.  According to Alisa, practically every store in the vicinity brought her flowers or greeted her with encouraging congratulations on her new store opening.  "Even the flower store brought me flowers…!" 
When asked about target markets and location research, (yes, I am a true marketing student), Alisa predicts that traffic will be driven by the close proximity of the b-line stop to her boutique.  In fact, even though the boutique just opened a few days ago, Alisa has already witnessed interested customers "bee-lining" straight to her boutique from the bus stop!  (No pun intended, ha ha ha.)
Anyway, if you're in need of a gift or a treat for yourself, keep your eye out for this shop and let's watch it grow!