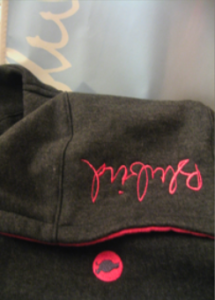 When I posted my entry on the Blubird Clothing Sale a few days ago, I mentioned that I was hoping to get my hands on the hoodie I've had my eye on since the boutique's grand opening in August.
.
As I have mentioned before, brands at Blubird (1055 Alberni Street @ Burrard) include Juicy Couture, Vince, Marc by Marc Jacobs, J Brand, Dolce Vita, Earnest Sewn, True Religion and Victoria Couture Hello Kitty. However, I have to say, if I'm going to shop there, I prefer to purchase from their in-house Blubird clothing line with its assortment of hoodies in solid colors (with a contrasting lining and logo stitch) and brightly colored pashminas. The hoodie I bought was $75 on sale for $50. Unfortunately, the pashminas were at regular price for $40.
.
Yesterday, I finally got the chance to drop by and check out their pre-Christmas sale (20% to 50% off fall clothing). My Blubird hoodie purchase (dark grey zip-up with a bright pink logo stitch on the sleeve, and writing on the hood and the same pink lining the hood – see left) came with a pastel blue shopping bag with the Blubird logo on it. Same material as the black and red Lululemon tarpaulin bag. You can kind of see it in the background of my photo to the left.
.
Lastly, I know it's Christmas-shopping season, but if my MMV blog postings have been any evidence of my shopping habits, it sure seems like I've bought a lot of presents for myself!!
Read More »