Vancouver-based Adhesif Clothing Company is known for its reclaimed vintage designs. Join designer Melissa Ferreira as her fashion line debuts at its first solo catwalk show at Jacana Contemporary Art (2435 Granville Street) on October 1st.  According to Melissa, "Jacana is bright, beautiful and minimal – perfect for showcasing my own creations of art".  Look forward to seeing Adhesif's fall collection of 30s-inspired gems, ranging from drapy gowns made of reclaimed vintage silk scarves, to stretched wool suiting with leather appliqué detailing.
.
Attendees can look forward to sipping on wine, taking in a special musical performance by Jackee Guillou, and reveling in Adhesif's fantastic new fall collection.  So make sure to get your name on the guest list now and RSVP by emailing here.  For more information, see invitation details below.
.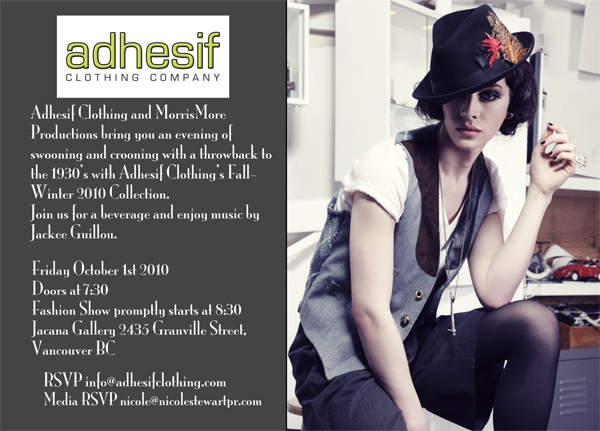 Adhesif Clothing is excited to announce the grand opening of its first store! Stop by 2202 Main Street (crossroad: East 6th Avenue) on Saturday, May 29th between 6 to 11pm to enjoy some homemade nibbles, drinks, music, art by Anthony Wilson and "entertainment by a surprise guest". With 20% off all Adhesif designs, this would be a great time to browse through "one of a kind" clothing pieces. See invitation details below.