As a well-researched parent and mom to a two year old, one of my favourite things is watching my toddler 'figure things out' – it seems like he's learning something new every day!
Did you know? A baby's brain doubles in size by its first year, reaches nearly 80% of its adult size by the age of three, and is nearly fully grown by the age of five.
Supporting brain development in these early years has a lifelong impact, and nutrition plays a role. Cerebelly is a baby food company that combines nutrition and neuroscience. The company was founded by a Canadian neurosurgeon (with a Stanford PhD in Developmental Neurobiology) and mom of three!
View this post on Instagram
Their veggies-first, no sugar-added purees and smart bars are the only baby food brand on the market which contain 16 key brain-supporting nutrients (including Dha, Lutein, Protein, Choline, Selenium, B-Vitamins, and more). Brain regions develop at different times, and each region has specific nutritional requirements. Each Cerebelly product was formulated to support a child's specific age range and developmental milestones (down to the specific month!) with science-backed nutrition.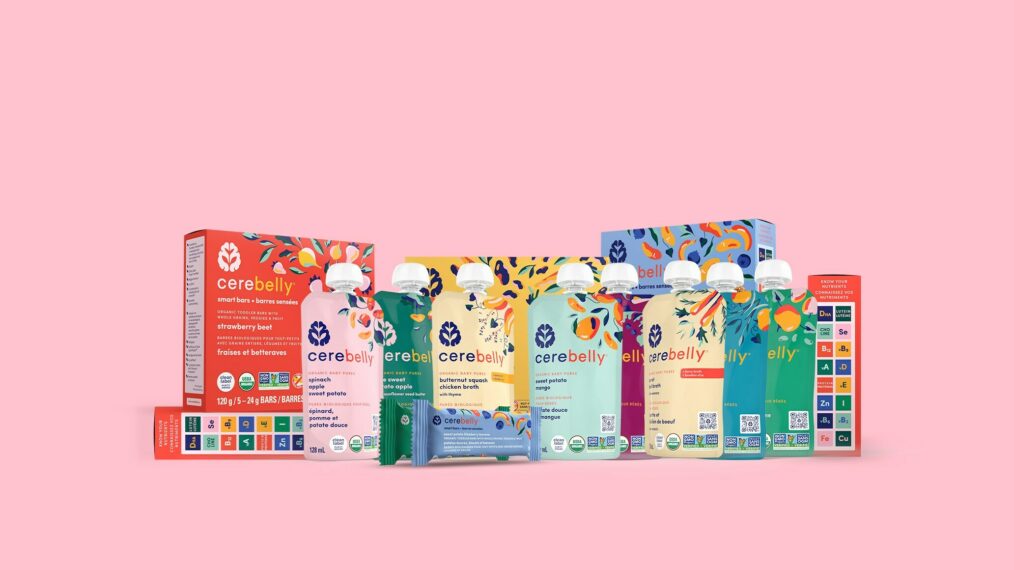 Why we're obsessed with Cerebelly Pouches and Cerebelly Bars:
Developed by a neurosurgeon / developmental neurobiologist – As the name Cerebelly implies, this is a purposeful baby food company that focuses on brain-development during a child's most crucial years.
Developed with a specific age range in mind – There are different flavours and formulations of Cerebelly that's specifically designed for a baby's age range. Cerebelly's team of scientists, doctors, and nutritionists developed Cerebelly's first-of-its-kind formulation based on decades of research demonstrating that various regions of the brain grow and peak at different times, each having their own nutrient needs to support seeing, hearing, memory, cause and effect, attention, social awareness and more.
Nutrients and minerals you don't find in other baby foods:  Each Cerebelly pouch and smart bar is crafted with whole food ingredients to contain the following nutrients: Vitamin D, Iron, Vitamin A, Vitamin B₆, Vitamin B₁₂, Zinc, Copper, Niacin, Folate, Iodine, Selenium, Choline, Protein, DHA, Vitamin E, and Lutein. They are the only baby food brand on the market which contain 16 key brain-supporting nutrients.
Veggies as the first ingredient: Fruit, which tends to be high in sugar, tends to be the go-to ingredient for baby puree pouches, but with Cerebelly pouches the first ingredient is always a vegetable.
Savoury bone broth purees: Butternut Squash Chicken Broth and Carrot Beef Broth have both been great as a cooking ingredient for my toddler's meals. Mix with (high-protein chickpea) pasta and you have an easy two-ingredient, ultra-healthy meal.
Available on Amazon Canada: Cerebelly's availability on Amazon Canada makes it easy to shop online and conveniently get an order delivered directly to your door.
View this post on Instagram

In addition to the above, all ingredients in Cerebelly foods are free of the big 8 allergens: soy, dairy, fish, shellfish, tree nuts, peanuts, wheat, and eggs. Not only does Cerebelly meet Health Canada requirements, they have implemented their own standards for quality, testing, and screening. Cerebelly became the first-ever shelf-stable children's food brand to receive the Purity Award through the Clean Label Project, a third party that tests for contaminants including heavy metals, chemicals, plastics, pesticides, and more.
Cerebelly is now available across Canada at Sobeys, Safeway, Farm Boy, and Thrifty Foods stores, as well as online at Amazon.ca.