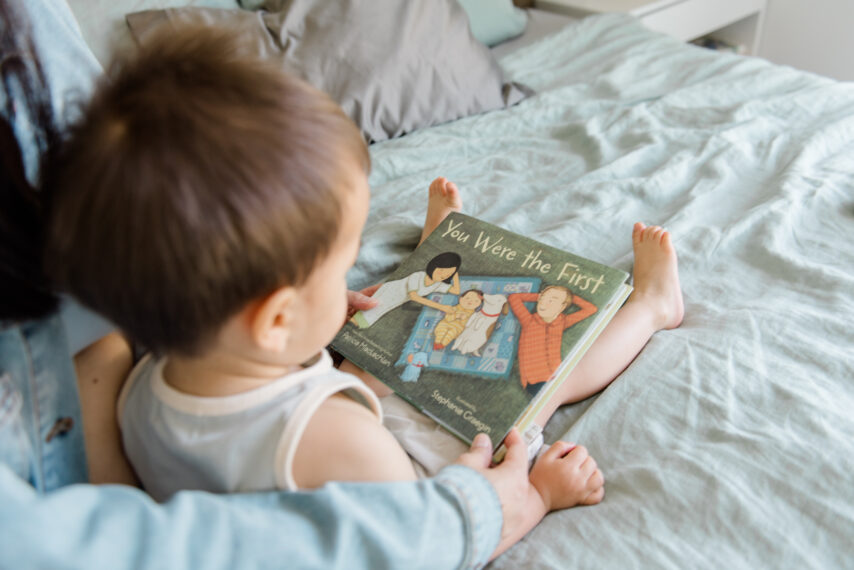 A touching tribute to baby's early milestones — those unforgettable moments that will always be cherished. From first smiles to first cuddles and even to that first kiss, here's a loving ode to every child's — and parent's — momentous "firsts."
This new series of cleverly wordless board books with bright illustrations will delight little ones and their parents and provides an endless opportunity to engage toddlers in their own storytelling and interpretation of what they see in the book. Super cute and appealing, little kids will see themselves in the stories as the books capture a family's experience.Baby Bellyis a precious story about the pregnancy experience for a sibling that features a big brother who wonders what's inside his mom's belly — maybe it's a balloon? As mommy's belly gets bigger and bigger he waits for the arrival of a baby sister or brother.
Everyone is delighted that a baby brother is joining the family—but older siblings may be slightly unsure. Fortunately for them, this rhyming board book addresses what to expect: "You'll have to take turns. Does he know how to play? No, he does not. He just gets in the way." The text, accompanied by irresistible art from renowned illustrator Sam Williams, also explains how older kids can be role models to their new little brother: "He needs you to protect him. Teach him all that you know. Show him patience and love, he's just starting to grow." At the back of the book, there's even designated space for older siblings to write about their new baby brother.
Noah and Mom play together all the time, until the new baby arrives. Join Noah as he learns to love his new little playmate, discovering that adventures are just as amazing with three people. Noah and the New Baby is part of a series of storybooks developed and co-written by Dr. Sharie Coombes, Child and Family Psychotherapist. These books contain advice and reassurance for children and parents managing common childhood worries.
With the arrival of a new baby comes many transitions, and big brothers may need a little extra tender loving care to adjust to a new family situation. This sweet story with adorable toddler illustrations by Caroline Jayne Church is just right to share with and prepare an older brother getting ready for an expanding family.
There is so much to find out when a baby is born! What does it smell like, and when will it walk? When does it sleep, and what does it like to eat? A new addition to any family is exciting, but the experience can alsobe worrying and confusing for siblings. Coping with the new situations and emotions that arise can be very challenging. This series of four board books deals with the anticipation of waiting for the new baby, the excitement of the arrival itself, and the beginnings of the special relationship that develops between siblings. The simple conversational text and lively illustrations are carefully designed to encourage further dialogue between reader and child.
The arrival of a new sibling can be a confusing and frustrating time for a toddler. This book offers help to prepare them for the downfalls and delights of having a younger brother or sister.
In New Baby! toddlers expecting a new addition to the family don't know exactly what will happen, and it can be confusing and emotionally challenging. Through the introduction of the new sibling, to the incorporation of it into daily life, toddlers will be reassured that while things will be different, mom and dad still love them just the same and have enough love for the new baby, too.
What can a child expect when mom is expecting? What will happen between now and when the new baby comes–and when a child is going to be a big brother or big sister? What should a child do while waiting for a sibling to arrive? This carefully explained picture book provides answers to these questions and more, helping make the arrival exciting instead of scary.
Come for a visit in Bear Country with this timeless classic from Stan and Jan Berenstain. Join Papa, Mama, and Brother as they welcome Sister into the family and adjust to life with a new baby.