Praguery, a popular dessert food truck that has become a staple of Vancouver's food scene, is excited to announce the grand opening of its new location in White Rock on Friday, April 14. Located in Coho Eatery, the new location will bring its signature chimney cakes and ice cream to the beachfront neighbourhood.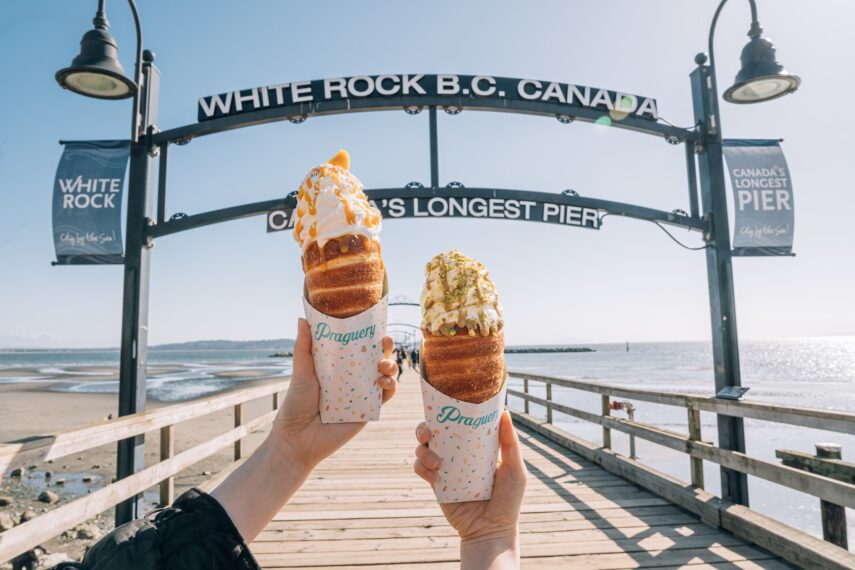 The White Rock location is Praguery's only brick-and-mortar location and will allow customers to dine in within the Coho Eatery space or take their food to-go. The interior features 14 seats and its oceanfront patio includes 16 seats. The new location is a one-year pop-up with Coho Eatery giving Praguery the opportunity to service a new community away from its four food trucks which are situated across the lower mainland. The menu will remain the same as Praguery's food trucks and will feature Praguery's famous chimney cakes and cones.
"We are thrilled to be opening our new location in White Rock. Our chimney cakes and ice cream have been a hit in Vancouver and we can't wait to share them with the White Rock community." – Jaroslav Mestka, Founder, Praguery.
With the opening of the new location, Praguery is excited to announce the expansion of its menu with a number of vegan options including dairy-free vanilla soft-serve ice cream. Praguery's chimney cakes and cones are naturally vegan and can be enjoyed by everyone. Praguery's chimney cakes and cones are made from sweet dough that is freshly baked in a rotisserie oven until golden brown. The doughnut-like pastry is then rolled in your choice of sugar and cinnamon, almonds, coconut, graham cracker or oreo and can be filled with Nutella, lemon curd or vanilla soft-serve ice cream. The cones are filled with soft-serve and customers can choose from 8 different topping flavours. Menu highlights include:
Nutella: vanilla soft-serve, Nutella-lined cone, crushed almonds & brownies

PB & Jam: vanilla soft-serve, creamy peanut butter, house-made strawberry sauce, honey-roasted peanuts and chocolate chips

Banana Split: vanilla soft-serve, banana filling, Callebaut milk chocolate, whipped cream, crushed almonds and maraschino cherry

Panda's Matcha: vanilla soft-serve, homemade matcha sauce, panda cookie
Praguery's menu also includes sundae cups for those wanting to opt out of the cone, affogatos for coffee lovers and real fruit lemonades, made from freshly squeezed lemons and strawberries. The menu ranges from $4.50-$12.
Praguery uses only the highest quality ingredients; all toppings and fillings, with the exception of Nutella, are made from scratch using only the freshest ingredients and without any preservatives. Praguery is proud to support local suppliers, as demonstrated by their use of delicious BC strawberries to create their strawberry sauce.
Steps away from the White Rock Pier, Praguery is the perfect place to stop for a sweet treat while on a walk along the beach. For more information, please visit www.praguery.com.
Praguery Grand Opening Offer
To celebrate the opening, Praguery is offering the first 30 customers a free cone of their choice. Praguery looks forward to welcoming customers on Friday, April 14 at 11:30am.