When Baby T turned one year old and became increasingly interested in playing with toys for one year olds, we began looking into the Lovevery Play Kits. Each Lovevery Play Kit is an award-winning set of curated, age-appropriate toys that are thoughtfully designed by a team of researchers and specialists, so your child can play with purpose.
You can buy one Lovevery Play Kit at a time or subscribe at a discount:

here

.
The Lovevery Babbler Play Kit is designed to be developmentally appropriate for young toddlers between 13-15 months old.
View this post on Instagram
At this age, we noticed a significant improvement in Baby T's fine motor skills. At a year, he was already carefully pinching raspberries off his first birthday cake! After a year, his concentration seemed to improve by leaps and bounds; we could noticeably see him concentrate on things and try to figure things out. He's also been fine tuning his aim and ability to reach for items accurately, and loves pointing his index finger and poking things (especially electrical outlets – ha).
Lovevery Babbler Kit Review (13-15 months)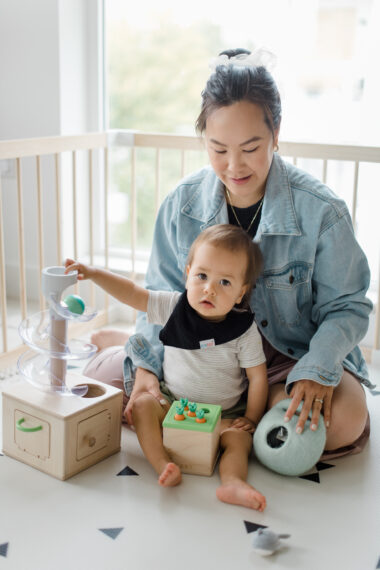 The Lovevery Babbler Play Kit comes with 7 toys (one of the toys has three interchangeable lids, so I counted them as three toys), one boardbook, and one playguide for parents.
Some of the skills The Babbler Play Kit works on developing for 13-15 month olds include object permanence, spatial awareness, cause and effect, fine motor skills (including rotation) and getting comfortable with routines.
Here's our Lovevery The Babbler Play Kit review of every toy in the Lovevery Babbler Play Kit for 13-15 month olds.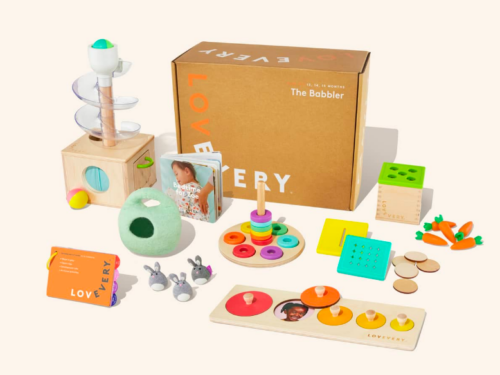 The Lovevery Ball Run
The Slide and Seek Ball Run is our favourite, and the most significant toy in the kit. Two rattling balls slide down a spiral chute, and there are multiple 'doors' that can be opened for little hands to retrieve the ball. The size and quality feels premium, and there's a satisfying 'pop' and 'rattle' sound as the ball goes down the chute.
In the spirit of experimentation, Baby T has put many other things from the Lovevery Babbler Play Kit down the ramp too – like plush bunnies, blocks, and other small objects, just to see how they would slide, roll, or fall.
Lovevery Bunny Burrow
To me, Bunnies in a Felt Burrow (a felt purse with a hole and three plush bunnies inside) was the cutest toy in the set. All the toys in this kit were designed for small hands, and it was so cute watching Baby T grasp the little plush bunnies and push/pull them in/out of the hole.
Unlike the other toys where can easily wipe off stains or drool, I found it more challenging to wipe down the felt material. Just something to think about as you keep your toys clean and sanitary for your family.
Lovevery Wooden Coin Bank Set (with three interchangeable lids)
This 3-in-1 toy is a wooden box with three interchangeable lids. One lid has a coin slot that comes with five large wooden coins, another has five holes for five little silicone carrots, and the third has 16 little holes for sliding in your own household items like Q-Tips.
By far, Baby T loved the little carrots the most. Initially, he gravitated towards pulling the carrots OUT of the holes, but as soon as we showed him to how push them IN, we found that he loved the satisfying "pop pop pop" of pushing in the carrots with his index finger.
The Coin Slot lid was good too although not as 'fun' as the carrot lid.  I like how the coin slot lid specifically practices the skill of rotation, as Baby T has to rotate his wrist in order to get the coin into the slot.
We rarely played with the third lid. We tried pushing Q-Tips through once, but it got messy with q-tip fluff every where.
As we started teaching Baby T vocabulary (bunny, carrots, ears, night night, etc.) we could cross-play with the little plush bunnies from the felt burrow toy, like feeding carrots to the bunnies, then putting them to sleep in the felt burrow.
Lovevery Flexible Wooden Stacker
This toy required more concentration. Baby T could certainly stack the rings, but from an attention span perspective, we found that it was harder to get him to put every single ring on the stacker.
Lovevery Circle of Friends Puzzle
Baby T loved pulling the pieces off the puzzles, but didn't particularly like putting them back in. One cool thing you can do with this toy is to replace the faces in the puzzle with photos of your own family members.
Lovevery Board Book: Bedtime for Zoe
Most of the Lovevery Play Kits come with a board book of an age-appropriate topic. One thing I love about Lovevery board books is how the pictures are all photographs of real and relatable people. Research shows that babies and toddlers learn better from books with real-life photographs, rather than whimsical illustrations or cartoons.
Bedtime for Zoe is all about setting a routine: picking up toys, getting a bath, reading a book, before going to bed.
Are Lovevery Toys Non-Toxic?
One concern we had with the Lovevery Play Kits in general were all the small parts. Fortunately, as a B Corp certified company, Lovevevery toys are built to last and made with sustainably harvested wood, organic cotton, nontoxic paint, and baby-safe plastics.
When we started playing with The Babbler Play Kit, Baby T was still in the habit of putting everything in his mouth. (The carrots are particularly tempting to teeth on!) A few months into playing with the toys, I noticed that he was doing it less and less, and we could 'trust' him to explore the toys without putting everything in his mouth.
Are Lovevery Play Kits worth it?
Yes! I love the curation and variety of toys, the modern aesthetic of everything included, and the reassurance that everything was thoughtfully designed with a purpose by child experts. The quality is excellent and I would much rather a well-researched set of toys like this than picking out a random assortment of toys on my own.
Don't be daunted by how each Lovevery Play Kit is categorized in 3-month increments. The ages shown are recommended starting ages for each Lovevery Play Kit. Baby T continues to play with the toys from The Babbler Play Kit well beyond 15 months, even after we received Lovevery's The Pioneer Play Kit for 16-18 months.