I've been to Whistler a dozen times over the years, and almost always in the summer! For this visit to Whistler, we stayed at Four Seasons Resort Whistler, one of three luxury resorts in Whistler. In our previous visits, we've always viewed accomodations as a place to rest our heads for a short time at night, while we spent the majority of our time out and about all day long. Now, as a young family with an actively crawling and curious 14 month old baby and a small, senior pup, the hotel portion of our trip has suddenly become an integral part of our vacation.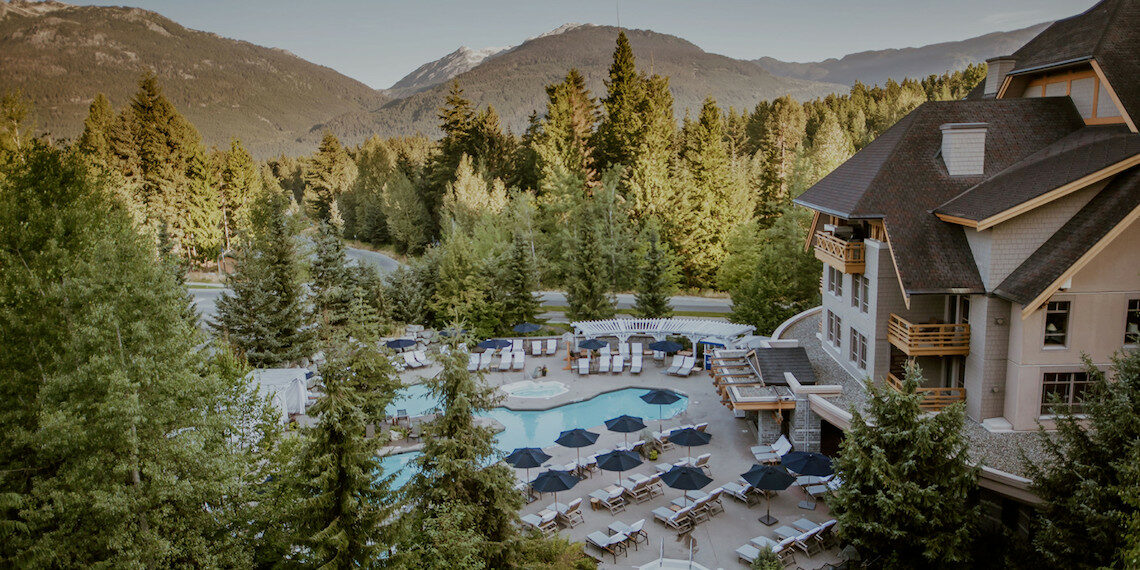 This was one of our first visits to Whistler where I was more than happy to just relax at our hotel, and thoroughly explore and enjoy the many amenities and conveniences the Four Seasons Resort Whistler had to offer.
Our Mountain View Room at Four Seasons Resort Whistler
We stayed in a Mountain View king room on the sixth floor. Our room had a small balcony that looked over the Four Seasons courtyard (more about that later), with a view of the pool area in the distance, and a peek of the mountains. The king bed was very comfortable, with exceptionally fluffy cushions. It's a bed that you'd want to lay in all day long – except we couldn't, because of our actively crawling toddler who was set on exploring every nook and cranny in the suite.  Our dog was provided with his own dog bed and stainless steel water and food dishes.
View this post on Instagram
Whistler Restaurants: Braidwood Tavern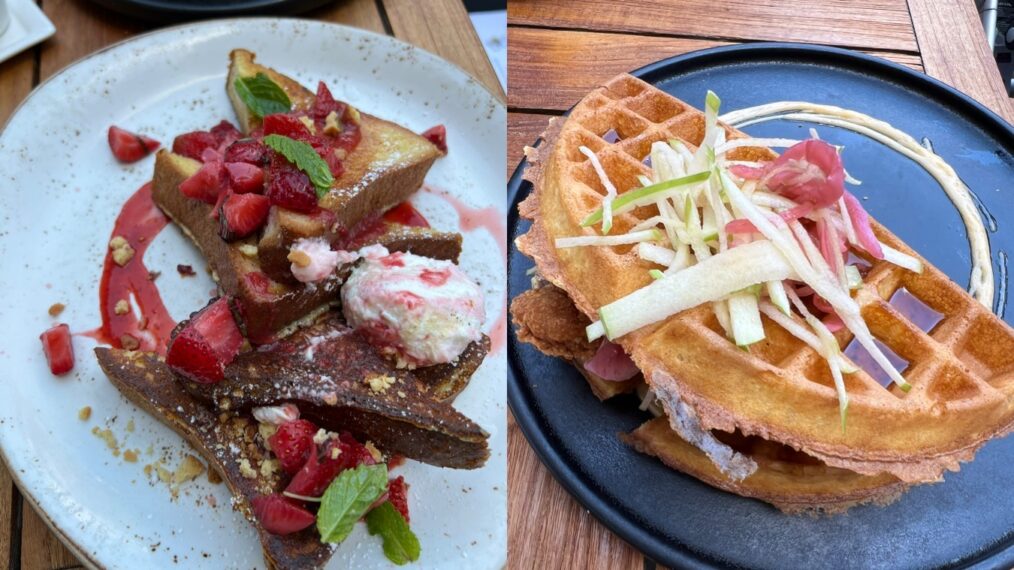 There are fantastic dining options thoughout Whistler Village, but when vacationing with a toddler, it's nice to have options close to 'home'.  On the ground floor of the resort, there are two full-service restaurants: Sidecut, an upscale steakhouse which is open only for dinner, and Braidwood Tavern, a newer option which offers brunch and casual all-day dining.
Braidwood Tavern is styled after a classic mountainside cabin, with a menu that's designed with locally sourced, peak-of-season dishes. On their breakfast menu, there's the popular all-you-can-eat 'Peak Buffet' (for $49). We didn't go for it this time, but were told it was complimentary for kids under 5 years old, so our toddler had his fill of all-you-can-eat cheese and berries for brunch.
Meanwhile, my husband and I ordered a la carte and we split a Buttermilk Fried Chicken Waffle (with pickled apple slaw and spicy maple syrup) and a Strawberry and Cookie French Toast (with basil marinated strawberries). Both were beautifully presented and delicious, and we loved the sweet and savoury combo.
The courtyard outside of Braidwood Tavern is probably one of my favourite spots at Four Seasons Resort Whistler. It's so quaint and lovely with greenery, warm string lights, a pond, and a firepit. I would highly recommend eating outside, if weather permits!
Braidwood Summer Sunsets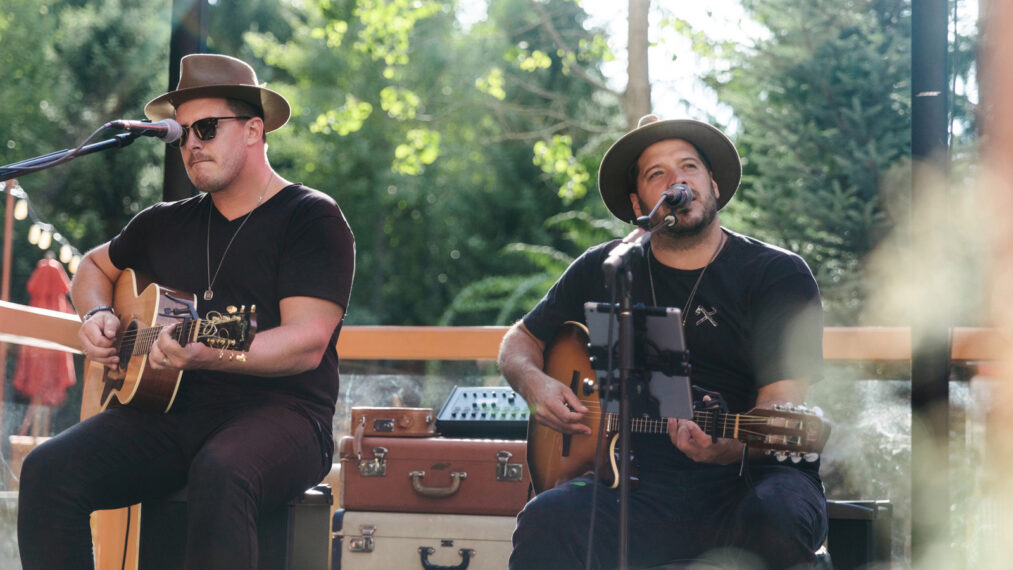 We weren't here on a weekend, so we didn't personally get to experience this, but it's an ongoing summer event that's worth mentioning if you're up in Whistler this summer. Every Friday and Saturday from 5pm to 9pm is the 'Braidwood Summer Sunsets' series at Four Seasons Whistler.
Extra-special for the 2022 twilight offering is A Taste of Mexico in Whistler. The vibrant new Margarita menu features the bartenders' newly created drinks, each representing a different region of Mexico. From the strawberry-tinged Flamingo that evokes the pink lakes of the Yucatan peninsula to the fresh and floral Mezcal You Later, the range of thoughtfully crafted Margaritas offers a cultural journey through cocktails.
Complete with live performances by Sea-to-sky musicians such as singer-instrumentalist David Capper, Braidwood Summer Sunsets bring the flavours, colours, and warmth of Mexico to the mountains.
The Patio Camper at Four Seasons Resort Whistler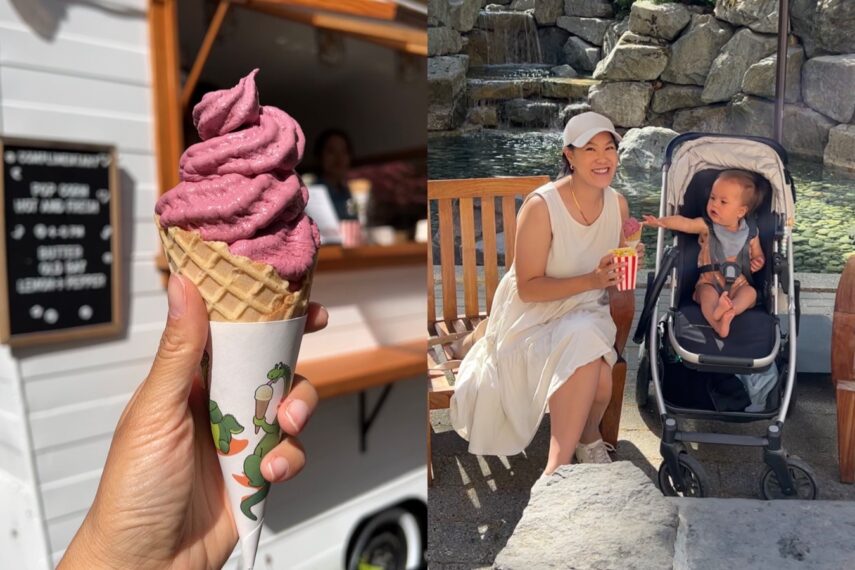 In the same outdoor courtyard used by Braidwood Tavern, is a cute refurbished retro camper that opens from 4pm to 6pm every afternoon and serves fun treats. We love how relaxing this area is, with its couches, pillows and firepits. During our visit, you could get complimentary popcorn in three different flavours, while fresh-mixed ice cream can be purchased (for $8).  It was here where our toddler had his first-ever taste of ice cream!
The treats served change with the seasons. In my previous visit to Four Seasons Resort Whistler during the fall season, they were offering s'mores and hot chocolate.
Complimentary Wine Tasting at Four Season Resort Whistler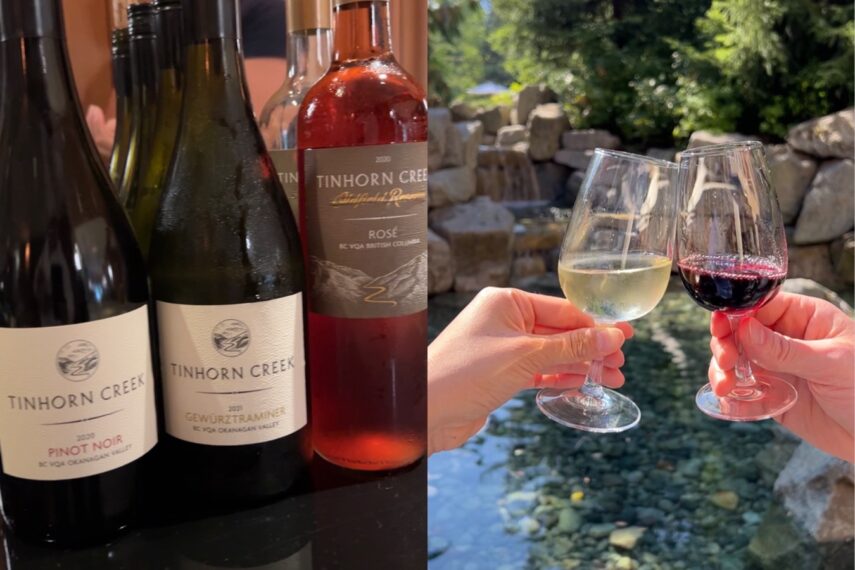 Beginning at 4pm, guests of the hotel can indulge in a complimentary glass of wine. During our visit, they were serving wine from Tinhorn Creek. We brought our wine with us to the outdoor courtyard, and enjoyed with popcorn and ice cream. We were told that you can pretty much bring your wine anywhere with you throughout the resort, with the exception of the swimming pool area.
The Pool at Four Seasons Resort Whistler
It's a fully heated pool year round, and I love the organic free-form shape of the pool. The service at the pool was great. The host found us deck chairs which were available, and brought us towels and water. Poolside dining is available all day, with shared plates, light bites. There was also a water refill station so you can stay hydrated, and skincare amenities with a sunscreen pump and after-sun gel.
—
Vacationing with a toddler can be hectic, but Four Seasons Resort Whistler made our stay very comfortable and convenient, and we felt like we had so many premium amenities at our fingertips that made our trip special.